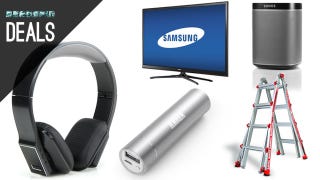 If you're pining for a new set of headphones, these GOgroove Bluetooth on-ears have 14 hours of battery live, a folding design, and solid reviews. They have consistently sold for $80 all year, but a promo code today knocks them all the way down to $30. Get them before they're gone. [GOgroove BlueVIBE Bluetooth Headphones, $30 with code DLX50OFF]
Update: Be sure to choose 2nd Street Electronics.
---
Get these deals and more, and earlier on Deals.Kinja. Connect with us on Twitter and Facebook to never miss a deal, check out our Gaming and Movie/TV release calendars to plan your upcoming free time, and join us for Kinja Co-Op to vote on the best products. Got a deal we missed? Post it in the comments with a link and we'll share right to our Deals homepage.
---
For people with a lot of gadgets, this 7-port charger is great for traveling, or for just keeping on your desk. You'd be the hero of the airport if you pulled this thing out in the terminal. [Bolse 60W 7-Port USB Wall/Desktop Charger, $33 with code J6MIAQYU]
---
Plasma TVs are going the way of the dodo, and the world is worse off for it. Today though, you can get one of the last models in production (and a Wirecutter pick to boot) for a fantastic price. [Samsung 51" 1080p Plasma TV, $500]

If that doesn't scratch your particular TV itch, Best Buy has a great one-day sale going on a lot of other models as well.
---
Amazon's Fire TV is a legitimately great streaming box, if a tad expensive. Today only though, it's a little easier on your wallet. [Amazon Fire TV, $85]