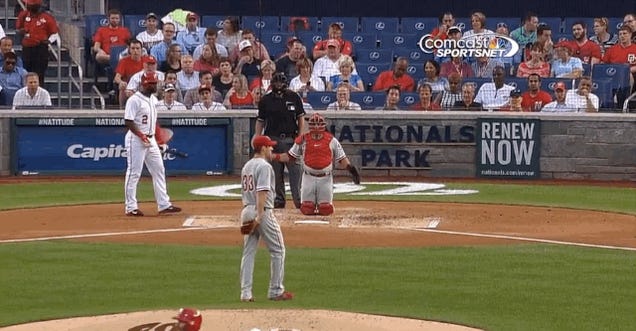 It's hard to say what happened—and speculating about injuries is the worst—but in the video here (not embeddable yet), Cliff lee is obviously upset and frustrated after throwing his 31st pitch of the game. In the third inning, with Denard Span up, Lee threw a cutter and immediately looked disgusted and pointed to his arm and yelled "fuck." He then motioned that he was done and left the game. He was making his third start after two months on the disabled list with a flexor pronator injury.
You can read his lips at one point and he says "I felt it, I'm done." CSN Philly's Jim Salisbury's noted that he pointed to his elbow, as did the broadcast, but it's hard to say for sure. In the angle on the vine it looks like he might have.
Lee threw pitch, said F-word, waved arms that he was done, gestured toward his elbow, left game.

— Jim Salisbury (@JSalisburyCSN) July 31, 2014
The Phillies were somewhat shockingly quiet at the deadline with any number of players, including Lee, thought to be available for the right price. There was also talk that Lee could be involved in an August waiver deal.
[MLB]