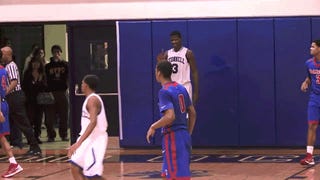 Long after the credits should have rolled in the soap opera that was Junior Etou's high school basketball career, we have a plot twist.
Just before tipoff of Rutgers' season opener earlier this month, the NCAA suspended Etou, the big fish in new head coach Eddie Jordan's first recruiting class, for what would have been the first six games of his college career. (He is eligible to play beginning with tonight's game against Stillman College.) The school's athletic department issued a statement saying Etou was guilty of "accepting impermissible benefits from a third party from overseas during the Fall of 2012." In announcing the suspension, Rutgers athletic officials asserted they would "have no further comment" about Etou's case.
No, that's not the plot twist.
Turns out the NCAA isn't the only basketball body that's been investigating Etou, who arrived in the U.S. from his native Republic of Congo in late 2010 to play high school basketball. FIBA, the Swiss-based international sanctioning organization, was also on his case. FIBA rather quietly got around to delving into the most polarizing aspect of Etou's portfolio: his real age.