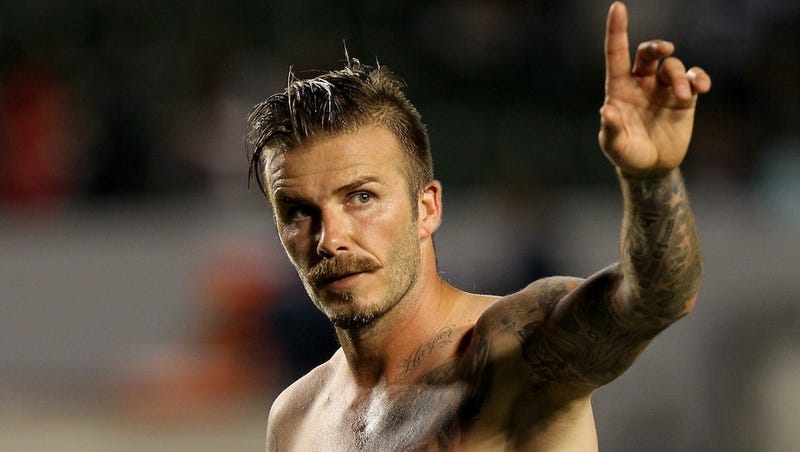 When the world's biggest sport's most beloved, most important player is finally gone, we'll all agree that David Beckham is far and away one of the most successful players to ever touch a soccer ball. Shortly after, we'll argue: was Beckham truly one of the greatest players of his generation, or just a guy lucky enough to play balls to those who were?
On Sunday night, the final whistle will blow to mark the end of Paris Saint-Germain's season, and with it, Beckham's career. PSG has already wrapped up the Ligue 1 trophy. It's his 10th league title with four different teams in four different countries, not to mention a Champions League title in 1999, a couple FA Cups, 115 appearances for England, 58 as team captain, and countless other minor trophies and awards and honors. But how do you separate the man from his team successes?
Beckham was the last traditional English winger: industrious, dogged, calculating. A tireless runner who wasn't particularly fast, or strong, or elusive, but worked up and down the sidelines, again and again, until he found an opportunity to strike the ball. And it's when he had time to strike the ball—usually peering through a sliver of daylight on the flank to whip in a gorgeous, guided cross to central players, or worse, when he faced down a wall 20, or 30, or even 40 yards from goal—that for a grand total of a few minutes over his 21-year career, Beckham was the most dangerous player on the planet.
Beckham was best known as a player for dead ball situations. He revolutionized how people attacked a dead ball, and he changed how people defended it. When he lined up for a kick, opposing goalkeepers would call for an extra man in walls to disrupt his accuracy, and often it didn't matter. He still bent free kicks around, over, and sometimes under walls, through traffic, and into the back of the net or onto the path of streaking teammates. What's insane about all this is that Beckham may not have even been the absolute best free kick taker of his era; others like Zinedine Zidane, Andrea Pirlo, Alessandro Del Piero, Juan Román Riquelme, and Ronaldinho were probably every bit as good, and all better players besides. But there is no one else who embodied a singular aspect of the sport as David Beckham embodied his.
One of "Fergie's Fledglings," Beckham was the breakout star of the legendary Manchester United youth mob that included Paul Scholes, Ryan Giggs, the Neville brothers, and Nicky Butt, and dominated the Premier League in the mid- and late-90s. Legendary United manager Sir Alex Ferguson said of the midfielder, "David Beckham is Britain's finest striker of a football not because of God-given talent but because he practises with a relentless application that the vast majority of less gifted players wouldn't contemplate."