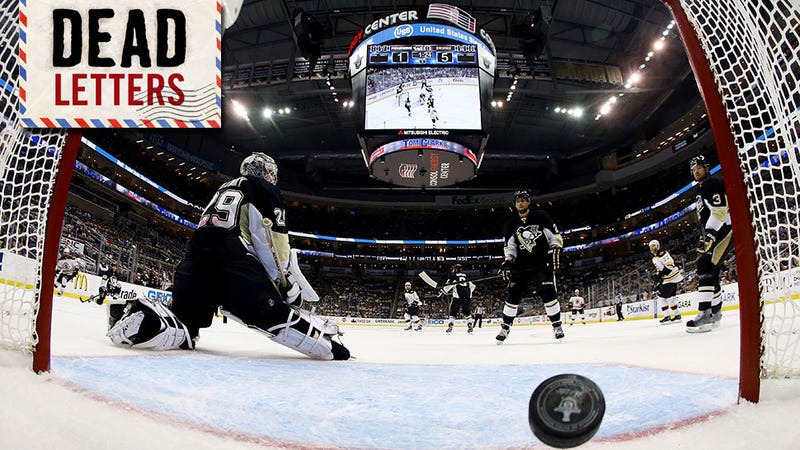 Hello there. Welcome back to Dead Letters, the feature in which we reprint our favorite reader mail. It's been on hiatus since Kinja arrived, but no longer! We should take this moment to remind you that all emails to Deadspin and its editors are on the record unless otherwise specified. Now for your letters.
Subject: Are you fucking kidding me.

From: Gage Ecker
To: The Staff


It's already 9:49 am here on the East Coast and you have NO coverage of the Bruins brutalizing, embarrassment of the Penguins last night. You better be writing up one hell of a piece because this is inexcusable. I've never been mad with this site until today. Thanks for pumping the Heat though ("Heat Check"), because I missed that on SportsCenter this morning.

PS - Check out Jack Edwards' Twitter feed from last night. His live tweets demoralizing NBC's coverage of the game is priceless.
Subject: RE: Are you fucking kidding me.
From: Gage Ecker
To: The Staff


1:32 pm. Seriously guys? WTF is going on down there?? I mean I love reading about skunks at Dodger Stadium and Chandler Parsons going to prom, but this is a real sports story about a team taking a commanding 2-0 playoff serious lead, on the road, and with extreme force. It's almost as if you're not covering it intentionally, and if that's the case, you better have a damn good reason.
Subject: Heres a tip! <("<)
From: Ryan Tyler
To: The Staff


How about reporting something on Kobe tearing his ACL. Is every one of your fucking employees sleeping or something to write a shitty, cynical article about how Dantoni ran Kobe into the ground or some condescending dribble. Also, your new website format is absolute horse shit. It is incredibly obnoxious on my iPhone screen. Really, who fucking thought that looked better? Hellen Keller finger painted more stimulating images than your format.

With that said I really enjoy reading your site. It's about as enlightening as a conversation with a homeless born again Christian.

-Ryan Tyler
[Ed. note: Ryan sent this email at 4:49 a.m. ET on a Saturday.]
Subject: a tip
From: Mike Posner
To: The Staff

[Copyrighted photo of the tip of a penis.]
Subject: friend
From: Mike Posner
To: The Staff

I'm so sorry- my friend took my phone and sent you a horrible email. I did not do that. I'm a big fan of your site. Again, I'M SO SORRY!

Subject: Deadspin blows.
From: Gabe Maciolek
To: The Staff
CC: Gabe's Friends


Guys your new format sucks. It's so bad. The promoted stories, the NASCAR headlines, the "discuss" articles. Oh and the commenting is terrible. My friends and I would have group messages messages about the comments, now you can't even read them. Blow me.

PS: whoever came up with the word gif should be deported just like any of your employees that post them.

PPS: I've cc'ed my friends.

Sent from my iPhone

—

From: Tommy Craggs
To: Gabe Maciorek
CC: Gabe's Friends, The Staff


Sorry to let you down, guys.

—

From: Gabe Maciorek
To: Tommy Craggs
CC: Gabe's Friends, The Staff


Blow me have been a little harsh. Sorry bro. But again, your site has gone downhill since you broke the t'eo story.

Sent from my iPhone
Subject: golf