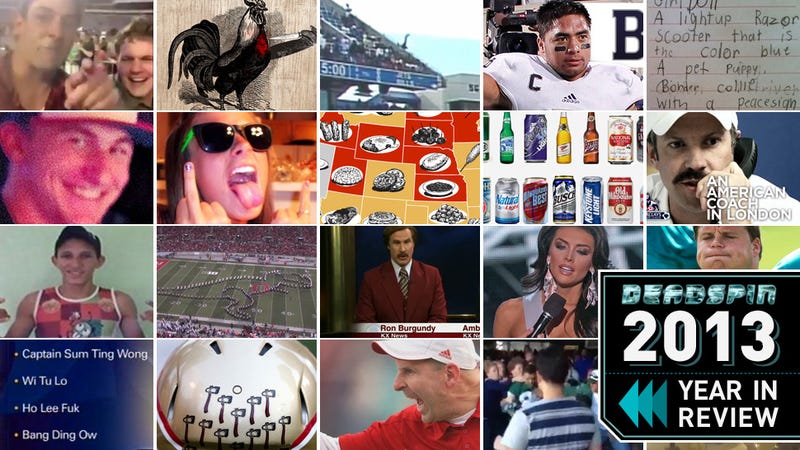 Time to pull back the curtain a bit and reveal our 101 most popular posts of the year. We have our own ideas about which posts best represent what the site is all about, but this list is all about what you, the readers, flocked to.
---
Notre Dame's Manti Te'o, the stories said, played this season under a terrible burden. A Mormon linebacker who led his Catholic school's football program back to glory, Te'o was whipsawed between personal tragedies along the way. In the span of six hours in September, as Sports Illustrated told it, Te'o learned first of the death of his grandmother, Annette Santiago, and then of the death of his girlfriend, Lennay Kekua. Read...
---
When I was a kid, I would dream up completely insane presents to put on my Christmas wish list—shit that no parent could ever possibly afford and no child could ever possibly deserve. And every year, my parents would tell me before Christmas that I would NOT be getting the little race car I saw on the Obstacle Course round of Double Dare. They would sit me down and explain that Santa wasn't a Formula One mechanic and that I shouldn't be a fucking idiot. Read...
---
This skit features Jason Sudeikis as Ted Lasso, an American football coach hired to manage Tottenham Hotspur in England. Look at all the differences! It's a dumb premise, but the jokes are legitimately funny. Who knew so many football clubs were just like the Dallas Cowboys? Read...
---
Question: "A recent report shows that in 40 percent of American families with children, women are the primary earners, yet they continue to earn less than men. What does this say about society?" Read...
---
Bay Area Fox affiliate KTVU purportedly learned the names of the flight crew of Asiana flight 214, which crashed last Saturday at San Francisco International Airport, killing two. These—"Sum Ting Wong," "Wi Tu Lo," "Ho Lee Fuk," and "Bang Ding Ow"—are not their names. The newscaster's credulous reading puts it over the top. Read...
---
The Ohio State band performed an impressive Michael Jackson tribute last week. Yesterday, the band played a medley of movie theme songs, which doesn't sound that impressive until you watch Harry Potter riding on a broomstick or a T-Rex walking across the field and remember, "Oh yeah, those are people." Read...