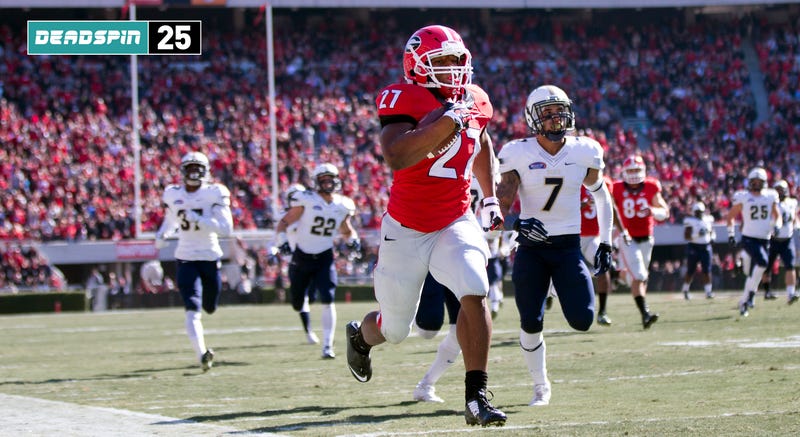 Welcome to the Deadspin 25, a college football poll that strives to be more democratic and less useless than every other preseason poll. Leading up to the college football season kickoff, we will give you previews of the 25 teams that you, the readers, voted to be most worthy of writing about. Now, No. 25 Georgia.

Pour one out for Mark Richt. The whole line about how most programs would love a 10-win season has been dutifully typed so many times it pains me to bring it up; the fact is Richt was not bringing home SEC titles, and after a while a bar has to be cleared, no matter how high it's been set. Enter Kirby Smart.

The former Alabama defensive coordinator will head into his first season as head coach with a roster brimming with talent. Even the positions with unproven talent, like his soon-to-be new starting quarterback, boasts the best possible talent a new coach could ask for. All he has to do is groom a new quarterback, piece together an unproven front seven, and somehow keep at least 22 of his players out of trouble for an entire season.
Greyson Lambert has been around for a while now, or at least he has in my formerly ACC-dominated timeline. After going nowhere at Virginia, Lambert wised up and made the jump to Athens, where he gradually improved his accuracy and carved out a simple role as a game manager. He put together some solid outings, even setting an NCAA record last year with a 24-of-25 performance; the issue is, his best days tend to come against bad teams like South Carolina, and are rarely accompanied by touchdowns. Last season, Lambert tossed just 12 scores in 12 games. The silver lining is the season before—while playing for the Cavaliers, he threw 10 touchdowns to 11 interceptions; while his scoring only increased by two touchdowns, his turnovers dropped from 11 to two.

Here's the thing: Kirby Smart or offensive coordinator Jim Chaney probably don't want to field a game manager if they don't have to. There's nothing promising about a quarterback who can lead your offense to a combined 12 points in back-to-back games after the star tailback goes down. That's where Jacob Eason comes in. Eason, a freshman quarterback, was the highest ranked quarterback recruit in his class and comes in with proven arm strength and accuracy. This guy is already having the title of savior thrust upon him (as if Georgia was wallowing at the bottom of the league) and will more than likely receive periodic starting reps before he inevitably wins the job.
Eason won't have the luxury of throwing to former Georgia great Malcolm Mitchell, now with the New England Patriots. Instead, he will have to work with sophomore Terry Godwin and senior Reggie Davis, as well as junior Isaiah McKenzie, who has a proven knack for scoring when given some open space—he's found the end zone five times in two years on punt and kickoff return duties. Javon Wims is another player that could find his way onto the field given both his experience at the junior college level and the fact that at 6-foot-4. He is one of the few big targets the Bulldogs will have at the receiver position.
Freshman Isaac Nauta, the top-rated tight end in his class, will join returning starter junior Jeb! Blazevich and sophomore Jackson Harris in a deep rotation of talented tight ends. Nauta is expected to make an immediate impact—the early enrollee made his presence felt in the spring game, with six catches for 57 yards and a touchdown.
The Bulldogs' offensive line loses John Theus and Kolton Houston, but will add experience with senior transfer Tyler Catalina and sophomore Pat Allen. The tackle spots are still competitive, but none of the three other players Georgia has competing for the job—Greg Pyke, Kendall Baker, and Isaiah Wynn—have spent a full season at the position, so there will be a learning curve for the team's exterior linemen should Catalina and Allen not lock their spots down.
Georgia's backfield, a place with plenty of experienced talent, will have an excellent shot to be the best in the nation this season. Oh, sorry, forgot to add "when healthy."
The 1-2 punch of Nick Chubb and Sony Michel, who filled in admirably for his fellow running back after Chubb's knee buckled last October, could be a devastating combo. Michel is slimmer than Chubb and doesn't possess the same highlight-reel run ability, but like Chubb, he rarely goes down on first contact and has excellent eyes out of the backfield. Unfortunately, Michel broke his forearm in an ATV accident in July and will likely not appear until Week 3 at the earliest. Chubb is still recovering from a brutal knee injury suffered last October. Until they return, the Bulldogs will have to make do with senior Brendan Douglas, who carried the ball just 36 times last year. With the running back situation touch-and-go to start the season, Smart told The Macon Telegraph he will likely go with the quarterback with the best arm (see: Eason) to start the season.
Chubb has Heisman-level capabilities and Georgia fans have a hand down their pants before you can finish saying "Jacob Eason," but the main concern of those rooting on Georgia should be its front seven.The unit lost nearly every starter from last season, and will head into the first two games without Jonathan Ledbetter, who was suspended for two games after he fell asleep at the wheel and was hit with a DUI after the police spent 20 minutes trying to wake him up. Luckily for the Bulldogs, they still have sophomore defensive tackle Trent Thompson and will only face three dominant rushing threats this season—UNC's freakish running back Elijah Hood, Tennessee's Jalen Hurd, and Georgia Tech's triple-option wizardry. If they can survive those games, their secondary should be able to handle whatever's thrown their way and clean up any major messes the inexperienced front seven makes.