Welcome to the Deadspin 25, a college football poll that strives to be more democratic and less useless than every other preseason poll. Leading up to the college football season kickoff, we will give you previews of the 25 teams that you, the readers, voted to be most worthy of writing about. Now, No. 13 Michigan.

I get it: hating Michigan is fun and ethical. But sometimes we have to set aside what we believe to be established truths to understand others; as much as I hate to admit it, the Wolverines are probably going to amazing this season.
Blegh, I need a palate cleanser.
Mmm, close.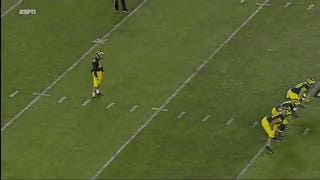 Better.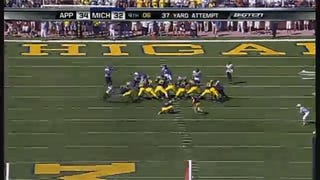 There it is.

With Jake Rudock gone, Michigan is now looking for a more sustainable and explosive answer to lead the offense. According to the Detroit Free Press, head coach Jim Harbaugh and the Wolverines have made their decision, but instead of sharing that decision or offering any sort of helpful insight on the competition, Harbaugh is giving all of us, quarterbacks included, the silent treatment.

The quarterback battle has been a three-way race between Wilton Speight, John O'Korn, and Shane Morris. Speight led Michigan's comeback victory over Minnesota last year; Morris has two games of experience; O'Korn was the starter at Houston for a season and a half before being supplanted by Greg Ward, Jr. All three have earned positive reports regarding their improvement since the spring, so barring Harbaugh going on a late-night milk binge and tweeting out his decision, we'll know who the starter is when Hawaii's defense trots onto the field Saturday.
Whoever lines up under center will instantly inherit some of the best options available in college football at every skill position. At wide receiver, Jehu Chesson, who also returns kicks and blocks punts, and Amara Darboh return to give the team a pair of receivers that will likely be among the best in conference once again. The duo combined for 1,491 yards and 14 touchdowns on 108 catches last season. Sophomore Grant Perry played some as a freshman and should see some time lining up in the slot.
As dangerous as Chesson and Dabroh are, senior tight end Jake Butt's decision to put off the NFL for his fourth year of college football stands out as one of the best things to happen to the Michigan this offseason. Butt joined Chesson and Dabroh in breaking the 50-reception mark last season by having some of the best hands in the nation, and wheels to boot. He's as dangerous in the red zone as he is at the opposing 30-yard line—just ask Maryland.
The Wolverines bring back four starters on the offensive line. Michigan made the call to slide Mason Cole over to center, opening up the blindside tackle spot for either Grant Newsome or Ben Bredeson—both are competing for their first starting gig. They'll be joined by Erik Magnuson, Kyle Kalis, and Ben Braden. Having four guys back on the offensive line is a great advantage, but the team's running game will need to improve a bit from last year if the Wolverines want to survive a daunting five-week slate at the end of the season, which includes trips to Michigan State, Iowa, and Ohio State. Luckily, Michigan has the necessary talent in the backfield to make said jump.
De'Veon Smith returns at running back for the Wolverines after putting together 753 yards and six scores in his 2015 campaign. Smith set himself apart as one of the toughest runners in college football last season—at 5-foot-11, 230 pounds, Smith's runs rarely end at first, second, or third contact. There are dozens of clips to choose from, but the one run most emblematic of his style is his 60-yard score against BYU.
Wolverine fans should hope Smith stays healthy for the entirety of the season—he will be backed up by Drake Johnson, who tore his ACL in 2014 and was run over by a forklift in 2016. They also have senior Ty Isaac, a USC transfer, in the mix.