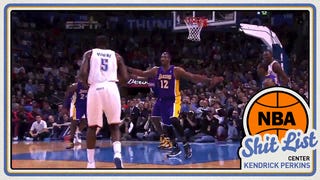 A celebration of the NBA's most infuriating players, both past and present. Read other NBA Shit List entries here.
The story of Kendrick Perkins, whatever he does from this day forward, will begin and end with two Very Bad Moves. Off the court, I mean. Everyone knows Perk doesn't have moves on the court, because Perk is less a basketball player than a piece of heavy equipment that someone dragged onto the court from a rock quarry.
Neither of these Very Bad Decisions is Perkins's fault. But because Perk is so demonstrably inept on the court, he stands as the physical embodiment of what these two Very Bad Decisions actually were: a breach of the public trust.
Here's Very Bad Move No. 1: Thunder GM Sam Presti's decision not to amnesty Perkins's contract. The amnesty provision, in short, was as much of a reset button for NBA owners as the new collective bargaining agreement was. Thirty or so billionaires were determined to stop "losing money" via six-year, $112 million deals handed out to Rashard Lewis types, and short of just being marginally better at their jobs, they were at least going to make sure they didn't have to live with the consequences. But for some goddamn reason, the Dec. 16, 2011, amnesty deadline passed, and Kendrick Perkins was not Travis Outlawed. Two weeks later, he'd light up opening night with six points and four rebounds in 29 minutes.
While the trade and immediate extension for Perkins was initially heralded as a bit of cap-stretching genius by Thunder GM Sam Presti, the writing was on the wall by the end of the lockout-shortened year. The value of locking up a lumpy, offensively challenged "starting center" for five years—in a league getting smaller and more athletic by the day—was limited, and so were Perk's playoff minutes. In 78 games the next season, Perkins would score more than 12 points only once while posting a career-low PER of 8.2. He improved his team's defense by only 2.2 points per 100 possessions—same as Steve Blake—and spent most of his time on the court glowering with outstretched palms after foul calls, looking like a guy who'd just noticed his stigmata. It was a grim year, but still no amnesty came.
And it doesn't appear it ever will. No, amnestying Perkins wouldn't suddenly make him a useful player or save the OKC owners his absurd salary (did you know that for $9,154,342, you could outright buy 12 6-foot-10, 270-pound humanoid cyborgs with malfunctioning Basketball Court Spacing Units?), but it would've saved them something better: money, earmarked for James Harden. And therein lies Very Bad Decision No. 2.
It's one thing for an NBA front office to bungle its roster out of sheer incompetence—we're looking at you, James Dolan—but it's something else entirely to watch a valuable NBA team that has otherwise been constructed in an intelligent and exacting manner to slide its title window a few inches closer to the sill simply because its rich owner didn't feel like being a little less rich. Yes, keeping Harden would have put the Thunder over the luxury-tax line even after amnestying Perkins, but so what? Why should a rich guy saving himself a few million dollars excuse the decision to boot a superstar shooting guard while keeping a center who moves like he's made of igneous rock?
Kendrick Perkins is a grim symbol of what a slapdick experience it is to be a sports fan. Men who own NBA teams are galactically rich, and they get to stay that way because fans of their teams love basketball so much that they are willing to hand over gobs and gobs of money to these men in the form of cable subscriptions, stadium financing, ticket sales, beer sales, etc. And then fans look the other way while these galactically rich men pretend that owning a pro sports team isn't like having your own personal mint in your basement. Why do fans do this? Because watching giant, graceful athletes dunk basketballs is really, really fun. All the owners have to do in return is pay those giant and graceful athletes enough money so that fans can continue to watch them dunk basketballs and do other fun stuff for a few years.