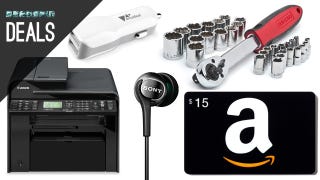 Today on Amazon, if you purchase $50 in select household goods, you'll get a $15 gift card for your trouble. The selection is limited to only a handful of items, but they're things like laundry detergent, batteries, and toilet paper that you need to buy anyway. [$15 Amazon Card with a $50 Household Purchase]
Update: The formatting on Amazon's page is really broken, so it might not be possible to see the gift card (or even all of the products) at all. Here's a link to the gift card to help you out, and you can make your browser window wider to see more of the product options.
---
Amazon's #1 selling external battery charger is only $12 today. It's definitely one of the smaller chargers around, but 3,000mAh should be good for a full smartphone charge on the go. [RAVPower Luster Lipstick Charger, $12]
---
One of the largest external drives out there, at one of the lowest prices we've seen. [Seagate Expansion 5TB External Drive, $160]
Don't need that much space? Here's 2TB for $80.
---
You won't fool any audiophiles with these earbuds, but they're a nice, cheap upgrade over the standard Apple EarPods. [Sony Earbuds for Apple Devices, $12]
---
These skillets have surprisingly good reviews for being so affordable. At less than $9 per pan, why not give them a try? Note: price is only available when purchasing directly from Amazon. [Farberware Classic 8"/10? Skillet Twin Set, $17]
---
These water bottles contain a special compartment for fruits and spices to infuse your drink with flavor. Today at Groupon, you can get two for under $20. [2 Asobu Flavour It Fruit-Infuser Bottles, $19]