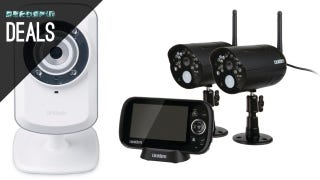 Today's Amazon Gold box is stuffed full of devices to keep your home safe and monitored. Everything from wireless cameras to huge integrated systems are covered, and the cheapskates among you can even get a dummy security camera for less than $5.
D-Link Wireless Day/Night Network Surveillance Camera ($40) | Amazon
D-Link Wireless Day Network Surveillance Camera ($30) | Amazon
Uniden UDR444 Guardian 4.3-Inch Video Surveillance System with 2 Cameras ($143) | Amazon
Q-See QT5682-8E3-1 8-Channel 960H Security Surveillance System with 8 High-Resolution 960H/700TVL Cameras and 1 TB Hard Drive ($390) | Amazon
Doberman Security SE-0405 Simulated/Dummy Camera ($4) | Amazon
---
Coffee snobs will be excited to see two highly-regarded espresso makers on sale. The Nespresso Espresso Maker with Aerocinno Milk Frother is $50 off its usual price right now, and the restaurant-grade Philips Saeco Syntia is available of over $600 off its usual price as a refurb.
Refurb Philips Saeco Syntia Cappuccino SuperAutomatic Espresso Machine ($330) | eBay | Goes for over $1000 new.