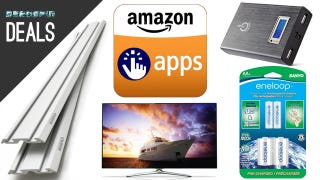 If you own any gadgets that use AA or D batteries, you owe it to yourself to pick up some Eneloop rechargeables. This pack comes with a pair of AAs, with D spacers, and they'll pay for themselves after just a few cycles. [Eneloop AA 2-Pack, $7]
Need a way to charge them? It doesn't get any more convenient than this USB charger.
---
Today and tomorrow only, Amazon is giving away over $100 in premium Android apps for free. You can check out Gizmodo's picks for the best included apps here, or just go browse the whole selection. You can install these apps on any Android device, not just Kindle Fires, so this is a great excuse to install the Amazon Appstore if you haven't already. [Amazon Appstore Deals]
---
Amazon's back with another solid Gold Box full of Transcend flash storage, but this one has a twist: Huge discounts on Transcend's relatively new JetDrive storage upgrade products for MacBook Airs and MacBook Pros.
On the cheap end, you'll find modified memory cards that sit nearly flush in MacBook SD card slots to act as a separate hard drive for dumping your media and files. If you have a little more to spend, you can actually upgrade your Mac's SSD to larger, faster models, while recycling the Mac's original drive as super-fast external. The JetDrive products are still fairly new, and this is the first big deal we've seen on them.
Of course, if you don't have a Mac, you can still enjoy the great deals on SD cards, flash drives, externals, and more. And if you don't already know the drill, these deals are only available today, and the most popular ones are likely to sell out early. [ Amazon]
---
We see deals on Lightning cables pretty often, but it's rare that you get to choose your length and color at will. Promo code 4LEDFTA5 takes $2 off every variety of Aduro MFi-Certified cables today, bringing 3' models to $8, 6' models to $11, and 10' models to $13. [Aduro MFi-Certified Lightning Cables, $2 off with code 4LEDFTA5]
FYI, white and black are also available, they just had crappy photos.
---
This TV deal gave me flashbacks to Black Friday. $1100 gets you a brand new 55" Samsung with all the bells and whistles you could want. That's about $200 less than we've ever seen it. [Samsung 55-inch 1080p 240hz 3D Smart Wi-Fi LED HDTV, $1100]