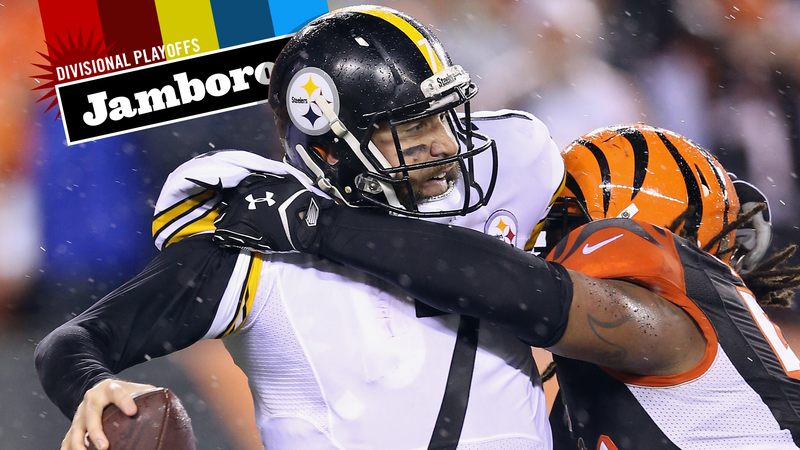 Drew Magary's Thursday Afternoon NFL Dick Joke Jamboroo runs every Thursday during the NFL season. Email Drew here.
If you missed last weekend's Bengals-Steelers shitshow, you might have heard it was a bit ugly. There were headshots, and fans tossing beers, and close-up shots of AJ McCarron's face (ZING!), and Jim Nantz openly toying with the idea of calling the game "disgraceful." (It was eating at him that he might have to use the word.) Really brutal stuff.
And are you all that surprised? Of course not. By law, any AFC North game must devolve into a grotesque display of ugly, horrible football, even when both teams have the skill personnel to avoid such a thing. So the evening got a little bit out of hand, mostly because Marvin Lewis has all the authority of a Radio Shack security guard.
It was a dirty game, and dirty games happen in every sport. There are dirty NBA games, and dirty baseball games, and dirty college games. And can I tell you something? I LOVE dirty games. Dirty games are a vital cornerstone of sports lore. Some of my most cherished sports memories revolve around dirty games: Nolan Ryan vs. Robin Ventura (Ryan won handily); Clemens throwing a broken bat at Mike Piazza like a roided-up loon; Jeff Van Gundy clinging to Alonzo Mourning's leg like an angry koala bear; the Bautista Bat Flip game; seeing old footage of the Woody Hayes punch for the first time; the entire running time of Slap Shot, which I believe is a documentary film; and yes, The Malice at the Palace, which was a terrible yet utterly riveting spectacle.