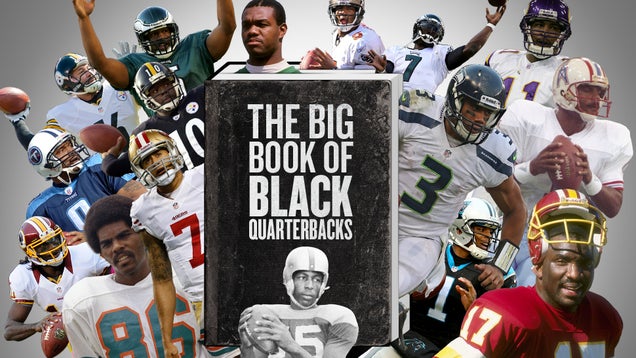 S
On Sunday, the Seattle Seahawks walked all over the Denver Broncos, 43-8, to win Super Bowl XLVIII. Seahawks quarterback Russell Wilson passed for 206 yards, ran for 26 more, threw two touchdowns, and made National Football League history. He became the second African-American quarterback ever to start and win a Super Bowl, and the first to be mainly received not as an aspirational or representative figure, but as a man who plays on his own terms: as, more or less, a quarterback.
This project started with my dad on Thanksgiving. He was reminiscing about Doug Williams, who in 1988 became the first black quarterback to start and win a Super Bowl. All these years later, he was still proud of Williams, whose name to some may be that of a half-remembered player from the past but to millions of others remains a powerful symbol of progress. It stayed with me, and it seemed that it was worth telling the story not just of Williams, but of everyone—of all those generations of players who struggled so that Russell Wilson could be, simply, a good young quarterback.
So the Deadspin staff set out to find and name every single black quarterback ever to play in the NFL. First, we had to establish a methodology. For players to be considered, we decided that they had to be black—to define themselves or be defined by others as black, or have a black parent. Second, they had to make the NFL as a quarterback. To "make the NFL," we decided, at least one of the following two things had to happen: They had to be drafted by a franchise in the NFL draft, and/or they had to be rostered on an NFL team for at least one regular season or postseason game. There were many players who were drafted as quarterbacks, but never featured on an NFL depth chart. They made the list. Some players, like Warren Moon, were undrafted but eventually made an NFL roster. They made the list, too. Other players, like Antwaan Randle El, were quarterbacks in college, but were drafted by teams with the express intent of converting them to play different positions. They didn't make the list. (This got tricky, though. In general, we erred on the side of inclusion, because the story of black quarterbacks in the NFL is partly the story of black cornerbacks and black wide receivers who got converted before ever taking a snap in the pros. If this seems like a fuzzy and inconsistent standard to you, take it up with the NFL.) Many people—like you, probably—weren't drafted to play quarterback in the NFL, and didn't make an NFL roster as a free agent. They didn't make the list, either.
Several things were immediately clear. Though black NFL quarterbacks make up one of the smallest fraternities in all of sports, no one anywhere had ever compiled an exhaustive list. No one knows the names of every black quarterback ever to play in the NFL for sure, including us. But we think we're pretty close. There were several lists of black NFL quarterbacks online, which we cross-referenced to get a good base; we trawled through every single NFL draft ever, one by one, and we read thousands of articles, from as far back as the early 1900s, looking for hints of forgotten black quarterbacks. In our search, we found a few players lost to the years but immortalized via a casual name-drop or an off-hand comparison.
There were difficulties. A huge one, for example, is that the modern quarterback position didn't exist before the 1950s. Single-wing tailbacks like Frederick Douglass "Fritz" Pollard, Joe Lillard, and even George Taliaferro were called upon to pass, rush, and kick. They made the list, on the criterion that they threw passes. If not quite quarterbacks, they were the closest thing to it. Second, records grew more incomplete and, in some cases, less reliable the further we delved into the past. There's no telling how many black quarterbacks have been lost to history. If you spot any mistakes or oversights—and we're sure you will—let us know, either in the comments below or at tips@deadspin.com.
It took a long time and some real work, but we were able to put together what we think is the most comprehensive list of black NFL quarterbacks ever compiled. More than a compilation of names, this was an opportunity to find and publish these men's stories. Some are brief; others are long. We penned longer pieces on the most notable players, like Fritz Pollard, Warren Moon, Steve McNair, Michael Vick, the immortal Akili Smith, and many more, but every player on this list is part of a broad narrative that traces the history of football and its relationship with the broader society.
As part of this, we tested old stereotypes and answered old questions. Do black quarterbacks run more or less than whites? Are they more accomplished passers? You'll find answers here. We compared these black quarterbacks with each other and their non-black peers, and tracked the development of these players as individuals and as a collective over time. We added photos, videos, and some really great charts.
We did all this not just to learn about black quarterbacks, but to learn about how the position, the NFL, and race relations in this country have developed through time. Ultimately, given the dominance of African-American players elsewhere on the field, telling the story of what they've done under center is about testing the promise of football, the promise suggested by the strange, annual pre-Super Bowl recitation of the Declaration of Independence: that football represents what America is, and what it aspires to be.
This is The Big Book of Black Quarterbacks. Entries were written by me (I'm the "I" wherever you see it), Tommy Craggs, Billy Haisley, Samer Kalaf, and Kyle Wagner; charts are by Reuben Fischer-Baum. Let's get to it.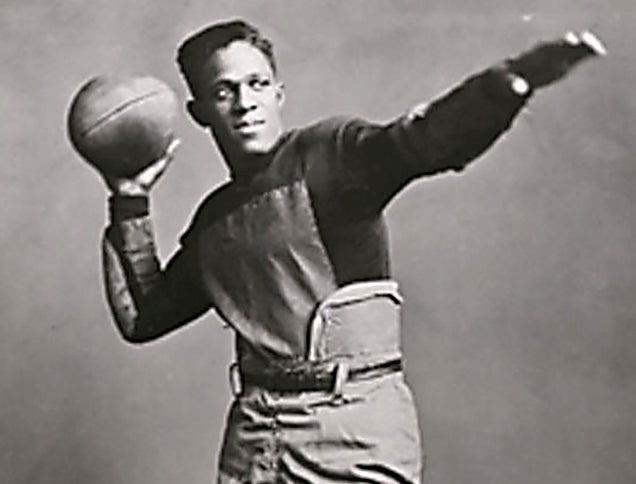 Frederick Douglass "Fritz" Pollard | 1920-1926 | Akron Pros, Milwaukee Badgers, Hammond Pros, Providence Steam Rollers, Akron Indians
"This dusky half-back was more than a broken field phantom. Pollard was a great football player."—New York Sun
Fritz Pollard was the first—the first black man to play quarterback and the first to coach in the NFL, of course, but also the first to play in the Rose Bowl, the first to be named to a backfield position on Walter Camp's All-American team, and the first in the professional ranks to attract a gate more or less on the strength of his name. That he played the heel in those games shouldn't be surprising. It certainly wasn't to Pollard, who from an early age knew what it meant to be a famous black athlete in America. "You had to understand," his son, the Olympic hurdler Fritz Pollard Jr., would say years later. "You had to play within certain perimeters."
At 5-foot-9 and 165 pounds, Pollard was considered slight even by the standards of the sport in 1915, the year he left the racist, majority-white neighborhood of Rogers Park in Chicago for Brown University, which itself "was prejudiced as hell," in Pollard's estimation. (Before college, there was a brief detour in semi-pro ball, including a stint with an all-Indian team for whom he played under the name Charlie Lone Star.) There, in his oversized uniform, Pollard dominated as a running back—though he did a little of everything, on both sides of the ball—and in his first year he gained some measure of national fame after a 3-0 victory over Yale. In a research paper by football historian John M. Carroll (whose work was indispensable to us in putting together this biographical sketch), Pollard recalled having to use a separate gate that day in New Haven so "the fans wouldn't get on me." In the game, he broke off a couple big runs, and in response Yale fans chanted, "Kill the nigger."
Certain perimeters. Pollard had followed the boxer Jack Johnson as a youth, had watched his rise and his fall and absorbed the central lesson of his career. "Black athletes could succeed in the white-dominated athletic world," Carroll writes in his biography of Pollard, "but only if they abided by an unwritten code of conduct both on and off the playing field."
In 1916, Pollard was named to the Walter Camp All-America team. He left Brown to pursue a dentistry degree and join the military, but he popped up again in 1919 as a football coach at Lincoln University, a historically black college (HBCU). That's when he was recruited by the Akron Pros, a professional football team that would join the American Professional Football Association in 1920. Here's where things get a little tricky for milestone seekers. The APFA was the precursor to the National Football League, and in a sense we can say that in 1920 Pollard became the first black quarterback in the NFL. But this requires some qualification on both ends. He wasn't a quarterback in the modern sense—the offense, out of the single-wing formation, still flowed through him, but the forward pass wouldn't be widely adopted in the pros until the 1930s—and neither was pro football the pro football we know today. The college game was still king, and the pro version was thought somewhat distasteful.
Whatever the case, Pollard was an instrumental figure in the formative days of the NFL, an exciting athlete whom Walter Camp reckoned "one of the greatest runners these eyes have ever seen." He knew his role was to play the villain. "Opposing teams and fans delighted in raining both physical and verbal abuse on Pollard," Carroll writes. "To protect himself, Pollard developed a habit of rolling over when tackled, cocking his legs, and flailing them bicycle style to discourage piling on. On occasion Pollard had to be driven to mid-field in a car moments before kickoff to avoid a shower of bricks and bottles often thrown by unruly fans."
In 1921, he served as Akron's head coach, becoming the first black coach in the history of the NFL. In 1922, he moved to the Milwaukee Badgers, which he also coached. In 1923, he joined the Hammond Pros. He played his last game in 1926, back in Akron, the team cutting him loose because the 32-year-old had "failed to play up to the form expected of him." This was most likely a lie. The upstart AFL, led by the barnstorming Red Grange, had folded after a single season. Historian Charles K. Ross has argued that the demise of the AFL created a glut of available white players eager to sign on with the NFL, rendering black players expendable. The NFL went from five black players in 1926 to just one in 1927. By 1934, no black players were signed to NFL contracts. "Probably," suggested Chicago Bears patriarch George Halas, whom Pollard always blamed for the de facto segregation of football, "the game didn't appeal to black players at the time."
Fritz kept coaching, though. In 1928, he founded the Chicago Black Hawks, an all-black team that played all-white teams in Illinois and throughout the country to show that blacks and whites could compete against each other without incident. He later coached the Brown Bombers, an all-black professional football team in Harlem whose players would sing spirituals and dance during games, the air of minstrelsy offset in part by the team's undeniable excellence. (In 1936, the Bombers trounced the Newark Bears of the newly formed APFL, 41-0.)
Pollard went into the newspaper business, too, creating the country's first black tabloid, New York's Independent News. He was exceptionally savvy about the media. In 1935, according to Carroll, he planted a story in the Associated Negro Press that claimed his son had gotten an offer to play for Halas's Bears. There was apparently no such offer, and Carroll speculates that Pollard was trying to draw Halas out "on the color ban issue." He failed, but the trick was in keeping with a man who worked against the status quo from within the system, who didn't attack those "perimeters" black athletes were forced to play within so much as nudge them outward.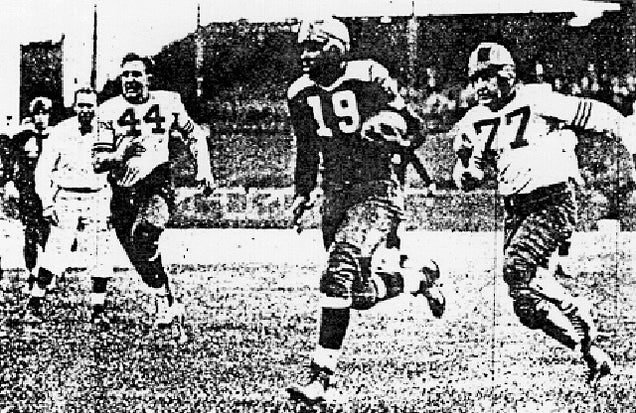 Joe Lillard | 1932-1933 | Chicago Cardinals
18 games (12 starts) | 372 yards passing | 2 passing TDs | 19 INTs | 28.4 comp. % | 10.8 QB rating | 494 yards rushing | 1 rushing touchdown | 0 fumbles
"Joe Lillard of the Chicago Cardinals was undoubtedly the most outstanding player on a white professional eleven."—Baltimore Afro-American
If he'd played in another era, Joe Lillard might be remembered today as one of the best athletes in the history of football. Growing up in the boomtown of Mason City, Iowa, he excelled in everything— football, basketball, baseball, track. At Oregon, he played and dominated two games as a freshman halfback before he lost eligibility when it was discovered he'd played baseball and basketball for semi-pro black teams. So in 1932, he went pro, and was signed by the Chicago Cardinals as the only black player in the NFL. For a year, he was used to rush, kick, return punts, and throw. In 1933, he was released. He and Ray Kemp share the honor of being the last black men to play in the NFL before an unofficial ban on African-Americans took hold. This "gentlemen's agreement" lasted until 1946.
For a number of reasons, race relations between blacks and whites in the 1930s were more strained than they had been at any time since Reconstruction. Racial inequality and segregation were written into law, as ever, but when the Great Depression hit, many Americans, both white and black, lost everything. And many Americans, both white and black, were suddenly fighting for the same menial jobs.
Minorities were vilified during the Great Depression, as they usually are in times of economic strife. In and out of the workplace, blacks were perceived and treated as threats. We think of this now as a Southern matter, which it was, but it was a Southern matter because so many blacks in the South were written out of FDR's New Deal, their access to new federal programs horsetraded away to secure the support of a Southern bloc unwilling to budge on Jim Crow. (The Social Security Act, for instance, exempted domestic and agricultural workers.) Policy and culture conspired to reinforce one another, the flaws of the former giving warrant to the bigotry and predations of the latter. Blacks were harassed. They were beaten, shot, dragged, and hanged.
Into this context burst Joe Lillard. He was special. He was electric. The Chicago Defender called him "easily the best halfback in football." A Boston columnist wrote: "Lillard is not only the ace of the Cardinal backfield but he is one of the greatest all-around players that has ever displayed his wares on any gridiron in this section of the country."
The problem was that he knew it. He was an arrogant black man in a white man's game. He had a live-wire temper, nearly causing a riot after one game when he launched a retaliatory uppercut at the chin of an opponent. Opposing teams lit him up with dirty shots, and some of his teammates hated him so much that they supposedly refused to block for him. "Football players, like anyone else, will always be jealous," Rocky Wolfe, the team's PR guy, said, echoing the things people would say many years later about Richard Sherman. "But a fellow can always clear up such a situation by living, walking and breathing in a manner that does not bespeak supremacy—a thing Lillard hasn't learned."
Lillard still produced, though, and still held down a job on the Cardinals in 1932, albeit tenuously. That year—the year in which FDR won his first term in office, carrying 75 percent of the black vote—the NFL changed forever: George Preston Marshall, along with several other investors, founded the Boston Braves. Marshall, born in West Virginia in 1896, was the heir to his father's laundry store empire. He was a visionary and a bigot, and the NFL is still wrestling with his legacy today. In his first year with the NFL, Marshall standardized schedules and carved the league into divisions; he set up a league championship; he made the forward pass legal from anywhere behind the line of scrimmage. In 1933, his partners dropped out, and as the sole owner, he renamed his team the Redskins. Then he brokered a league-wide ban on black players.
Well, no one would cop to the ban outright. Writes Thomas G. Smith in Showdown: JFK and the Integration of the Washington Redskins:
Professional owners, like their Major League Baseball counterparts, publicly denied the existence of a racial ban. "For myself and for most of the owners," Art Rooney of the Pittsburgh Steelers explained to me decades later, "I can say there never was any racial bias." George Halas of the Chicago Bears declared to sportswriter Myron Cope in 1970 that there had been no unwritten exclusionary agreement, "in no way, shape, or form." Tex Schramm of the Los Angeles Rams did not recall a gentleman's agreement: "You just didn't do it—it wasn't the thing that was done." Tim Mara of the Giants also denied that minorities had been blackballed. Despite the disclaimers, however, blacks had disappeared from the game altogether.
Lillard's contract was not renewed after the 1933 season. Was it racism? Smith has written elsewhere:
The black press claimed that Lillard had been "Too Good For His Own Good" and that the "color of his skin had driven him out of the National Football League." In 1935 Coach [Paul] Schlissler conceded that an unwritten rule barred blacks from the game for their own protection. Lillard, he said, had been a victim of racism.

"He was a fine fellow, not as rugged as most in the pro game, but very clever," he explained. "But he was a marked man, and I don't mean that just the southern boys took it out on him either; after a while whole teams, Northern and Southern alike, would give Joe the works, and I'd have to take him out." Lillard's presence, the coach continued, made the Cardinals a "marked team" and the "rest of the league took it out on us! We had to let him go, for our own sake, and for his, too!"
Marshall moved the Boston Redskins to the Southern, segregated city of Washington D.C. in 1937. The racial ban was still in effect, with owners mounting specious arguments in their own defense. Some said there was just no black talent in college football worth drafting. That was untrue.
The 1939 UCLA football team, for example, fielded four blacks. One was a transfer named Jackie Robinson, a four-sport letterman who averaged 12.2 yards per carry. Another was Kenny Washington, a teammate one year ahead of Robinson with a cannon for an arm. Robinson later declared Washington "the greatest football player [he'd] ever seen," and "probably the greatest long passer ever." Time wrote in 1940 that he was "considered by West Coast fans the most brilliant in the U.S. last year." Many regarded him as one of the best players in the history of the sport. When he graduated from UCLA, he was barred by NFL owners from entering the league. He instead played for the Pacific Coast Professional Football League.
Then the United States went to war. Though blacks were still second-class citizens by law, shared service began to erode barriers—blacks, for instance, competed alongside and against whites on service teams. When the All-America Football Conference launched in 1946 as a direct competitor to the NFL, it distinguished itself in one significant way: There was no ban on black athletes.
It was a shrewd move, and forced NFL owners to lift their own ban. (You could put together a pocket history of racial relations in sports by looking at the ebbs and flows of upstart leagues—a little competition in the marketplace has always been good for racial advancement.) Kenny Washington became the first black player signed to an NFL roster in the postwar era when he put in with the newly relocated Los Angeles Rams in March 1946. He played three seasons and retired in 1948. Though he was considered one of the greatest passers ever, he threw only 14 times in that period.
George Preston Marshall, meanwhile, proclaimed that he'd never put a black player on his roster, a promise he kept until 1962. He relented only when President John F. Kennedy threatened to nullify the Redskins' 30-year lease on what's now known as RFK Stadium.
And Joe Lillard? He never got another chance to play in the NFL. He retired from the sport in 1941.
George Taliaferro | 1950-1955 | New York Yanks, Dallas Texans, Baltimore Colts, Philadelphia Eagles
Drafted, 13th round (129 overall) | 61 games | 843 yards passing | 6 passing TDs | 15 INTs | 29.4 comp. % | 22.5 QB rating | 1,794 yards rushing | 10 Rushing Touchdowns | 0 fumbles
"He ran brilliantly, passed adequately, and punted in grand style."—Sammy Banks, Colts PR director
If you asked George Taliaferro, he'd probably say he doesn't belong on this list. He didn't consider himself just a quarterback, and he was drafted as a halfback. But he took snaps from the shotgun formation before the T-formation became fashionable, and he was called on to throw as well as run and punt. For our purposes, we'll call him a quarterback, which would make him the first black player drafted into the NFL to play a quarterback-like position.
In 2008, Taliaferro got to watch the start of a brief vogue for the Wildcat. Miami Dolphins running back Ronnie Brown was taking direct snaps like something out of the single-wing era. "That took me back to 1945, 1947, 1948," Taliaferro told The New York Times's William Rhoden. Watching Brown's highlights, he turned to his wife and said: "You see what this kid is doing? That was the fear of every defensive coordinator when I was in pro football: 'You got to watch out for Taliaferro. You got to know where he is.'"
Bernie Custis | 1951 | Cleveland Browns
Drafted, 11th round (135 overall) | 0 games
"The flying Negro from Syracuse."—Ottawa Citizen
Bernie Custis's decision to snub the NFL did not prevent him from making football history. The Cleveland Browns drafted Syracuse's star quarterback with the idea of moving him to defensive back—this would be a common refrain over the next half century—but Custis said thanks but no thanks. Instead, he went to Canada, joining the Hamilton Tiger-Cats. His 1951 season as the Ti-Cats' starting quarterback made him the first black quarterback to play in what would become the CFL.
Even Canada couldn't embrace a black quarterback yet, though the CFL (as we'll see) would later become a proving ground for black QBs outside the NFL. After his inaugural season, Custis was moved to running back. He played there for a few seasons, reluctantly but successfully, but his true desire to quarterback a team would perhaps rear its head in the form of missed practices and accusations of "dogging it." Still, he blazed a trail by pursuing a quarterbacking career in the Great White North. Many fellow black passers would follow.
Willie Thrower | 1953 | Chicago Bears
Undrafted | 1 game | 27 yards passing | 0 passing TDs | 1 INTs | 37.5 comp. % | 7.8 QB rating | 0 fumbles
"An Otto Graham-type Thrower"—Jet Magazine
Willie Thrower was the first black NFL quarterback of the modern mold. He led his Michigan State team to a national championship in 1952, his senior season. Thrower went undrafted but was signed by the Chicago Bears, serving as George Blanda's backup for his one year in the league. His only stats came in relief duty on Oct. 18, 1953, when the coach benched the struggling Blanda for a bit. Baby steps.
Charlie "Choo Choo" Brackins | 1955 | Green Bay Packers
Drafted, 16th round (185 overall) | 7 games (0 starts) | 0 yards passing | 0 comp. % | 39.6 QB rating | 0 fumbles
"Brackins [...] is constantly improving as a passer, shows ability as a runner and versatility as a place kicker"—Milwaukee Sentinel
At 6-foot-2 and 205, Choo Choo definitely looked the part when he became the first HBCU graduate to play quarterback in the NFL. His first time under center for the Packers, though, he went 0-for-2. He was released before the next game and never threw another pass in the league.
Sandy Stephens | 1962 | Cleveland Browns
Drafted, 2nd round (25 overall) | 0 games
"That's why we liked Stephens—he can run the ball."—Jack Jacobs, Montreal Alouettes assistant coach
The first black quarterback at the University of Minnesota was drafted in both the AFL and NFL, but neither the New York Titans nor the Browns would ever use him as a quarterback. Stephens kept his quarterback dreams alive in the CFL. He later gave the NFL another shot with the Vikings when he almost died in an accident that doctors thought would leave him unable to walk. Two years later, Stephens was a fullback for the Chiefs. He retired a short time after, never playing as a quarterback in the NFL.
Dave Lewis | 1967, 1970-73 | New York Giants, Cincinnati Bengals
Drafted, 5th round (109) | 56 games | 57 passing yards | 0 passing TDs | 0 INTs | 42.9 comp. % | 54.8 QB rating | 22 rushing yards | 4 fumbles
"Triple-threat rookie sensation."—Montreal Gazette
Dave Lewis brought a whole new meaning to the term positional flexibility. Drafted by the Giants out of college as a punter, Lewis rebuffed that offer in favor of the CFL, where he played halfback. After a couple seasons in Canada, he returned home to punt and—yes, it's true—return kicks for the Bengals. His college quarterback experience came in handy in 1971, when he was used there for a couple weeks in October as a stopgap between when the injured starter could reclaim his job from the banged-up back-up.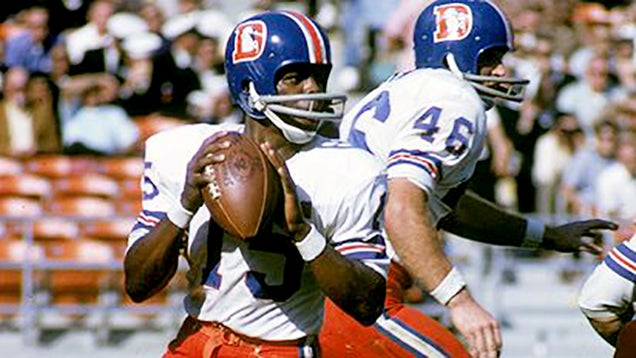 Marlin Briscoe | 1968-1976 | Denver Broncos, Buffalo Bills, Miami Dolphins, Detroit Lions, San Diego Chargers, New England Patriots
Drafted, 14th round (357 overall) | 9 games (5 starts) | 1,697 yards passing | 14 passing TDs | 14 INTs | 41.6 comp. % | 62.1 QB rating | 336 yards rushing | 3 rushing TDs | 8 fumbles
"He's probably the fastest quarterback in pro ball."—The Spokesman-Review
Marlin Briscoe was the first black quarterback to start in the NFL. Despite playing under center all his life, "Marlin the Magician" was drafted by the AFL's Broncos as a defensive back. An injury to the starter in his rookie year opened the opportunity for him to play quarterback. He started the final five games of the season and was in the running for Rookie of the Year.
The next season, Briscoe wasn't allowed even to compete for the job. Without notifying him, Lou Saban, the Broncos' coach, had signed a couple new quarterbacks and was conducting offseason workouts to see who would start the season under center. A furious Briscoe confronted Saban and demanded to be included in the QB battle or released. Saban complied with the latter demand, but not before sullying Briscoe's name around the league as an angry, black malcontent, essentially blacklisting him. No one picked him up off waivers.
Briscoe eventually got a shot in Buffalo as a wide receiver, a position he had never played. He hung around the league for eight seasons, playing on two Super Bowl winners in Miami. Years later, he would share what he considered "one of the highlights of my life."
"You won't believe this. Right after my rookie season, one of my receivers was named Jimmy Jones. He used to play for the [Chicago] Bears. I went to Chicago to see my girlfriend. I contacted Jimmy and he took me to this bar called The Presidents. So, Jimmy is introducing me to the bartender, 'This is Marlin Briscoe. He is the first black quarterback in the NFL.' This guy was sitting next to me. He said, 'You weren't the first black quarterback.' I said, 'I was.' He said, 'No, you weren't.' I said, 'Well, who was?' He said, 'I was. My name is Willie Thrower.' It couldn't happen in a million years. I knew that he existed, and he was sitting right next to me. We sat there and we talked for a couple of hours. I met him by happenstance going to this lounge with my receiver. I knew who he was, and for him to be sitting right next to me. It was kind of crazy, but I am glad that I got a chance to meet him."
Eldridge Dickey | 1968, 1971 | Oakland Raiders
Drafted, 1st round (25 overall) | 18 games (0 starts)
"[Dickey] has great potential as a quarterback."—Al Davis, Raiders managing general partner
Eldridge Dickey, by both skill and determination, was destined to be the first great black quarterback. He possessed the accuracy and size of a prototypical dropback passer, as well as the brash confidence in his ability to finally break the QB color line. Instead, he started his career as a wide receiver—a temporary move, according to then-general manager Al Davis. "If Dickey doesn't play quarterback in two or three years, then it will be an issue," Davis said as regards fan frustration at seeing Dickey playing out wide in his first game. After three years as a wideout, Dickey was out of the league.
Henry Johnson | 1968 | San Francisco 49ers
Drafted, 12th round (315) | 0 games
There is almost no information remaining on the life and career of Henry Johnson. There is a story presumably of the teenaged Johnson whose Miami Beach High squad was bashed by Miami Jackson. He's listed correctly as Fisk's quarterback in the History of the Southern Intercollegiate Athletic Conference, 1913-1990, possibly as a member of an All-Star team. Then there's an article from when the 49ers drafted him and one from when the 49ers cut him. That's all we know.
Onree Jackson | 1969 | Boston Patriots
Drafted, 5th round (110 overall) | 0 games
"Jackson could be the Willie Mays of pro football."—Rommie Loudd, Patriots personnel director
Onree Jackson was touted as the first black quarterback drafted solely to play QB. At 6-foot-5 and 210 pounds, his prototypical quarterback build didn't project too easily at the usual secondary positions. The executive who drafted him, the one who gave that hopeful quote above, was Rommie Loudd, himself a retired black football player. Jackson never played a game.
James Harris | 1969-1981 | Buffalo Bills, Los Angeles Rams, San Diego Chargers
Drafted, 8th round (192 overall) | 83 games (41 starts) | 8,136 yards passing | 45 passing TDs | 59 INTs | 52.8 comp. % | 67.3 QB rating | 367 yards rushing | 10 rushing TDs | 36 fumbles
"He's a helluva athlete."—John Hadl, Harris's backup in Los Angeles
James Harris is the first black quarterback who got a legitimate shot to prove himself a capable starter in the NFL. After a handful of years developing with the Bills (sometimes throwing to Marlin Briscoe), Harris finally got his shot with the Rams in 1974. The next few years the Rams were consistent contenders. A recurring shoulder injury hampered his career with the Rams and he was eventually traded to the Chargers, starting one year but mainly serving as Dan Fouts's backup.
Karl Douglas | 1971 | Baltimore Colts
Drafted, 3rd round (71 overall) | 0 games
"Has one of the strongest arms in football."—Star-News
Backing up a then-39-year-old Johnny Unitas on the Baltimore Colts, Douglas, a rookie, wasn't given a chance to prove himself. General manager Joe Thomas felt he "didn't fit the bill" and replaced him by trading for San Diego's Marty Domres, who eventually started. Douglas turned to the CFL and played four season for the BC Lions and Calgary Stampeders.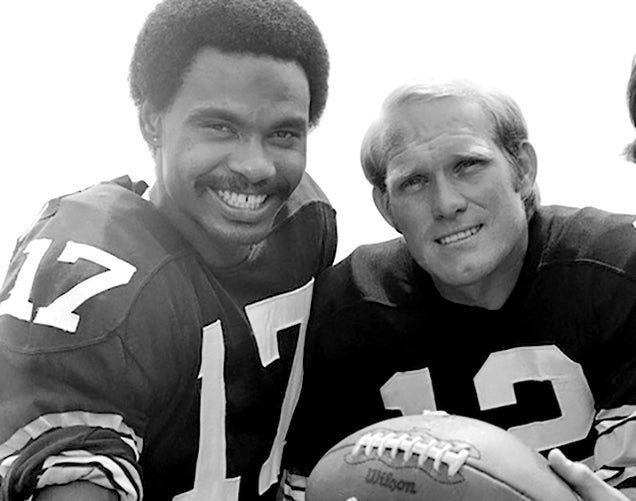 Joe Gilliam | 1972-1975 | Pittsburgh Steelers
Drafted, 11th round (273 overall) | 20 games (7 starts) | 2,103 yards passing | 9 passing TDs | 17 INTs | 44.4 comp. % | 53.2 QB rating | 64 yards rushing | 1 rushing TD | 8 fumbles
"Tennessee State's answer to Broadway Joe Namath."—Daytona Beach Morning Journal
Joe Gilliam's story is one of loss. He grew up in Nashville during the Civil Rights era. His father, Joe Sr., was a defensive coordinator who coached at the historically black Tennessee State University. Gilliam was the ballboy. When it was time for college, Gilliam followed his dad to Tennessee State. By the time he'd graduated in 1972, he was a two-time All-American. That year, the Pittsburgh Steelers drafted him in the 11th round to back up Terry Bradshaw, the face of the franchise and the league's first overall pick two years prior.
Gilliam had the talent and the will to avoid the typical fate of black quarterbacks entering the NFL—position change or exile in Canada. He was a coach's kid and a college star. He was cocky. And he was smart. At the NFL combine, he ran a slow 40-yard dash on purpose, so coaches wouldn't consider him at wide receiver or cornerback. He made the Steelers as a quarterback, and for two years served as a backup to Bradshaw and another young quarterback, Terry Hanratty.
Under Bradshaw—and behind the Steel Curtain—the Steelers were transmogrifying themselves into one of the most formidable organizations in the league. But then came the 1974 players' strike, which lasted between July and August, and ran through the fourth preseason game. Bradshaw and Hanratty picketed, but Gilliam saw this as his opportunity; he didn't care if he was being called a scab. The Steelers were unbeaten in preseason, and Gilliam impressed head coach Chuck Noll. Bradshaw and Hanratty both played in the preseason, but Gilliam was the best. He could run and extend plays with his feet. He had a cannon, and perhaps the quickest release in the league. There were rumors he could even throw with his left hand.
"He's done very well in the preseason," Noll said about Gilliam. "He's been the most productive and that's what we look at."
Reporters made excuses for Bradshaw and Hanratty.
"Both Bradshaw and Hanratty were hurt," said NFL writer Roy Blount, Jr. But even Bradshaw admitted that Gilliam had beaten them clean, in a 1980 interview with Playboy.
"Joe had a phenomenal preseason," Bradshaw said. "He won the job and I lost it."
This was important. No black quarterback had ever been named the starter to open an NFL season. Black Steelers fans packed the stadium. Gilliam was just 23 when he won the starting spot, but he was already being looked at as something bigger, a hero, a symbol. Though there had been black quarterbacks in the NFL before him, Gilliam was seen by many as the first.
Gilliam later said he was never truly aware of his significance, but that doesn't check out. Before he was even drafted, Joe Sr. spoke to media about the pressure weighing on his son.
"He couldn't eat," his father told the Miami News in 1972. "He was losing weight. There was a lot of anxiety involved, and there still is. All eyes are upon him. I told him to expect to be scrutinized, to expect to have his mistakes blown all out of proportion. But it's impossible to adjust to the pressure involved. Maybe he'll never completely adjust."
After an undefeated preseason, the Steelers opened up the year by rolling the Baltimore Colts, 30-0. Gilliam threw for two touchdowns. The second week, the Steelers tied the Broncos 35-35. It wasn't a victory, but the offense scored five touchdowns; Gilliam threw a 61-yard touchdown pass and rushed for another.
He was still a black quarterback in the '70s, though. He received death threats, and hate mail filled his mailbox daily. The Steelers themselves got bomb threats. He later said he always walked around strapped.
Noll stuck with Gilliam, even when the Steelers got blanked the next week by the Oakland Raiders. Bradshaw was so distraught, so certain he wouldn't get another shot, that after the game he asked new Raiders owner Al Davis to trade for him.
Pittsburgh won its next two games, jumping out to a 4-1-1 start. But there were concerns. Gilliam was inconsistent, for one, and Bradshaw had the faith of much of the locker room. There were the familiar reports that Gilliam felt entitled, that he was standoffish. There were rumors that he did cocaine and heroin. After six weeks of Gilliam as the starter, Noll benched him for Bradshaw.
"He gave me my job back," Bradshaw would say, 26 years later. "I didn't earn it back. I didn't beat him out."
According to those close to him, something broke in Gilliam. He never threw another touchdown in the NFL. In January, he looked on as Bradshaw led the Steelers to their first Super Bowl win. Depressed, he increasingly turned to drugs and alcohol; once, teammate Ernie Holmes snatched drugs out of Gilliam's hand in the middle of the locker room and flushed them down the toilet (what drugs, we're not told). The Steelers cut him before the 1976 season when he missed a team meeting in training camp. He was only 25, but Gilliam's career was already over.
Bradshaw and the Steelers went on to win three more championships as Gilliam spent time in and out of rehab, and in and out of prison for drug possession. Addicted to cocaine and heroin, Gilliam would eventually lose his family and his home, and for two years, he lived under a bridge in a cardboard box.
After two decades of addiction, Gilliam fought back. He moved home to Nashville and got clean—for a while, at least. He died Christmas Day in 2000, four days before his 50th birthday. It was a cocaine overdose.
Gilliam is mostly forgotten, and if he's remembered at all, it's as a cautionary tale. He's every scary story that every single kid has ever heard about the perils of drugs, alcohol, and fame. In his death, he's been reduced to the worst kind of symbol.
Dave Mays | 1976-1978 | Cleveland Browns, Buffalo Bills
Undrafted | 12 games (4 starts) | 937 yards passing | 7 passing TDs | 11 INTs | 51.3 comp. % | 55.4 QB rating | 16 yards rushing | 0 rushing TDs | 0 fumbles
"He's a very capable quarterback with a good arm and a good mind."—Browns coach Forrest Gregg
Mays was a practicing dentist while he played for the Browns. When he got his chance in a game, he ended up beating the Steelers. ''Dave Mays had a career in one Sunday afternoon," offensive tackle Doug Dieken said. "For the people of Cleveland, when you beat Pittsburgh, it was almost like, 'Screw the rest of the season.' You can make or break your season just by beating them.''
JJ Jones | 1975 | New York Jets
Undrafted | 7 games (1 start) | 181 yards passing | 1 passing TD | 5 INTs | 28.1 comp. % | 9.6 QB rating | 59 yards rushing | 0 rushing TDs | 2 fumbles
"A crowd of 52,446 San Diego fans booed bitterly when young J.J. Jones opened at quarterback instead of [Joe] Namath."—Associated Press
The one-season backup for Joe Namath died in a suspicious house fire in 2009.
Parnell Dickinson | 1976 | Tampa Bay Buccaneers
Drafted, 7th round (183 overall) | 8 games (1 start) | 210 yards passing | 1 passing TD | 5 INTs | 38.5 comp. % | 25.5 QB rating | 103 yards rushing | 0 rushing TDs | 3 fumbles
"He is a rangy 6-2 and 180 with a whiplash arm and what, in football parlance, you call 'quick feet.'"—Lakeland Ledger
There are a whole lot of brothers on this list that you could probably look at and say, "Well … maybe if someone had given them a chance ..." That's probably not Parnell.
Johnnie Walton | 1976-1979 | Philadelphia Eagles
Undrafted | 15 games (0 starts) | 338 yards passing | 3 passing TDs | 3 INTs | 47.7 comp. % | 59.6 QB rating | -4 yards rushing | 0 rushing TDs | 1 Fumble
"His spirals are tight enough to make an incision on."—Reading Eagle
Came into the league as a backup, and never shook that that despite apparently impressing on the practice field. To finally find time as a starter, he left the NFL for various offshoot leagues.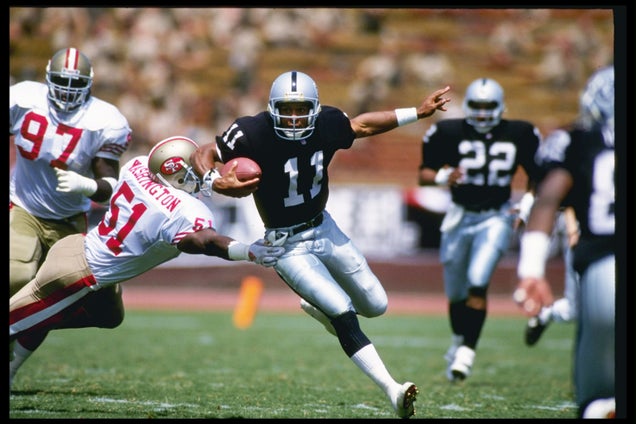 S
Vince Evans | 1977-1983, 1987-1995 | Chicago Bears, Los Angeles Raiders/Oakland Raiders
Drafted, 6th round (140 overall) | 100 games (39 starts) | 9,485 yards passing | 52 passing TDs | 74 INTs | 50.6 comp. % | 63.0 QB rating | 1,129 yards rushing | 14 rushing TDs | 39 fumbles
"Drafted [...] as an NFL quarterback with a strong passing arm who could also run for big yardage."—Associated Press
Vince Evans was drafted by the Bears in 1977, even though he'd told the Chicago's director of scouting he didn't want to leave California, and would not play for the Bears. He ended up going, and gave Chicago seven years of mediocre football for its trouble. In the two years he was pressed into extended action, 1980 and 1981, he started a combined 26 games and threw 22 touchdowns against 36 interceptions. By the 1984 season, he was playing for Chicago's USFL Blitz, and in 1985 he was run out of town completely. He caught on with the Denver Gold. The next year the USFL collapsed, and he was out of professional football. Then the 1987 NFL strike happened.
The work stoppage in '87 was an ugly one. The league had gone through a strike five years prior, in 1982, that had forced it into an abbreviated nine-game season. This time, it had no intention of shedding games, and so put out word that it would be fielding replacement teams, full of scab players—an audacious act of employer militancy that also revealed the owners' almost-suicidal hostility to their own product.
When the word went out, teams received a massive wave of calls from former and aspiring players, according to the Raiders' coach at the time, Tom Flores. It made sense—whatever the circumstance, this was a chance to play in real-ish NFL games, after all. For many black quarterbacks especially, the calculus was clear: This would be their best, maybe their last chance to get into, or back into, the league. In 1987, the number of black quarterbacks who threw at least one pass tripled. The romance of this is obvious for players like Tony Robinson, the inspiration for Shane Falco in The Replacements, who seized on their one chance and held on for dear life.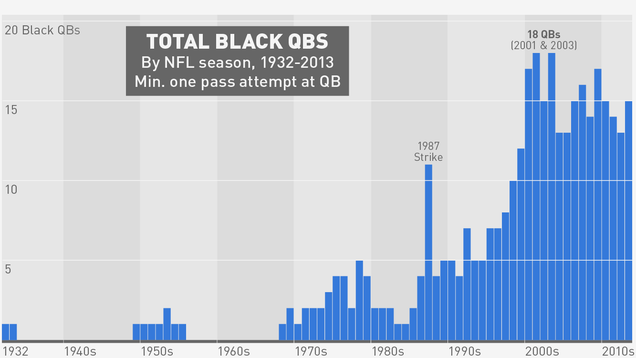 S
But for players like Evans who'd already spent time in league, it was a terrible decision to confront. Do you take this opportunity to make it back into the NFL, and in doing so, betray your former and hopefully future colleagues? Your friends? Can you afford to take a moral stand when external forces have conspired against you for so long? Evans took his shot, though he was ambivalent at best about it.
"When this opportunity presented itself for me to be back in the NFL," he said at the time, "it was kind of a tough decision because of the sensitivity of it, but I had to do what I thought was best for me at the time. I've got a wife and a little girl. I still believe I'm making the right decision. I hope that those guys who are picketing and standing for what they believe is right understand—and I respect them for what they stand for, because I was once part of the union. But given the circumstances I'm in right now, I wanted to go for it."
The striking players didn't see it like that. Here's the scene as Evans entered the stadium for the first game of the season:
So it has come to this for Vince Evans: Slipping in the side entrance on a bus full of strikebreakers, as the real Raiders stood in the rain, taunting him.

"The guys were really looking kind of vicious, calling us 'scabs' and everything," Evans said. "The only one I recognized was (tight end) Todd Christensen. He had some choice words.

"I like to look at things like we're all human beings. Why demean a man for what he believes is right?"
Through the first three scab games, Evans was the best quarterback in the Potemkin NFL. In the first game against Kansas City, which the Raiders won 35-17, Evans threw for 248 yards and two touchdowns and ran for 64 yards and another score. He'd finish his three-game run having thrown for 630 yards, five touchdowns, and four interceptions, and rushing for 144 yards and a touchdown on 11 carries.
And despite his reputation as a real sonofabitch, Al Davis stands tall in the retelling of this era. He'd been drafting black quarterbacks since back in the '60s, and he rostered Evans without a second thought in '87. Al Davis got it, more through opportunism than any bleeding-heart tendencies. And Davis also understood that the strike, which was focused mainly on bringing free agency to the NFL, risked alienating players from ownership just as they were being granted a greater freedom of movement. So while many owners were trying to break their players and strongarm them back across the picket line, Davis remained silent. But when a few of his own players came to him, pledging loyalty to Davis and the Raiders ahead of the NFLPA, Davis told them to get the hell out of his office and go stand outside with their teammates, until they all came in together.
In spite of this soft approach to the players' union, or perhaps because his decisions had earned him enough leeway to get away with it, Davis kept Evans on after the strike season. He'd play another seven seasons with the Raiders, and become one of the most respected members of the team. He saw the most extended action in his last season, 1995, when he started three games for an injured Jeff Hostetler at age 40.
Evans is a success story, but there's something almost unbearably sad about it. He got his shot. He just had to cross a picket line to get it.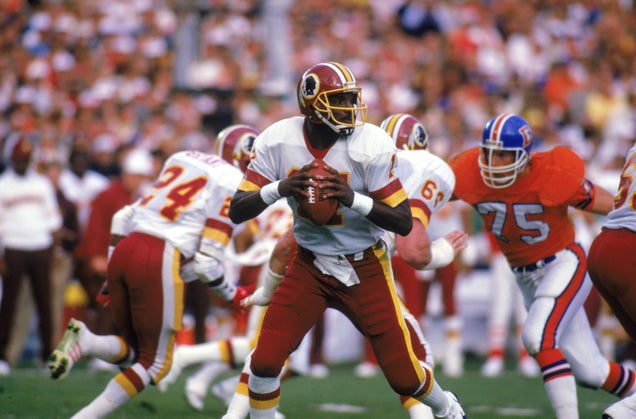 S
Doug Williams | 1978-1982, 1986-1989 | Tampa Bay Buccaneers, Washington Redskins
Drafted, 1st round (17 overall) | 88 games (81 starts) | 16,998 yards passing | 100 passing TDs | 93 INTs | 49.5 comp. % | 69.4 QB rating | 884 yards rushing | 15 rushing TDs | 41 fumbles
"He throws the ball like [1976 MVP] Bert Jones."—Morris Owens, Bucs wide receiver
My dad's from Lynchburg. So is his dad, and his dad, and for all I know, his dad. Lynchburg's a smallish city in the middle of Virginia. It's Redskins country, always has been. When he was young, his parents moved him, his brother, and two sisters a few hours north to the segregated city of Washington D.C. That's where he was raised, and where he discovered football.
My dad was born in 1950, four years after NFL owners had begun to lift their 13-year ban on African-American players. Even after integration, there were still few blacks in the league. None played for the Redskins, because a loud and proud racist, George Preston Marshall, was writing the checks. So on Sundays, my dad would play football out in the street with his brother and the rest of the kids in the neighborhood, then walk up the steps to his cramped row house, plop down on the couch with his dad, and watch the Cleveland Browns.
The Browns were the first NFL team to integrate after the war with Bill Willis and Marion Motley, two players who became perennial All-Pros and, later, Pro Football Hall of Famers. In the late '50s, though, the Browns boasted a backfield of Jim Brown and Bobby Mitchell. They ran over everyone. Everyone still talks about Jim Brown, but Mitchell was my dad's favorite player. In 1959, Mitchell's second year in the league, he blasted the Redskins for 232 yards on the ground. In 1962, JFK threatened to kick the Redskins out of Washington if they didn't integrate their team. After 30 years of owning the Redskins and refusing to sign black players, Marshall relented, and the Redskins became the last NFL team to integrate.
They decided on Ernie Davis, an All-American halfback from Syracuse University who in 1961 had become the first black player to win the Heisman. That December, the Redskins made Davis the first black player to be chosen first overall in an NFL draft. He refused to play for Marshall, and Washington was forced to trade Davis to the Browns for Bobby Mitchell. Davis was diagnosed with leukemia in the summer. He never played a down for the Browns, and on May 18, 1963, Ernie Davis passed. He was 23.
With my dad's favorite player in burgundy and gold, geography finally won out, and he slowly started to warm to the Redskins. Then he grew up, got a job, started a family, the works. But his formative years as a teenager and a young man took place in the Civil Rights era. He grew up on the Maryland border, and he tells stories about white kids crossing the line into D.C., spitting on black kids, then sprinting to safety back over the state line. My dad, who played cornerback, would chase them, and fight them if he could catch up. He was fast and angry. When he made enough money to live on his own, he moved to Maryland.
As my dad grew up, he was forced to look on, helpless, as African-Americans fighting for equality in the country were threatened, imprisoned, and murdered. There was something hypocritical, something vile about blacks being told they were incapable of leadership even as their leaders were being blown away. He called it a sickness, but it was one that spilled into NFL locker rooms.
It was always thought that blacks couldn't be quarterbacks, that they lacked the intelligence and charisma to lead a team. So most black quarterbacks, even the ones who excelled in high school and college, had to switch positions in the NFL, or else escape north to play in Canada. When Doug Williams was drafted by the Tampa Bay Buccaneers in 1978 from Grambling State, he was one of a handful of blacks ever to get a shot at playing quarterback, at leading a team.
Williams wasn't a great quarterback. He was inconsistent, and threw more interceptions than touchdowns in three of his first five seasons. But he was decent, and considered the heart and soul of the team. With Williams leading, Tampa Bay made the playoffs three times in the same span. By the time his contract expired after the 1982 season, his career record as a starter was 33-33-1.
He made only $120,000 a year; 41 other quarterbacks in the league had a bigger salary, including a dozen backups. He wanted $600,000 a year, but owner Hugh Culverhouse wouldn't go above $400,000. Williams walked.
The quarterback moved to the United States Football league, a competitor to the NFL that launched in 1983. Competition in the USFL was strong, and Williams once again seesawed. In 1984, his first year with the Oklahoma Outlaws, he went 6-12. In his second, he played better, but the Outlaws finished 8-10.
After the 1985 season, the league folded, and Williams was out of work. But Joe Gibbs, who was the offensive coordinator at Tampa Bay when Williams was there, was the head coach in Washington. He coaxed his former QB to join the Redskins as a backup.
Williams's first season in Washington was in 1986. As Jay Schroeder's backup, he threw a single pass all year: incomplete. It was great the 'Skins had signed a black QB, but Williams was one who didn't and probably couldn't really play.
Washington had the Eagles in the first game of the 1987 season. Jay Schroeder went down hurt, and Williams led a comeback win over their conference rivals. That year was a weird year for both quarterbacks. Schroeder would be knocked out of two more games, and both times, Williams pulled out comeback wins over his opponents. Williams also started two games; he lost both. But, you know, that was Doug Williams.
The Redskins finished the season 11-4 and qualified for playoffs. Even though Williams had played in only five games, he'd outperformed Schroeder, throwing 11 touchdown passes and only five interceptions in that span. He was also likable, and his teammates preferred him over Schroeder. Gibbs gave Williams the starting position for the duration of the playoffs.
My dad was happy to see Williams lead his favorite team of the last 25 years. But my dad was a grown-ass man. He was 37 years old. He had a daughter, had met the love of his life, and had a brilliant, handsome, charming firstborn son on the way. Williams was a great story, but my dad had more or less made it. He was old enough now that pro athletes like Williams were younger than he was, which is to say that he was old enough to realize that athletes were flawed humans, too. He didn't need a hero.
But he was lucky. Few people actually need a quarterback to look up to during their formative years, but it's a profound privilege for a football fan. Quarterbacks run the show. They're the leaders. My dad's favorite player, Bobby Mitchell, was a leader on the Browns and Redskins because he was the truth. But someone had to hand him the ball. He may have been the main attraction, but he wasn't running the show.
These are the small things that define your horizons. Only a few black quarterbacks had ever even seen NFL action to that point. None had ever led his team to a Super Bowl. The usual term here is "role model," but there's something a little patronizing about that, as if Williams's principal contribution was to make a bunch of black kids want to be quarterbacks. What he did was make the fantasy lives of a lot of people just a little bit richer, a little less impoverished. What Doug Williams offered, there in the heart of rugged, smash mouth, corporate-approved Americana, was possibility. "You had to play within certain perimeters," the son of the NFL's first black quarterback, Fritz Pollard, once said of his father's experience. Williams in the Super Bowl was the measure of the distance between the old perimeters and the new ones.
Williams and Washington were up against the Denver Broncos, in their second straight NFL championship game on the shoulders of Pro Bowl quarterback John Elway. The Broncos were favored. The Redskins received the opening kick and went three and out. On the Broncos' first play from scrimmage, Elway threw a 64-yard touchdown pass. Washington got the ball back and punted. Elway marched his team back down the field, and after a Rich Karlis field goal, the Broncos led 10-0. That's how the quarter ended. Then Doug Williams went apeshit.
Less than a minute into the second quarter, Williams threw an 80-yard touchdown strike to Ricky Sanders. The Broncos took the kickoff, then punted. The Redskins got the ball back, ran it down the field, then Williams found Gary Clark for a 27-yard touchdown. Washington's next possession: Running back Timmy Smith scampered into the end zone from 58 yards out. Next possession: Williams passed to Ricky Sanders for a 50-yard score. Next possession: Williams threw an 8-yard touchdown pass to Clint Didier. At half, it was 35-10. Williams had just thrown four touchdown passes in 13 minutes.
It was one of the finest quarters of football in the history of the sport. The Redskins went on to win, 42-10, and at the final whistle, Williams became the first black quarterback to start and win a Super Bowl. At the awards ceremony, Williams became the first black quarterback to win Super Bowl MVP.
I asked my dad recently how he felt after the game. "I was proud," he said. "It was probably the same feeling people had when Joe Louis was heavyweight champion, and when Obama became president. Arthur Ashe. The Williams sisters. Any first, really. It's a validation that when given the same opportunity, we can do as well or better."
Doug Williams was still Doug Williams, of course, and in 1988, he was benched for third-year quarterback Mark Rypien. Williams rode pine for one more season, then retired. He finished 8-9 as Washington's quarterback.
He was pretty average, a hot-and-cold quarterback who might've been lost to history but for 15 minutes in Super Bowl XXII, when he wore the same burgundy and gold my dad grew up rooting against, and became more. He became important, in the way that Muhammad Ali was important.
And he remains important. Williams coached his alma mater, Grambling State, from 1998 until 2003, then had a second stint that started in 2011 and ended last September. Now it appears he's coming back to the Redskins, a team that could use some symbols of racial advancement right about now. Williams is in late negotiations with the organization about a front-office position. I know this because my dad told me. My dad's a gruff guy who doesn't get too caught up in too much feel-good symbolism. But even now, all these years later, he loves what Doug Williams stands for.
Nickie Hall | 1981 | Green Bay Packers
Drafted, 10th round (255 overall) | 0 games
"He has as much physical ability as anyone I've ever coached."—Vince Gibson, Hall's coach at Tulane
Cheeseheads consider the 1981 draft class the worst in Packers history. The team drafted a punter in the third round, so that doesn't seem too far-fetched. Hall never played in the NFL.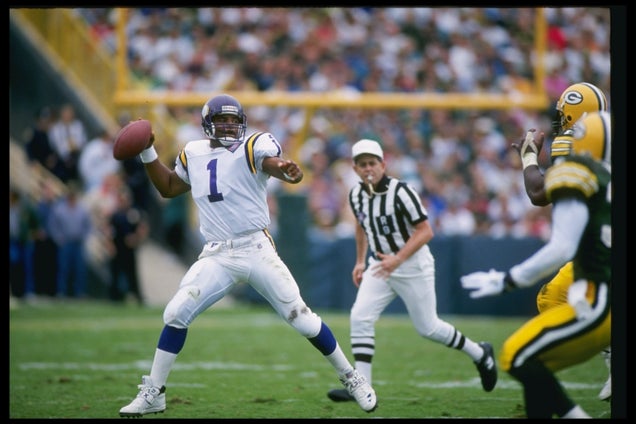 S
Warren Moon | 1981-2000 | Houston Oilers, Minnesota Vikings, Seattle Seahawks, Kansas City Chiefs
Undrafted | 208 games (203 starts) | 49,325 yards passing | 291 passing TDs | 233 INTs | 58.4 comp. % | 80.9 QB rating | 1,736 yards rushing | 22 rushing TDs | 161 fumbles
"He is like César Chávez or Arthur Ashe or Martin Luther King Jr. He comes in the huddle, and he speaks in that soft voice, like the voice of an angel, and you strain to hear every word."—Haywood Jeffires, Oilers teammate
For years, Warren Moon had to fight to play quarterback. He dodged the position change in high school and, despite scouts waving him off, at a community college where he enrolled so he could remain at quarterback. He eventually transferred to Washington, where he was erratic but hugely promising by his third season, earning the Rose Bowl MVP award in the Huskies' win over Michigan. But scouts saw less value in him because he didn't play in an offense that utilized quarterback mobility enough. Moon was a pocket passer, and since only one black quarterback—James Harris—had even remotely succeeded in the league to that point, Moon wasn't worth the risk. And so Warren Moon went undrafted in the 1978 NFL draft, packed his bags, and took his talents to the CFL, like so many black quarterbacks the NFL had turned down.
After a rocky first season, Moon soared with the Edmonton Eskimos. In 1982, he was the first pro quarterback to pass for 5,000 yards in a season, hitting the number exactly, and the next season, he had 5,648 passing yards and won Most Outstanding Player. Edmonton won the Grey Cup twice in Moon's six seasons. Those 5,600 yards were enough to finally get the NFL off its ass. The Houston Oilers signed Moon, and while he was shaky at times early in the transition, he would become one of the most prolific passers of the era. Looking back at the stats, Moon and Dan Marino are about the only two whose numbers wouldn't be out of place in today's pass-dominant NFL. He threw for more than 4,600 yards in back-to-back years, and in total threw for 49,325 yards in the NFL, still sixth all time, despite spending those six years in the CFL. Moon was inducted into the Pro Football Hall of Fame in 2006.
But while Warren Moon was certainly the best black quarterback to end up in the CFL, he certainly wasn't the first, or only. Bernie Custis was the first, in 1951, and other notable players like Carroll Williams, Chuck Ealey, Jimmy Jones, Damon Allen, and Tracy Ham would follow. And so for three decades, well after the reintegration of the NFL, the CFL served as a sort of latter-day Negro League for black quarterbacks.
Position switches will always happen, at QB and elsewhere—Richard Sherman came into college playing wide receiver, after all—and some guys did get a shot. Sandy Stephens never quite made it as an NFL quarterback, and only accepted a role in a different position at the end of his career, when it was too late. Willie Wood went from a quarterback at Southern California to a free safety for the Packers in the 1960s. Marlin Briscoe was taken by the Broncos to be a defensive back, and only got a chance at calling plays after an injury to the starter. But Moon is so representative of a change in attitude precisely because he wasn't suited to make that sort of switch. He was a pocket passer playing a pro passing style, and no one wanted any part of him.
Today, position changes happen with guys like Josh Cribbs or Antwaan Randle El, but in ways that make more sense. Playing quarterback in college doesn't—and shouldn't—afford divine right to stay there forever, but doing it well enough will at least get you a shot.
Brian Ransom | 1983-85 | Houston Oilers
Undrafted | 0 games
"Brilliant in camp."—Reading Eagle
Backed up Warren Moon for a few years, making them the first team with two black quarterbacks on the active roster at the same time.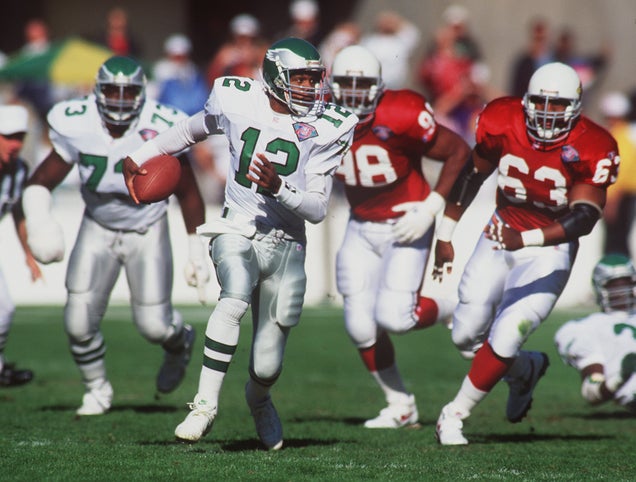 S
Randall Cunningham | 1985-2001 | Philadelphia Eagles, Minnesota Vikings, Dallas Cowboys
Drafted, 2nd round (37 overall) | 161 games (135 starts) | 29,979 yards passing | 207 passing TDs | 134 INTs | 56.6 comp. % | 81.5 QB rating | 4,289 yards rushing | 35 rushing TDs | 105 fumbles
"First of all, he's the best athlete to ever play the position. Sammy Baugh might be right there with him. I hope Randall can win like Sammy. But Randall could probably lead the league in punting. He's the best runner in the league, and if you can't see he can throw the football, I won't waste my time with you. I heard some of that black crap: 'Move him to wide receiver, move him to defensive back.' I don't hear those voices too much anymore. I go with what I know. I've been around professional football for 27 years. So I don't screw up too much."—Buddy Ryan, Eagles coach
OK, forget the context, forget the stakes, forget that this was just another Eagles-Bills game being played in the cold, gathering shadows of a November afternoon in Buffalo. Forget all that and ask yourself: Is this the greatest individual play in NFL history?
"Fred Barnett 95 yard pass from Randall Cunningham" is how the box score puts it. "Randall Cunningham jukes Bruce Smith into Ontario and drops the prettiest pass you've ever seen into the arms of Fred Barnett, who is in another time zone" is another way to describe it. The play demanded every skill you'd want from a quarterback: the feel for the pocket and the feet to move around as it starts collapsing, then to hop backward out of the way of charging Cornelius Bennett, and the awareness and quickness and all-around whatever-the-fuck to immediately double up at the waist, to dip just beneath the sweeping left arm of Smith like a boxer bobbing beneath a hook, thus making the NFL's all-time sacks leader leave his underwear all over the end zone, and then the vision and the arm and the accuracy to hang a ball on a rainbow while moving to his left, big Leon Seals in his face, and put the thing in a receiver's hands some 60 yards away.
"Yes, I amaze myself sometimes," Cunningham said afterward. It was a line he'd used before, and it's hard to read the quote now, a couple decades on, and not hear a note of resignation in it, the sigh of an actor stuck in repertory.
He may have been uncommonly good, but he had the archetypal black quarterback experience. As a prospect at UNLV (where he was also an All-American punter), he could only be seen through the prism of the most prominent black quarterback of the era, even though the two were nothing alike. "He's a Doug Williams with a touch," Gil Brandt, the Dallas Cowboys' VP for personnel development, told Sports Illustrated in 1984, which in football terms is the rough equivalent of saying Colin Kaepernick is a Jay Fiedler with a better arm. But even at that late date, a black quarterback could only be understood in the context of other black quarterbacks. A sort of redlining of the mind had taken place, and it was exceedingly rare for pundits to analogize the talents of a black athlete with those of a white one.
Cunningham went in for a lot worse, though. It was said he was too cocky, too selfish, too consumed by his own wish for celebrity, and many years later you could find echoes of his treatment in the criticism of Kaepernick and Cam Newton and RGIII. He was ripped for likening himself to Michael Jordan, Wayne Gretzky, and Magic Johnson, and he was ripped for his Michael Jackson-like wardrobe and Jheri curl, and he was ripped for showing up at his first Eagles training camp in a T-shirt that read "IF YOU WANT TO TALK, CALL MY AGENT." The criticism of his personal style bled into a criticism of his play, which was deemed too flashy to be effective.
Was any of this racially motivated? Of course, but Cunningham himself could never say it. In 1991, he gave a lengthy interview to Sports Illustrated. For the most part, on questions about race, he hopped and dipped and chucked his answers 60 yards downfield. But in one exchange he let down his guard a little and summarized in a couple sentences the whole crazy-making experience of being an extraordinarily gifted black quarterback in a conservative sport at the shank end of an age of racial reaction.
SI: One of the things you said when you got injured was, "When I come back, I'm going to be myself. No more of that staying in the pocket when I should be scrambling." Were you in any way blaming [head coach] Rich Kotite?

RC: No, not at all. How can you blame the coach? He didn't tell somebody to go run into my knee. What I meant was—people have compared me to [Joe] Montana, who sits in the pocket and throws a two-yard slant or whatever, and it sort of put a complex on me. Like, maybe I should stay in the pocket and try to play like Montana?
Today, a polite consensus seems to have formed around his career: He was ahead of his time. He was built for a more kinetic era. He would've shredded NFL defenses had he worked out of the read-option. Randall Cunningham in the subjunctive, the argument seems to say, is the player Randall Cunningham never quite managed to be in reality. It's meant as a compliment, but ultimately it's just a nicer variation on the problem he faced for much of his time in the NFL: Because people spent so much time measuring the distance between him and their ideal of the moment, they forgot to appreciate Cunningham for what he actually did. His 407 yards in the Fog Bowl. The 91-yard punt. The broken leg in 1993 and his subsequent comeback. His 1998 season, when at 35 years old he led one of the most potent offenses in the history of the NFL to the brink of the Super Bowl. A career as a passer that looks a lot like Troy Aikman's, if you squint, and that's leaving aside everything Cunningham did with his legs. He could do things no one else could do and he did them.
Reggie Collier | 1986-1987 | Dallas Cowboys, Pittsburgh Steelers
Drafted, 6th round (162 overall) | 6 games (1 start) | 206 yards passing | 3 passing TDs | 3 INTs | 54.5 comp. % | 86.6 QB rating | 73 yards rushing | 2 fumbles
"He might be a player some day but he's not as dedicated as he should be."—Tom Landry, Cowboys head coach
Before it was cool to run the read-option, Reggie Collier ran the offense at Southern Miss, becoming the first NCAA D-I quarterback to pass and run for over 1,000 yards in one season. Collier was "Michael Vick long before Michael Vick," Southern Miss's longtime radio guy told Yahoo's Les Carpenter. When he went pro, NFL teams wanted him to switch to a receiver or defensive back, which didn't agree with him. Brought low by substance abuse and a reputation for being difficult, interrupted by the strike, Collier's career never took off. He's clean now, and as of 2013 he was working as the division manager for a waste removal company.
Willie Totten | 1987 | Buffalo Bills
Replacement player | 2 games (1 start) | 155 yards passing | 2 passing TDs | 2 INTs | 39.4 comp. % | 49.4 QB rating | 11 yards rushing | 0 rushing TDs | 9 fumbles
"Outstanding athlete, who played in most pass-happy offense in college. Great feet. Questions about arm strength and his competition."—United Press International
Before Matt Hasselbeck and Rich Gannon and Steve Young and Joe Montana threw to Jerry Rice, Mississippi Valley State's Willie Totten threw to Jerry Rice. He fell out of the 1986 draft amid reports that he had an "attitude problem" and hadn't gotten along with his coach, Archie Cooley. "I've never had a bad word with this man," a furious Cooley told the Baltimore Afro-American. "Whoever made the statement that Willie Totten and Archie Cooley didn't get along, that's an outright lie. The kid never said anything to me but yes sir." The pre-draft smear: an NFL tradition.
Bernard Quarles | 1987 | Los Angeles Rams
Replacement player | 1 game (0 starts) | 40 yards passing | 1 passing TD | 1 INT | 33.3 comp. % | 81.9 QB rating | 8 yards rushing | 0 rushing TDs | 0 fumbles
"My scouting report has Quarles with a great arm but you can't grade inside a guy's head."—Saskatchewan Roughriders (CFL) general manager Bill Quinter
A former scab who now owns a security services company. Connect with him on LinkedIn.
Walter Briggs | 1987 | New York Jets
Replacement player | 1 game (0 starts) | 0 yards passing | 1 INT | 0 comp. % | 0.0 QB rating | 4 yards rushing | 0 rushing TDs | 0 fumbles
He played one season with the fake Jets before moving to the CFL, but you can buy cigars from him today.
Willie Gillus | 1987 | Green Bay Packers
Replacement player | 1 game (0 starts) | 28 yards passing | 40.0 comp. % | 58.8 QB rating | 0 fumbles
Great name. Played during the '87 strike and then played five more seasons in the CFL.
Mark Stevens | 1987 | San Francisco 49ers
Replacement player | 2 games (0 starts) | 52 yards passing | 1 passing TD | 50.0 comp. % | 135.4 QB rating | 45 yards rushing | 1 rushing TD | 0 fumbles
In one of his two games as a replacement player, he ran the wishbone offense under Bill Walsh. The 49ers beat the Giants.
Ed Blount | 1987 | San Francisco 49ers
Replacement player | 1 game (0 starts) | 0 yards rushing | 0 rushing TDs | 1 fumble
"To QB or not to QB has always been the question for Ed Blount."—The Spokesman-Review
Started the other scab game for the 49ers. Combined with the two games by Stevens, Bill Walsh's team went 3-0 with replacement players. More than anything, it proved Bill Walsh is the goddamn best.
Kevin "Tony" Robinson | 1987 | Washington Redskins
Replacement player | 1 game (0 starts) | 152 yards passing | 0 passing TDs | 2 INT | 61.1 comp. % | 48.6 QB rating | 0 fumbles
"He has the strength to throw deep and the touch to throw underneath."—Palm Beach Post
Robinson, a one-game replacement for the "Scabskins" during the 1987 player strike, was the loose basis for The Replacements (though his role was played by Keanu Reeves). He had been a star at Tennessee, landing on the cover of Sports Illustrated his senior season after Tennessee beat Bo Jackson's top-ranked Auburn team. And in the final game of the replacements' run, he and the Washington team really did beat a Cowboys team that featured several star players who had crossed the picket line.
Robinson built up quite a criminal record before and after his NFL stint—he actually played on the '87 team while on work release—but he's turned things around since.
Ricky Turner | 1988 | Indianapolis Colts
Undrafted | 4 games (0 starts) | 92 yards passing | 0 passing TDs | 0 INTs | 75.0 comp. % | 116.7 QB rating | 42 yards rushing | 2 rushing TDs | 0 fumbles
"He can turn a bad play into something terrific."—Mark Rypien, Turner's teammate at Washington State
In 1983, Washington State teammates Ricky Turner (a senior) and Mark Rypien (a sophomore) engaged in an exceedingly polite quarterback battle, with Turner winning out over the local boy. This is notable for our purposes because Rypien would go on to have another exceedingly polite quarterback battle with another guy on this list, Doug Williams. Williams would wear an "I'm for Mark" shirt, and Rypien would wear an "I'm for Doug" shirt. It was sweet.
In 1988, the Colts, in search of a wishbone specialist, hauled Turner out of semi-retirement to add a midseason wrinkle to coach Ron Meyer's offense. (Turner hadn't played a down since 1985, his only season in the Canadian Football League.) In four games that season, his only season in the NFL, Turner ran 16 times and attempted only four passes. Against the Dolphins, he scored twice—both times on one-yard runs—a feat that wouldn't be accomplished by a Colts quarterback until Andrew Luck did it in 2012.
Don McPherson | 1988-90 | Philadelphia Eagles, Houston Oilers
Drafted, 6th round (149 overall) | 0 games
"McPherson … might have been taken several rounds higher had he opted to play wide receiver or defensive back. But he insisted on staying at quarterback despite the contention by some scouts that he was too small and didn't."—Associated Press
McPherson, possessed of 4.4 seed, was the Heisman Trophy runner-up in his last year at Syracuse. In two seasons with the Eagles, he suited up for only three regular-season games and never played a down. In 1990, he was traded to the Oilers for a draft pick the following year. Philly coach Buddy Ryan liked the deal. "It's damn good," he said. "We had to get rid of him. He just didn't want to be an Eagle." McPherson was cut a month later.
Rodney Peete | 1989-2004 | Detroit Lions, Dallas Cowboys, Philadelphia Eagles, Washington Redskins, Oakland Raiders, Carolina Panthers
Drafted, 6th round (141 overall) | 104 games (87 starts) | 16,338 yards passing | 76 passing TDs | 92 INTs | 57.3 comp. % | 73.3 QB rating | 1,139 yards rushing | 16 rushing TDs | 71 fumbles
"He's a winner. He's got a lot of class."—Wayne Fontes, Lions head coach
Rodney Peete's career was respectable if undistinguished, and there is some slight significance in the fact that he replaced Randall Cunningham, a very different kind of black quarterback, in Philly. He lasted 15 years, most of the time as a backup since his starting prospects were continually hampered by injury.
Steve Taylor | 1989 | Indianapolis Colts
Drafted, 12th round (323 overall) | 0 games
Taylor passed for 2,800 yards and rushed for 2,100 more in Tom Osborne's offense at Nebraska. He was drafted by the Colts, and while didn't make an NFL roster, he backed up Doug Flutie during his stay in the CFL.
Terrence Jones | 1989 | San Diego Chargers
Drafted, 7th round (195 overall) | 0 games
"He has that great arm. He has great speed, and he's a great athlete."—Art Malone, who played against Jones in college
The Chargers drafted him in hopes that he'd switch to defensive back. He did not, and went to the CFL.
Andre Ware | 1990-93 | Detroit Lions
Drafted, 1st round (7 overall) | 14 games (6 starts) | 1,112 yards passing | 5 passing TDs | 8 INTs | 51.6 comp. % | 63.5 QB rating | 217 yards rushing | 0 rushing TDs | 7 fumbles
"Ware was supposed to be the savior for the Lions."—Associated Press
In 1989, working out of the Houston Cougars' run-and-shoot offense, Andre Ware threw for 4,699 yards and 46 touchdowns, and became the first black quarterback to win the Heisman. His pro career was entirely forgettable.
Clemente Gordon | 1990 | Cleveland Browns
Drafted, 11th round (296 overall) | 0 games
"[S]aid to be Grambling's best quarterback since Doug Williams."—Washington Post
For two seasons in the mid-1990s, the Grambling product played for an arena football team called the Miami Hooters—yes, in a partnership with that Hooters. In his last season in the AFL, he took over as starter after the Florida Bobcats traded away Fred McNair, brother of Steve.
Major Harris | 1990 | Los Angeles Raiders
Drafted, 12th round (317 overall) | 0 games
"Part Warren Moon, part Steve Martin, part Floyd the Barber."—Pittsburgh Press
On April 23, 1990, A Pittsburgh Post-Gazette reporter broke the news to Harris that he'd been drafted by the Raiders. "What round, 15th?" asked Harris, a star during his time at West Virginia. The reporter explained there were only 12 rounds in the draft. "Oh well," Harris said. "I look at it this way: They save the best for last."
Eighteen quarterbacks were taken ahead of him that year, and Harris, who'd come out after his junior year, was blunt about why. "It has to do with my race," he said. "You can't deny that. I think I'm a different type of quarterback. If they let me in the league, it would change the whole league. The NFL doesn't change. It's just something they're not ready for.
"I'm not going to cry about it. The owners all have their own teams. They pay their players money and can do what they want. It would be stupid to say it's unfair."
Harris drifted around the CFL and various arena football leagues for a bit. In 2010, he was inducted into the College Football Hall of Fame.
Reggie Slack | 1990-1992 | Houston Oilers
Drafted, 12th round (321 overall) | 0 games
"Often been criticized for disappearing in big games."—Sports Illustrated
Slack was Auburn's quarterback for the team's first Iron Bowl win at Jordan-Hare Stadium. His NFL stint was less interesting. Slack was drafted by the Oilers and saw no playing time in three seasons with Houston. He wound down his football career in the CFL in 1993, bouncing around various teams for almost 10 years.
Shawn Moore | 1991-1994 | Denver Broncos, Arizona Cardinals
Drafted, 11th round (284 overall) | 3 games (0 starts) | 232 yards passing | 0 passing TDs | 3 INTs | 50.0 comp. % | 35.4 QB rating | 39 yards rushing | 0 rushing TDs | 3 fumbles
"[Moore is] proving there are excellent athletes who also can be excellent students."—Scripps-Howard News Service
When John Elway was hurt, Moore played three games but never threw a touchdown pass. Later worked as a scout for the XFL.
Jeff Blake | 1992, 1994-2005 | New York Jets, Cincinnati Bengals, New Orleans Saints, Baltimore Ravens, Arizona Cardinals, Philadelphia Eagles, Chicago Bears
Drafted, 6th round (166 overall) | 120 games (100 starts) | 21,711 yards passing | 134 passing TDs | 99 INTs | 56.4 comp. % | 78.0 QB rating | 2,027 yards rushing | 14 rushing TDs | 68 fumbles
"Hard to run down and hard to rattle."—Associated Press
Shake-N-Blake! He was a mobile quarterback who wasn't a great runner and a big-armed QB who wasn't a great passer. He kind of sucked, but only kind of, and his slinging style could be a lot of fun to watch, particularly for beaten-down Bengals fans in the mid-1990s. His first career start came withCincinnati in 1994, against Dallas. He threw for 247 yards and two touchdowns that day, and the Cowboys just eked out a victory, 23-20. "Spike Lee called after the Dallas game," he told the Cincinnati Enquirer's Paul Daugherty in 2010. "I got lots of calls right away, from influential black people, from all over. …It happened in the blink of an eye. Like it was scripted, almost like a movie. There was a lot of pressure on me from the black community to succeed."
Blake played 13 seasons, all over the map.
Keithen McCant | 1992 | Cleveland Browns
Drafted, 12th round (316 overall) | 0 games
Drafted by the Browns in 1992, McCant never actually played in the NFL. Cleveland? Blowing a draft pick?? He played two seasons for the CFL's BC Lions.
Jay Walker | 1994, 1996-1997 | New England Patriots, Minnesota Vikings
Drafted, 7th round (198 overall) | 1 game (0 starts) | 31 yards passing | 0 passing TDs | 0 INTs | 100 comp. % | 118.7 QB rating | 0 fumbles
"He's a very bright kid with a good arm."—Bill Parcells, Patriots head coach
Currently a member of the Maryland House of Delegates.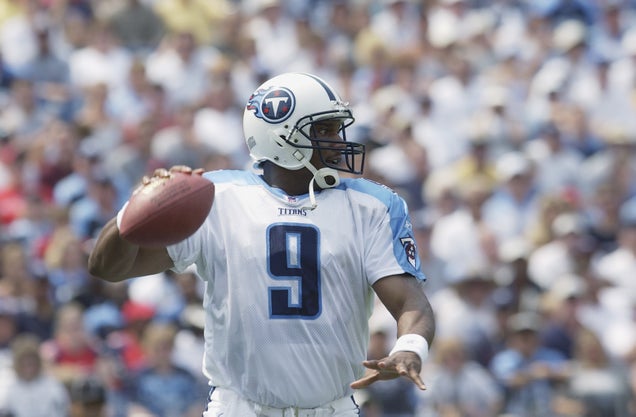 S
Steve McNair | 1995-2007 | Houston Oilers/Tennessee Titans, Baltimore Ravens
Drafted, 1st round (3 overall) | 161 games (153 starts) | 31,304 yards passing | 174 passing TDs | 119 INTs | 60.1 comp. % | 82.8 QB rating | 3,590 yards rushing | 37 rushing TDs | 99 fumbles
His throws are mostly lasers, but they can float softer than a summer breeze when necessary. His release is instant, too, and whether he is sprinting left, right or not at all with his muscular 6-foot-2, 215- pound body, his passes rarely travel more than centimeters from his receivers' fingers.—Atlanta Journal-Constitution
Before he was a three-time All-Pro quarterback who brought his Tennessee Titans literally a yard shy of a Super Bowl win, before he wrested half an MVP trophy away from Peyton Manning and won the NFLPA's Man of the Year award, McNair was a three-sport star athlete at Mississippi's Mount Olive High. He was a monster, and not just at quarterback. He played both sides of the ball during football season, and snagged a state-record 15 interceptions his junior year.
That pure athleticism had all the big college programs down in south central Mississippi knocking on the McNair door—Florida State, Miami, Nebraska, Ohio State. But they wanted the agile ball-hawk nabbing those interceptions, not the gunslinger with enough brains to avoid throwing them. So instead of competing for national championships at any of those prestigious schools, McNair stayed close to home at tiny Division I-AA Alcorn State. As a neighborhood man told Sports Illustrated, "The key is that McNair wanted to play quarterback, and to do that around here, a black kid has to go to a black school."
This happened all over the recruiting circuit. Big-time programs would recruit black high school quarterbacks, but only if they committed to a position switch. That's why it's hard to blame the paucity of black professional quarterbacks throughout history solely on the NFL. The winnowing begins in high school, and maybe even earlier. Old biases get baked into the system. The stereotypes settle and reinforce themselves. How many potentially great black quarterbacks were turned into running backs or safeties before they even hit college? Anquan Boldin, a high school quarterback, was Florida's Mr. Football in 1998. How many black players with arms like his were turned into wide receivers before they had a chance to develop as quarterbacks?
Notre Dame didn't start its first black quarterback—Cliff Brown—until 1971. The next one was Tony Rice in 1986. Donnie Little at Texas didn't break that color line until 1978. At Alabama it was Walter Lewis in 1980. The only schools giving black quarterbacks a legitimate shot were schools running the option offense—or historically black colleges.
So, like McNair, a lot of black quarterbacks who wanted to keep throwing the ball chose HBCUs. And like McNair, many of them impressed so much that they ended up throwing the ball in the NFL; others went to the CFL. In total, 20 of the men on this list played their college ball at HBCUs. The heyday was between 1968 and 1978, a span that saw nine of the 20 enter the NFL, which makes sense given the limited opportunities available to black quarterbacks at that time.
Of all the HBCU alums, McNair was the best. As the quintessential black quarterback, he boasted all of the traits common to the group. McNair exhibited mobility as a matter of both geometry and velocity; he could unalterably change pass rushers' angles by jolting two steps sideways in the pocket, and once free he could blur past those defensive backs whose ranks he was so determined not to join. Those legs, coupled with an arm of unlimited range, put "Air" McNair into the NCAA's record books and onto the covers of Sports Illustrated and the Sporting News. He had all those intangibles that so many black quarterbacks before him were said to have lacked. He checked off every box. Some called him the best black quarterback prospect of them all.
The league agreed, and when he was selected third overall in 1995 by the Titans, it was the highest pick ever used to select a black quarterback. He remains one of only three HBCU quarterbacks taken in the first round—alongside Eldridge Dickey and Doug Williams.
A lot of individuals are responsible for the acceptance of black quarterbacks in the NFL, but HBCUs offered structural means of development and advancement. Without HBCU success stories like McNair's, it's hard to imagine the likes of Cam Newton and E.J. Manuel getting the opportunity to quarterback two of the most storied college programs in the country.
Of course, this came at a cost. The black quarterback stigma was bad for football in general, but very good for the HBCUs. Today, the stigma is fading, and as a result the talent pool available to small schools like Alcorn State and Grambling State is thinning. The last quarterback to be drafted out of an HBCU was Tarvaris Jackson, out of Alabama State in 2006. But even he was an Arkansas Razorback before becoming a Hornet.
McNair set a lot of records in his illustrious career. The longest lasting of his distinctions will almost certainly be as the last HBCU quarterback taken in the first round. This carries the same sort of conflicted emotions stirred up by the Negro leagues. There's something bittersweet about the demise of the HBCU quarterback, even if it represents significant progress.
McNair died on July 4, 2009, shot by his 20-year-old mistress, who then turned the gun on herself.
Jerry Colquitt | 1995 | Carolina Panthers
Drafted, 6th round (191) | 0 games
"He's a talent, no question about it. He has arm strength and good athletic ability. He's a guy who can throw the ball downfield. We think he really has a chance in this league."—Panthers coach Dom Capers
As a fifth-year senior in 1994, Colquitt was all set to take the reins as Tennessee's starting quarterback, ahead of the likes of a freshman Peyton Manning and the two-sport star Todd Helton. He tore his ACL on the seventh play from scrimmage in the first game of the season. Despite the injury, he was drafted by the Panthers, but he didn't make the final roster.
Kordell Stewart | 1995-2005 | Pittsburgh Steelers, Chicago Bears, Baltimore Ravens
Drafted, 2nd round (60 overall) | 126 games (87 starts) | 14,746 yards passing | 77 passing TDs | 84 INTs | 55.8 comp. % | 70.7 QB rating | 2,874 yards rushing | 38 rushing TDs | 44 fumbles
"Whenever Stewart gets into games this season, anything will be possible."—Beaver County Times
From the time capsule, circa 1995:
For a few seconds each Sunday, he runs past the moving vans, cuts through the courtrooms, shakes off the temporary injunctions and steamrollers Art Modell on his way into the end zone. He plays for the Pittsburgh Steelers, but when rookie Kordell Stewart touches the ball, the whole country stands and cheers as if each point he scores strikes a blow against seat licenses, $350 Super Bowl tickets and Houston Oiler owner Bud Adams's hair. In an otherwise dark NFL season, number 10 in black and gold is a small flicker of fireworks.
Slash was a phenomenon in '95, enough that even Peter King found himself adjusting his khakis a little. It seems funny now, in hindsight, that Kordell Stewart could enrapture an entire league—he got a Nike commercial, for god's sake—by being OK at a bunch of things. But he was fun, however ridiculous the oversell. Pittsburgh lost in the Super Bowl in Stewart's rookie season, and he was the starting quarterback by 1997, when he continued that great Steelers tradition of losing an AFC championship game at home. By 2000, Pittsburgh was looking for its next quarterback in the draft, though he held on for another few years, including a surprise 13-3 season in 2001 and another home loss in the AFC title game.
A pretty good rule of thumb is that exciting players, in any sport, have the online highlight reels they deserve. Kordell's top three consist of, in order: a 2:22 video of still photos of Slash doing things; an 80-yard touchdown run during which, as he is breaking away from a pack of Panthers, his own receiver catches up to him—quickly, easily—before throwing a block and fading away; and an NFL.com video that's been taken down by the NFL. Overrated, oversold, gay-baited at every turn, Stewart now hangs out on the fringes of the reality-TV multiverse.
Tony Banks | 1996-2001, 2003-2005 | St. Louis Rams, Baltimore Ravens, Washington Redskins, Houston Texans
Drafted, 2nd round (42 overall) | 97 games (78 starts) | 15,315 yards passing | 77 passing TDs | 73 INTs | 54.2 comp. % | 72.4 QB rating | 881 yards rushing | 6 rushing TDs | 73 fumbles
"After we started losing, he sensed that a change might be coming. What he didn't anticipate was that we'd be 10-1 with Trent [Dilfer], and Trent not doing a whole lot different than he did."—Matt Cavanaugh, Baltimore Ravens offensive coordinator
The best measure of any organization's progress on race is how it treats the middling talents, the placeholders (For much more on this, see the Charlie Batch entry below.) Banks is little remembered now, except for his famously weak grip on the ball (36 fumbles in his first two seasons), but he was perhaps the first plainly inferior black quarterback to be granted the privileges of tenure. He was an NFL quarterback simply by virtue of having been an NFL quarterback.
We tend to look at social justice as a series of heroic steps taken by great men as they impose their will on a broken status quo and lead us closer to Canaan. That's the Jackie Robinson part of the story. But the story needs its Tony Bankses, too, the ones who didn't have to prove themselves, the ones who could suck entirely on their own terms.
Ray Lucas | 1996-2003 | New England Patriots, New York Jets, Miami Dolphins, Baltimore Ravens
Undrafted | 55 games (15 starts) | 3,029 yards passing | 18 passing TDs | 17 INTs | 58.0 comp. % | 74.3 QB rating | 396 yards rushing | 4 rushing TDs | 18 fumbles
"Ray Lucas' development apparently didn't impress."—Associated Press
Turned in the worst performance for a Dolphins quarterback with six turnovers—four picks and two fumbles lost—in one game, completing more passes to Bills corner Nate Clements than to any of his own receivers. Treatment for his many injuries led to a brutal painkiller addiction that he says he's conquered. "You wake up with the thought of pills on your mind," he said, "you go to sleep with pills on your mind, and you will sell yourself to the devil to make sure you have that."
Wally Richardson | 1997-1999 | Baltimore Ravens, Atlanta Falcons
Drafted, 7th round (234 overall) | 1 game (0 starts) | 1 yards passing | 0 passing TDs | 0 INTs | 50.0 comp. % | 56.2 QB rating | 0 yards rushing | 0 rushing TDs | 1 fumble
"He has no swagger, no false bravado, but a deep sense of humility."—Reading Eagle
Wally's total stats after three NFL seasons: one completion in two attempts for one passing yard. And a fumble.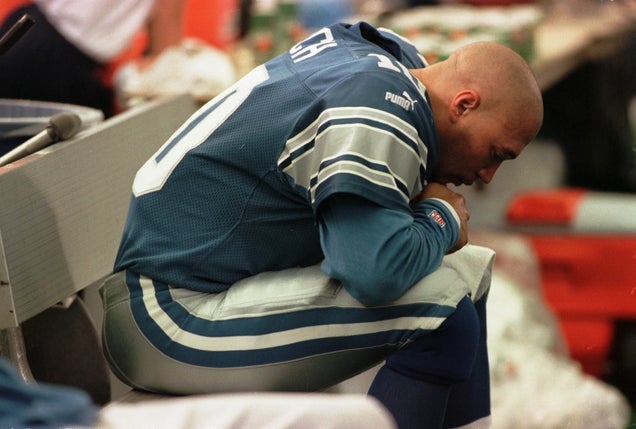 S
Charlie Batch | 1998-2001, 2003, 2005-2012 | Detroit Lions, Pittsburgh Steelers
Drafted, 2nd round (60 overall) | 82 games (55 starts) | 11,085 yards passing | 61 passing TDs | 52 INTs | 56.6 comp. % | 77.2 QB rating | 637 yards rushing | 6 rushing TDs | 24 fumbles
"People talk about Leaf and Manning but Charlie's the best rookie quarterback. Bar none."—Johnnie Morton, Batch's optimistic Lions teammate
Chris Rock has this joke about the neighborhood in New Jersey he moved to after he got rich. Only three other blacks lived there: Jay Z, Mary J. Blige, and Eddie Murphy. The white guy who lived next to Rock? A dentist.
"The black man has to fly," Rock says, "to get somewhere the white man can walk to. I had to make miracles happen to get that house. I had to host the Oscars to get that house." Which brings us right up to Charlie Batch, who played quarterback like most of us fill out tax forms.
Batch entered the league in 1998 as a mediocre, boring quarterback, and he retired in 2012 as a mediocre, boring quarterback. He left the league as cult hero despite not being a team's first option as QB since 2001, when he went 0-9 with the Detroit Lions, who would finish that season 2-14. Batch was bland off the field, and somehow even less charismatic with a ball in his hands. He couldn't really throw, and he couldn't really run. With career totals of 61 touchdown passes and 52 interceptions, he wasn't good enough to win games on his own, but he wasn't going to lose any by himself, either. Charlie Batch simply was. More than anything, Charlie Batch endured.
There's a beauty and an importance about Batch's career. He became a millionaire by holding clipboards, by slapping asses, by being attentive. He became a millionaire by being anonymous, by practicing worse than Ben Roethlisberger, but listening better than the third-string guys. Batch didn't really do anything. He was middle of the road. He was average.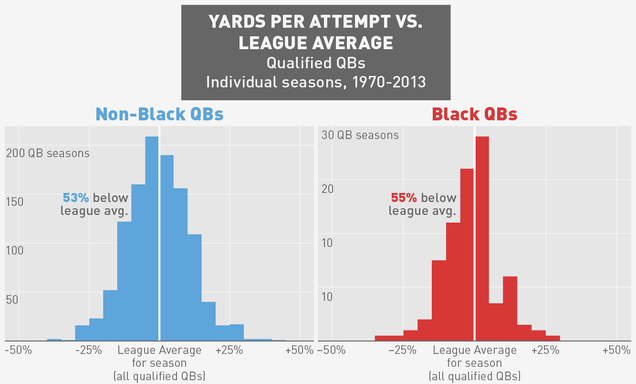 S
Batch wasn't the first mediocre black quarterback to get a chance in the league: Tony Banks, Jeff Blake, Rodney Peete, and Vince Evans all got their reps. Hell, Doug Williams wasn't that good. But for the most part, black NFL QBs before Batch were one of two things. They were superstars who from birth were just given more than the rest of us—blindingly fast feet, an abnormally strong arm, a quick release, the brains to make good decisions on the fly, or some combination of the four—or they were scrubs. Bums. Over the history of the NFL, many blacks made teams on the third string, suited up yet multiple onfield disasters away from seeing a meaningful snap in a game. They were insurance policies, seen as bargains because of a large difference in pay between black and white players. They'd eat up a few years of roster space, and then disappear into the ether.
The thing about Batch is that he never disappeared. He stuck. He never flew, but he never had to.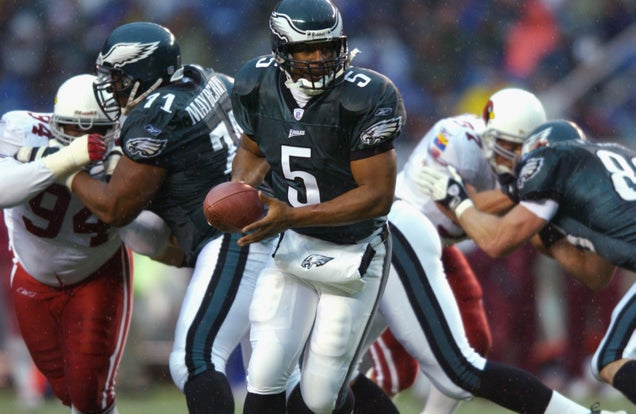 S
Donovan McNabb | 1999-2011 | Philadelphia Eagles, Washington Redskins, Minnesota Vikings
Drafted, 1st round (2 overall) | 167 games (161 starts) | 37,276 yards passing | 234 passing TDs | 117 INTs | 59.0 comp. % | 85.6 QB rating | 3,459 yards rushing | 29 rushing TDs | 95 fumbles
"The crafty quarterback has won over the hearts and souls of the Philly faithful."—Gettysburg Times
Donovan McNabb's legacy exists as the negative space surrounding the actual pieces of his career. We don't remember Donovan McNabb; we remember Not Donovan McNabb. He was booed on draft day for not being Ricky Williams. He's the guy who couldn't run a competent hurry-up offense in the Super Bowl, or really, anywhere, and the guy who didn't win those five NFC championships. (He was also the guy who couldn't hold onto his lunch in said Super Bowl.) He was the quarterback who could run, but never seemed very interested in it, and the one who could pass, but never quite as well without T.O. Donovan McNabb was the guy Philly homers couldn't stop making excuses for, only the opposite.
If that's all that filters through, fine; McNabb led a frustrating career peppered with a lot of disappointing results—many crammed into back-to-back-to-back-to-back years. But don't lose the forest for the NFC title losses. For his career, McNabb connected on 60 percent of his passes for over 37,000 yards. And for all the bitching out Pennsylvania and south Jersey did, there were some good times in there, too. In the 2003 divisional round, McNabb found Freddie Mitchell on fourth-and-26. This, of course, inflicted Freddie Mitchell on the rest of the country, but it remains one of the most incredible plays of the past decade. Down three and with 1:12 left, backed up to his own 25, McNabb stood in the pocket and held the ball, and kept holding it—in that way that quarterbacks only do when they're desperate, and about to get strip sacked to end a game—then, finally, locked on and fired a laser downfield to Mitchell, keeping the drive alive. The Eagles tied the game and won in overtime thanks to a ridiculous Brett Favre interception. That fourth-and-26 was a textbook eight-step drop and a rifle down field. If Tom Emanski made a football training video, little kids would be mimicking this play as they threw into garbage cans, only it wasn't a drill; it came at the most crucial time of the most crucial game in that season, and it sent the Eagles to their third straight NFC championship game.
They lost. But the following year was the most successful of McNabb's career (and Andy Reid-era Philly's), when he had a legitimate threat in Terrell Owens. The Eagles leaped into "Banned in Madden '04" territory that year, and with an assist from the newly buttoned-up pass-interference rules, McNabb and co. went to the Eagles' first Super Bowl in 24 years. The Eagles played it close, until McNabb and Reid got caught in a familiar tailspin of late-game offense, mismanaging the final six minutes when the game was within reach. It was quintessential Eagles, making a competitive Super Bowl somehow just as frustrating for their fans as a 2-14 season. McNabb, Reid, the Eagles of that era—they all were the same. They were good enough to make you hate them for how bad they were.
McNabb was eventually run out of Philadelphia in the last years of Reid's Eagles, and played out his remaining seasons for the Redskins and Vikings.
Akili Smith | 1999-2002 | Cincinnati Bengals
Drafted, 1st round (3 overall) | 22 games (17 starts) | 2,212 yards passing | 5 passing TDs | 13 INTs | 46.6 comp. % | 52.8 QB rating | 371 yards rushing | 1 rushing TD | 19 fumbles
"He has the charisma and confidence and looks."—Associated Press
If you remember Akili Smith's name, it's probably for one reason and one reason alone: Smith is one of the biggest draft busts, and one of the worst quarterbacks, in the history of the NFL. The Cincinnati Bengals drafted him in 1999 with the third overall pick, and he held out of training camp and two weeks of preseason until the Bengals offered him a seven-year, $56 million contract. He was worth it, they thought. He was not.
The Bengals didn't know that at the time, though. They and their fans hoped that Akili would end a nine-year playoff drought stretching back to the Esiason era. Instead, Smith washed out of the league in spectacular fashion in four years. He threw a pathetic five touchdowns against 13 interceptions and put the ball on the ground 19 times. He had a habit of holding the ball in the pocket, which would be bad enough with his porous offensive line, but was a disaster when coupled with the fact that he wasn't good at looking off his receivers. In the four seasons he was on the team, the Bengals won only 16 games and never came close to a .500 season. Cincy wouldn't make the playoffs again until 2005.
You can't blame Smith for being so wildly overrated; it's no great sin to be a terrible player. The question is what the complete fuck the Bengals saw in him. The 1999 draft was insane, packed with future talents like Donovan McNabb, Edgerrin James, Ricky Williams, Champ Bailey, Chris McAlister, Daunte Culpepper, and Jevon Kearse—and that was just the top half of the first round. There were sure things all up and down the board. The Bengals could have picked almost anyone, at random, and come out better. So how did they end up with Darko Milicic in pads?
At 6-foot-3, 225 pounds, having run a 4.66 40-yard dash at the combine, Smith, a one-year starter in college, had all the trappings of a future star, not to mention an appealing air of mystery. After two years at junior college, he had transferred to Oregon, where he didn't start until his senior year and where he threw for 32 touchdowns and only seven interceptions. But he wasn't the product of some gimmick college offense—or at least he didn't seem like one. He had a blur release and could hit receivers anywhere downfield. He was a player to build a dream on.
"Well you can just see it," Denver Broncos head coach Mike Shanahan told Sports Illustrated before the draft. "Just a flick of the wrist he can throw the ball 55-60 yards downfield, no effort. You can see the arm strength. You can see he doesn't have to wind up. He can make a throw that only a great athlete can make."
The 1999 draft was special because it was a banner year for black quarterbacks. Of the 13 taken, eight were African-American. Most of them, like McNabb, Smith, Culpepper, Shaun King, and Aaron Brooks, were seen as dual-threat physical specimens—an evolutionary step beyond weak-armed Kordell Stewart. Smith might have been more of a project than the others since he'd had only one full season under his belt. But head coach Bruce Coslet, despite never having had a winning season as a head coach, held a reputation around the league as a sort of QB whisperer. "Coslet was an assistant in San Francisco when Joe Montana was there," wrote John Oehser of the Florida Times-Union."He was an assistant in Cincinnati when Ken Anderson was there, and was offensive coordinator the season Boomer Esiason won MVP, 1988. He coached [Jeff] Blake when he made the Pro Bowl in 1995." If anyone was going to fashion the raw minerals into gold, the thought process went, Coslet was the man.
So how'd everyone get Akili so wrong? One theory: It's less true now, though the tendency lingers, but at the time there was a certain exoticism attached to black QBs, as if they'd sprung from nowhere in the months before the draft with limitless physical potential that needed only to be harnessed and molded by a good coach. Black QBs were seen, more than anything else, as projectable, different from white quarterbacks, with whom the question was whether they were NFL-ready. (You saw the same dynamic in the NBA over the past decade, with European players—like Darko Milicic.) The thing is that this was entirely in the collective head of the NFL's coaches and scouts and executives. Steve McNair was the last quarterback drafted in the first round from an HBCU, in 1996, and he was a rarity. By 1999, all the top black quarterback prospects were products of the same schools that were churning out white quarterbacks. They played against the same competition. They were known quantities. Akili warranted the same skepticism with which nearly all one-season college wonders are regarded. Instead, he slipped through the cracks. It's a funny bookend to the century: A black quarterback, whose forebears were underscrutinized and underrated, had now been underscrutinized and overrated.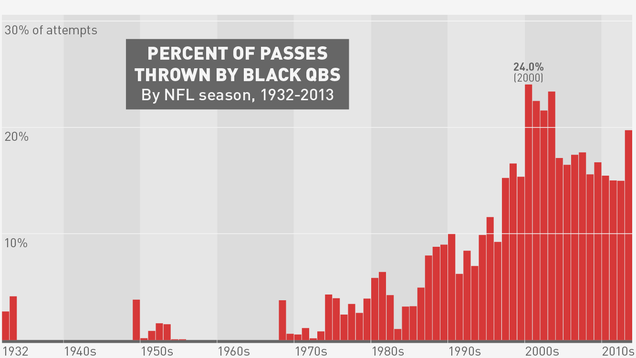 S
Daunte Culpepper | 1999-2009 | Minnesota Vikings, Miami Dolphins, Oakland Raiders, Detroit Lions
Drafted, 1st round (11 overall) | 105 games (100 starts) | 24,153 yards passing | 149 passing TDs | 106 INTs | 63.0 comp. % | 87.8 QB rating | 2,652 yards rushing | 34 rushing TDs | 102 fumbles
"He's got all the physical equipment you look for."—NFL scout Tom Braatz
Culpepper-to-Moss was a state of mind.
If you can't enjoy a Daunte highlight reel that soundtracks a bunch of bombs to Randy Moss with "Tha Crossroads," you are an awful person, or a Packers fan. It's the ultimate black quarterback thing. He and Moss were football soulmates. (Cris Carter was there for Culpepper's first season season as a starter, too.) Moss would put his hand up, and Culpepper would trebuchet a ball 60 yards in the air. It seemed so simple. "Getting Mossed" is what the kids called it, but they just as easily could've called it "getting Culpeppered."
It's a shame that strategy never materialized into a Super Bowl—sorry, Minnesota—but it was extremely fun to watch. Culpepper's 5,123 total yards in 2004 were an NFL record at the time, the beginning of our current pass-happy era. At his peak, he was on a different level. "I feel like a Jedi Knight," he once said about his play. Jedi Knights can't throw lasers across their body on the run, though.
The post-Vikings part of Culpepper's career was less excellent, but that arm strength never left him. Even when Daunte ended up in the UFL in 2010, he was still airing it out to scrubs, because he could.
Shaun King | 1999-2004 | Tampa Bay Buccaneers, Arizona Cardinals
Drafted, 2nd round (50 overall) | 34 games (24 starts) | 4,566 yards passing | 27 passing TDs | 24 INTs | 56.2 comp. % | 73.4 QB rating | 454 yards rushing | 5 rushing TDs | 12 fumbles
"In five years, the best quarterback in this draft is going to be Shaun King."—NFL scout C.O. Brocato
One of the great all-time college quarterbacks during his tenure at Tulane. Actually won a Super Bowl ring backing up Brad Johnson, who somehow won a Super Bowl.
Aaron Brooks | 1999-2006 | Green Bay Packers, New Orleans Saints, Oakland Raiders
Drafted, 4th round (131 overall) | 93 games (90 starts) | 20,261 yards passing | 123 passing TDs | 92 INTs | 56.5 comp. % | 78.5 QB rating | 1,534 yards rushing | 13 rushing TDs | 64 fumbles
"Shy and untested, Brooks had athletic ability that made him a developmental project."—Associated Press
If Aaron Brooks wasn't the best quarterback of the pre-Brees Saints, he was almost certainly the most representative of Saintsdom in that period. Brooks, like the Saints, vacillated between mildly promising, vaguely competent, and slapstick awful—often within the same game. It's fitting, then, that he was involved in the two very Saintsiest plays of that decade. Throwing the most self-assured all-the-way-backwards pass in the history of the NFL:
And the River City Relay, which saw the Saints, down seven, score a last-second 75-yard touchdown on a deeply uncoordinated series of laterals … only to have kicker John Carney miss the extra point:
Michael Bishop | 1999-2000 | New England Patriots
Drafted, 7th round (227 overall) | 8 games (0 starts) | 80 yards passing | 1 passing TD | 1 INT | 33.3 comp. % | 64.4 QB rating | -1 rushing yards | 0 rushing TDs | 0 fumbles
"The Patriots may have a Kordell Stewart-type player on their hands."—The Courant
Michael Bishop was the New England Patriots' late-round quarterback flyer the year before the Patriots decided to take a late-round quarterback flyer on Tom Brady.
Ted White | 1999 | Kansas City Chiefs
Undrafted | 0 games
"Ted White has the tendency to showboat a little and our defense is ready to try and shut him down."—South Carolina State coach Willie Jeffries
White is still the all-time leader in passing yards, completions, and touchdowns at Howard University and the Mid-Eastern Atlantic Conference. He also set a single-game record in 1998 with 561 yards and eight touchdowns against rival Florida A&M.
White went undrafted in the NFL, but latched on with the Chiefs, where he was assigned to an NFL Europe team in the hopes that he'd become a success story like Kurt Warner or Jon Kitna. He did not. He's currently the offensive coordinator and QB coach at Howard.
Anthony Wright | 1999-2001, 2003, 2005-2007 | Pittsburgh Steelers, Dallas Cowboys, Baltimore Ravens, Cincinnati Bengals, New York Giants
Undrafted | 32 games (19 starts) | 3,590 yards passing | 20 passing TDs | 25 INTs | 54.9 comp. % | 66.3 QB rating | 221 yards rushing | 0 rushing TDs | 21 fumbles
"The Gamecocks were a program in transition and were 12-21 from 1996 through 1998. The black quarterback often was blamed for the losses: He wasn't smart enough to read defenses. He wasn't a pocket passer. He liked to run too much."—The Cincinnati Enquirer
Dude went 1-10 as a senior at South Carolina. He was undrafted, obviously. Then, perversely, he carved out for himself a solid, seven-year backup career. He's probably best known for a stretch in the early aughts when he'd occasionally get thrust into action by one Cowboys disaster or another, and produce competitive losses, or, occasionally, war crimes like this 9-7 win over a Tony Banks-led Washington in 2001.
Tee Martin | 2000-2001, 2003 | Pittsburgh Steelers, Oakland Raiders
Drafted, 5th round (163 overall) | 3 games (0 starts) | 69 yards passing | 0 passing TDs | 1 INT | 37.5 comp. % | 25.3 QB rating | 36 yards rushing | 0 rushing TDs | 3 fumbles
"He has the rap of not adjusting quickly to defenses, not throwing sideline routes well and not seeing the entire field."—SI.com
"Steelers get their QB," declared the headline after the Steelers drafted Tee Martin in 2000. They'd been planning on replacing Kordell Stewart that year. Instead, they got three more seasons' worth of Slash, another home AFC championship loss, and a baffling playoff season by Tommy Maddox before Ben Roethlisberger showed up.
For Martin, he appeared in one game for the Steelers in 2001, and popped up for the Raiders in 2003, playing two games (neither a start), and going 6-for-16 for 69 yards and a pick.
Spergon Wynn | 2000-2001 | Cleveland Browns, Minnesota Vikings
Drafted, 6th round (183 overall) | 10 games (3 starts) | 585 yards passing | 1 passing TDs | 7 INTs | 46.1 comp. % | 39.5 QB rating | 76 yards rushing | 0 rushing TDs | 5 fumbles
"Wynn is similar to the Steelers' [Anthony] Wright."—Beaver County Times
Spergon Wynn was the rare breed of bad NFL quarterback who could not complete a pass (40.7 percent in seven games as a rookie), but who also did not throw interceptions (just one all year). This probably had something to do with his 3.09 yards per pass attempt, which among players with 50 or more passes, is the third worst number of all time, better than only Randy Hedberg's in 1977 and Red Franklin's in 1935.
JaJuan Seider | 2000 | San Diego Chargers
Drafted, 6th round (205 overall) | 0 games
"He's as good a thrower as there is in the draft."—Bobby Beathard, Chargers general manager
Everyone always talks about the six quarterbacks picked before Tom Brady in the 2000 draft. JaJuan Seider was taken in the sixth round, but after Brady. The Chargers have no need for heavy regrets.
Jarious Jackson | 2000-2003 | Denver Broncos
Drafted, 7th round (214 overall) | 5 games (1 start) | 114 yards passing | 0 passing TDs | 1 INT | 50.0 comp. % | 46.4 QB rating | 15 yards rushing | 0 rushing TDs | 2 fumbles
"A young apprentice who might someday eclipse both [Brian Griese and Gus Frerotte]."—The Rockmart Journal
Jackson's career peaked before he ever made an NFL roster, when he took over Notre Dame quarterbacking duties from Ron Powlus. He'd spend four years riding pine in Denver before escaping north to the CFL, where he carved out a good career for himself before retiring with Rob Ford's own Toronto Argonauts.
Joe Hamilton | 2000-2002 | Tampa Bay Buccaneers
Drafted, 7th round (234 overall) | 1 game (0 starts) | -2 yards rushing | 0 rushing TDs | 1 fumble
"Hamilton can create with his quickness, but some question the effectiveness of a 5-foot-10 quarterback in the pocket."—Baltimore Sun
On the first drive of ArenaBowl XX, Chicago Rush quarterback Matt D'Orazio ran a one-yard sneak into the end zone against the Orlando Predators. The Predators then fumbled on their first drive, and the Rush jumped out to a 10-point lead. Joe Hamilton tried to bring the Predators back, but Chicago held on to win, 69-61. Had Hamilton won, he would've become the first player ever to win a Super Bowl and an ArenaBowl. He won a Super Bowl in 2002 with the Tampa Bay Buccaneers, who sent him to develop on the Frankfurt Galaxy.
Dameyune Craig | 2000-2001 | Carolina Panthers
Undrafted | 6 games (0 starts) | 34 yards passing | 0 passing TDs | 0 INTs | 50.0 comp. % | 61.5 QB rating | 24 yards rushing | 0 rushing TDs | 1 fumble
"Looks like an athlete playing QB."—SI.com
Craig is forever immortalized in the pro football Hall of Fame without ever having started an NFL game. As quarterback for the Scottish Claymores in 1999, Craig had the game of his life, throwing for 611 yards and five touchdowns against the Frankfurt Galaxy. The 611 yards is the most ever in a professional football game.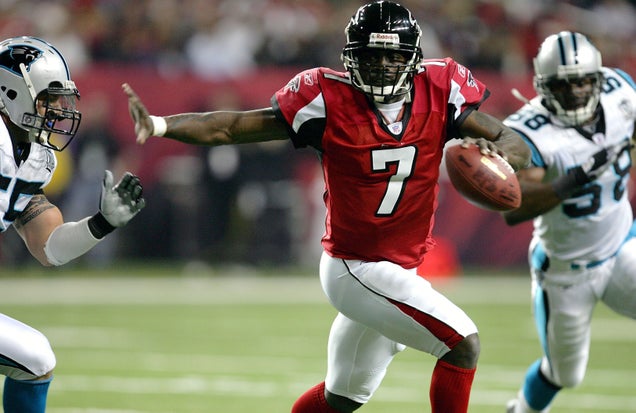 S
Michael Vick | 2001-2006, 2009-2013 | Atlanta Falcons, Philadelphia Eagles
Drafted, 1st round (1 overall) | 127 games (108 starts) | 21,489 yards passing | 128 passing TDs | 85 INTs |56.2 comp. % | 80.9 QB rating | 5,857 yards rushing | 36 rushing TDs | 91 fumbles
"With an awesome talent like Vick, the only concern will be how long it takes him to develop into a top-of-the-line, pure passer."—Mel Kiper, ESPN
There's this weird thing about the old Michael Vick highlights on YouTube, and elsewhere on the internet: Once you dig back into his Falcons heyday, the video is almost all in slow motion. The confluence of the NFL's totalitarian media licensing in the digital age, low quality source files, and dismaying schoolmarms scrubbing all Vick content from the web has left it oddly barren of full-speed video of the most exciting, baffling player of the last 15 years. In a way it's fitting, because Michael Vick didn't make sense at full speed.
Everything comes back to 4.25. Whatever else Michael Vick was—the first black quarterback taken first overall, or the first quarterback to rush for 1,000 yards, or the first to have a meme named after his clinic visits, or the man who organized a dogfighting ring that drowned, shot, electrocuted, and hanged dozens of animals—he'll always be the guy who outran the NFL and every principle of offense it had for a few years. But the sneaky important part of his legacy in football is the way the league caught back up.
Vick was never a bluntly effective quarterback. In more than a few years, his albatross passing outweighed whatever positives he produced on the run—the reductio ad absurdum coming in 2006, when he became the first quarterback to rush for more than 1,000 yards in a season, but was so ineffectual throwing the ball that his DYAR, a cumulative metric of production, came out to 1, making him the Nolan Ryan of quarterbacks. (Peyton Manning had 2,490 DYAR this season, Nick Foles 1,072.) But his highlights were so impossible, so outside the parameters of terrestrial football, that, like Ryan, everyone started to look for The Next Vick before we fully understood whether the one we already had was actually effective. It's natural, in the evolution of the sport/NEXT vein, but it was the wrong question. What they should have been asking was, Just what the hell do you do with a Michael Vick?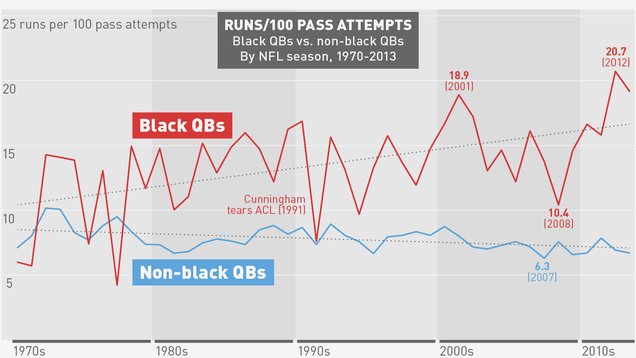 S
The problem was that Vick began in essentially the tail end of the NFL's Mesozoic era. Denny Green and Mike Martz had begun nudging the NFL into the air, but Vick played for Dan Reeves, a stubborn old bastard who, like a proper football psychopath, once rushed back from open heart surgery inside of two weeks to return to the sideline. Reeves insisted on a run-heavy system, and tried to incorporate Vick's running the way he had with a young John Elway, and by his second season, 2002, it was working: Vick put up what was probably the best season of the first half of his career, throwing for 2,936 yards, 16 touchdowns, and eight interceptions, and running for 777 yards and another eight touchdowns. But Reeves was a disagreeable sonofabitch, often clashing with Vick, and in 2004 he'd be replaced by Jim Mora, Jr. and his intricate West Coast offense.
In his first year under Mora, Vick struggled, putting up total yardage numbers similar to those in his 2002 season, but doubling his interception and sack rates while converting just 27 percent of his third down attempts. He was bad. And worse, Mora never got him to buy into the system. He'd tell his former coach in a 2010 interview, "The [scouting report] DVDs used to pile up in my car." Mora struggled to adapt to Vick, too, as he oversimplified his offense in ways like having Vick only read one side (or quarter) of the field at a time, or trimming down route trees to the point of ineffectiveness.
The thing is, Vick was worth the headaches, because no one has ever been more physically suited to play quarterback. He could break an 80-yard run, or bomb a perfect 60-yard spiral on the move. He also threw insane interceptions, waved the ball around as if it were a hanky, and could crack a rib while tying his shoe, but the impossibility, the improvisational allegrissimo of a Mike Vick scramble, equalized games in ways that didn't always seem fair. How was it right that the Falcons could go three-and-out over and over on a series of overthrown passes and balls in the dirt, only to have Vick pull a 56-yard run and a bootleg sprint to the pylon for a score on the next two plays? In the clip below, a ridiculous highlight from Vick's playoff evisceration of the Packers at Lambeau, John Madden makes what was a pretty common observation about Vick: You can do everything right, but still be wrong. But the reason Vick was so fascinating was that the opposite was true too. He could do everything wrong, but still end up right. So what would happen if someone ever got him being right to begin with?
Vick came into the league in the afterglow of Cunningham and Slash, and Daunte Culpepper and Donovan McNabb were both established as real deal rookies. And other mobile quarterbacks, like John Elway and Steve Young (who ran the same 4.53 40 as Colin Kaepernick), had just wrapped up Hall of Fame careers. But there's a legitimate case to be made that the running quarterback was never really accepted as a design, and not a final resort, until Vick rearranged the calculus of what's possible, even if he never got there himself.
The lessons learned with Vick show up in how young, athletic quarterbacks are handled now. They aren't just crammed into a West Coast offense and instructed to only run if absolutely necessary, or tucked behind a run-heavy line and told to just make something happen. They're drafted into systems that accommodate them: think Russell Wilson in Seattle or Andrew Luck in Indianapolis, or, for a little while at least, Robert Griffin III in Washington. Jim Harbaugh's offense probably doesn't look the same without the Michael Vick era. Neither does Chip Kelly's, for that matter. The fundamental ways that football is conceptualized today—speed, misdirection, athleticism—can be found in the contrails that Vick left as he burned through the league.
It's a cautionary tale, a kaleidoscoping mess of missed opportunities—for Vick, of course, who never truly applied himself until after his bid in Leavenworth and ended up as a talented but undeniably lesser version of his best self, but also for the league, which needed a whole generation of quarterbacks to figure out just what to do with him. Imagine Vick running the pistol last year, taking advantage of play-action passes in ways he never could in those traditional shotgun sets from Atlanta. He'll latch on to some team this year, and maybe win a starting job, or maybe not. But for the guy who starred in the single coolest football commercial ever, and who lives on as a Madden demigod, it will always seem like there should have been more.
Quincy Carter | 2001-2004 | Dallas Cowboys, New York Jets
Drafted, 2nd round (53 overall) | 38 games (34 starts) | 6,337 yards passing | 32 passing TDs | 37 INTs | 56.5 comp. % | 71.7 QB rating | 518 yards rushing | 3 rushing TDs | 22 fumbles
"I thought quarterback Quincy Carter, whom they took in the second round, was at best a fifth-round pick."—Mel Kiper, ESPN
If you have any Cowboys fan friends (which, of course you do), you remember them trying to talk themselves into Quincy Carter, drafted in the second round the year after Troy Aikman retired. The Carter pick was always weird—it was a reach at the time, and felt like Jerry Jones trying to get a piece of what the Eagles had with Donovan McNabb, without really understanding how it worked. Dallas's panic at quarterback was understandable, as its other options at QB were Anthony Wright, Ryan Leaf, and Chris Stoerner. In 2004, Carter was replaced permanently by 40-year-old Vinny Testaverde.
But, hey, remember when Carter put the New York Jets on his back to make the playoffs when Chad Pennington went down late in the 2004 season? Remember when he played for the Jets? No? OK.
Tory Woodbury | 2001-2002 | New York Jets
Undrafted | 10 games (0 starts)
"[He has] big-league arm strength as well as the athleticism to easily avoid the initial pass rusher."—Mel Kiper, ESPN
Woodbury was a four-year starter at Winston-Salem State, and once went an entire season without throwing an interception. He was never seen as a great QB prospect, though, and split time between quarterback and wide receiver in his short time with the Jets.
Romaro Miller | 2001 | Minnesota Vikings
Undrafted | 0 games
"Romaro Miller is as good a quarterback as we'll face this season."—John Lovett, Auburn defensive coordinator
Currently works in pharmaceuticals and still fervently roots for Ole Miss, his alma mater.
David Garrard | 2002-2010, 2013 | Jacksonville Jaguars, New York Jets
Drafted, 4th round (108 overall) | 86 games (60 starts) | 16,003 yards passing | 89 passing TDs | 54 INTs | 61.6 comp. % | QB rating | 1,746 yards rushing | 17 rushing TDs | 44 fumbles
"While his arm strength was never a question, his decision-making skills were."—Ocala Star-Banner
A late bloomer who didn't cement a starting job until his fifth year in the league, David Garrard was one of the rotating cast of black Jaguars quarterbacks in the mid-to-late '00s. Along with Byron Leftwich and Quinn Gray, blacks dominated the Jaguars' starting QB spot from '03-'10.
Rohan Davey | 2002-2005 | New England Patriots, Arizona Cardinals
Drafted, 4th round (117 overall) | 7 games (0 starts) | 88 yards passing | 0 passing TDs | 0 INTs | 42.1 comp. % | 56.5 QB rating | -5 yards rushing | 0 rushing TDs | 0 fumbles
"He's been here for three years, won a couple championships, been a great leader."—Patriots head coach Bill Belichick
Earned two Super Bowl rings just by being Tom Brady's backup.
Henry Burris | 2001-2002 | Green Bay Packers, Chicago Bears
Undrafted | 6 games (1 start) | 207 yards passing | 3 passing TDs | 5 INTs | 35.3 comp. % | 28.4 QB rating | 104 yards rushing | 0 rushing TDs | 4 fumbles
"The coaches loved his work habits and bubbly personality."—Milwaukee Journal Sentinel
Henry Burriss could play a little bit. He went to Temple University in Philadelphia and set 20 passing records, but still went undrafted in 1997. So he moved to Canada to play in the CFL, and finally got his shot in the NFL in 2001, when the Green Bay Packers signed him as a backup. They released him, but the next year, the Chicago Bears took a chance. He saw playing time, and even started a game. But he was bad, and after a stint in NFL Europe, he went back to the CFL.
Cleo Lemon | 2002-2008 | Baltimore Ravens, San Diego Chargers, Miami Dolphins, Jacksonville Jaguars
Undrafted | 16 games (8 starts) | 2,185 yards passing | 8 passing TDs | 7 INTs | 55.7 comp. % | 71.8 QB rating | 106 yards rushing | 4 rushing TDs | 7 fumbles
"Too quiet in the huddle, rarely showing his leadership ability."—FootballsFuture.com
Lemon's highlight in the NFL was replacing the injured Trent Green in 2007 on those horrid, eventual 1-15 Dolphins, putting together a couple of decent performances in losses, including a game in which the Fins played the 16-0 Patriots closer than they had any business doing. His highlight outside of the NFL was being referenced by Wale in one of his early mixtapes: "Never back up like Cleo Lemon on myself." OK, maybe that's not exactly a positive shoutout, but they can never take away Lemon's brief upgrade from backup to starter.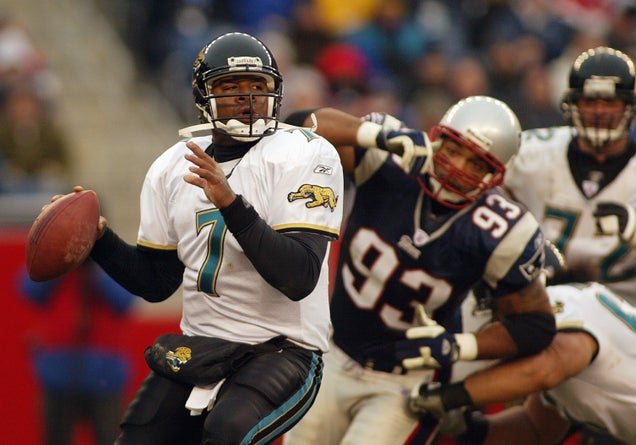 S
Byron Leftwich | 2003-2012 | Jacksonville Jaguars, Atlanta Falcons, Pittsburgh Steelers, Tampa Bay Buccaneers
Drafted, 1st round (7 overall) | 60 games (50 starts) | 10,532 yards passing | 58 passing TDs | 42 INTs | 57.9 comp. % | 78.9 QB rating | 415 yards rushing | 10 rushing TDs | 35 fumbles
"Big, tough pocket passer with top physical skills."—SI.com
The definitive image of Byron Leftwich will always be his offensive line at Marshall University carrying him down the field, so he could complete a game-winning drive on a broken leg. It's like a Motivational poster that actually happened. But his time in the pros, though not as memorable, was vastly more important.
Here's Football Outsiders' Aaron Schatz making a smart observation in a 2004 article for The New Republic:
Those who did not follow Leftwich in college may be surprised that he does not fit their mental image of a black quarterback. But football insiders have long known that Leftwich's talents were more mental than physical. The quarterback's leadership skills and intelligence have been lauded since his days at Marshall University. (Unlike his predecessors in the game manager mold, he was a first round draft pick.) He is usually described as a student of the game, knowledgeable about NFL history, and engrossed in film study. In college he was known for reading defensive coverages and changing plays at the line of scrimmage, adapting to the weaknesses of his opponent.
Which is to say, Leftwich had all the qualities typically ascribed to a gritty white game manager. Earlier in the piece, Schatz compares Leftwich to the early careers of Tom Brady and Trent Dilfer. (Leftwich had mediocre stats, but had just led the Jaguars to a series of improbable wins.) Leftwich was big, relatively slow, had a huge arm and enough courage in the pocket to stand in and use it, and could lead his team from behind through the air. Not a lot of people noticed at the time, and eventually, Leftwich would fall away, out of the spotlight.
Seneca Wallace | 2003-2013 | Seattle Seahawks, Cleveland Browns, New Orleans Saints, San Francisco 49ers, Green Bay Packers
Drafted, 4th round (110 overall) | 65 games (22 starts) | 4,947 yards passing | 31 passing TDs | 19 INTs | 59.4 comp. % | 80.8 QB rating | 293 yards rushing | 1 rushing TD | 19 fumbles
"Wallace decided not to work out at any other position, prompting [Houston GM Charlie] Casserly to suggest Wallace consider playing in Canada if he wanted to be a pro quarterback."—Associated Press
He played a bit at wide receiver with Seattle but eventually had his chance at quarterback, where he found his way into millions of homes as one of the cheapest mobile quarterbacks in Madden to use as your Michael Vick backup. Now he bounces from team to team. In 2013, Wallace served as a stopgap for the Aaron Rodgers-less Packers until he was placed on IR.
Marquel Blackwell | 2003 | New York Jets
Undrafted | 0 games
"Good leader and athlete [...] and has good football intelligence."—Pro Football Weekly
Kind of a scrub, and never played in a top professional football league.
Josh Harris | 2004-2005 | Baltimore Ravens, Cleveland Browns
Drafted, 6th round (187 overall) | 0 games
"He's very mobile for that size player."—Phil Savage, Ravens director of player personnel
At Bowling Green he was the first quarterback to make Urban Meyer look like an offensive genius.
Quinn Gray | 2004-2008 | Jacksonville Jaguars, Kansas City Chiefs
Undrafted | 12 games (4 starts) | 1,328 yards passing | 13 passing TDs | 5 INTs | 57.4 comp. % | 91.4 QB rating | 111 yards rushing | 2 rushing TDs | 3 fumbles
"Gray has a cannon of an arm."—SB Nation
The third best black Jaguars quarterback ever.
Jason Campbell | 2005-2013 | Washington Redskins, Oakland Raiders, Chicago Bears, Cleveland Browns
Drafted, 1st round (25 overall) | 86 games (79 starts) | 16,697 yards passing | 87 passing TDs | 60 INTs | 60.3 comp. % | 81.8 QB rating | 1,203 yards rushing | 6 rushing TDs | 51 fumbles
"Campbell's combination of size, athleticism and accuracy will be enticing to plenty of teams."—Mel Kiper, ESPN
Jason Campbell never caught a break. He was neither transcendent enough to drag the slew of mediocre teams he played for from decent to good, nor was he ever blessed with a strong enough supporting cast to paper over the cracks in his game. Despite that, the more-that-serviceable signal caller has earned the starting job for the majority of his eight seasons.
Adrian McPherson | 2005-2006 | New Orleans Saints
Drafted, 5th round (152 overall) | 0 games
"It looks like he's got the size and athleticism and can make some plays."—NFL Scout
His NFL prospects were ruined after the Tennessee Titans' mascot ran over him with a golf cart during a preseason game. His knee was screwed up. McPherson sued. He never played an NFL game, though he's currently a quarterback for the Calgary Stampeders.
Vince Young | 2006-2013 | Tennessee Titans, Philadelphia Eagles, Buffalo Bills, Green Bay Packers
Drafted, 1st round (3 overall) | 63 games (43 starts) | 8,964 yards passing | 46 passing TDs | 51 INTs | 57.9 comp. % | 74.4 QB rating | 1,459 yards rushing | 12 rushing TDs | 40 fumbles
"He's big, strong and exceptionally fast."—Mel Kiper, ESPN
A University of Texas hero, Young made his name in the BCS national championship game against a USC team many considered one of the best college teams ever. His Titans career began with a stretch of raucous comebacks and copious amounts of luck. It looked as if he could become the next great black quarterback and a worthy successor to Steve McNair in Tennessee, especially in his last two seasons. However, various off-the-field incidents, including a row with then-Titans coach Jeff Fisher, more or less torpedoed his career. Last seen applying for quarterbacking jobs on Twitter.
Tarvaris Jackson | 2006-2013 | Minnesota Vikings, Seattle Seahawks, Buffalo Bills
Drafted, 2nd round (64 overall) | 56 games (34 starts) | 7,226 yards passing | 39 passing TDs | 35 INTs | 59.6 comp. % | 78.5 QB rating | 644 yards rushing | 6 rushing TDs | 24 fumbles
"Athletic passer [...] has a strong arm."—SI.com
The last quarterback to be drafted out of an HBCU. A surprise pick in the second round by the Vikings, Jackson was a disappointment as a replacement for Daunte Culpepper. He bounced around the league a bit before latching on as Russell Wilson's backup, in which capacity he got some garbage time in the fourth quarter of Super Bowl XLVIII—making Jackson the third black quarterback to play in and win a Super Bowl.
Brad Smith | 2006-2013 | New York Jets, Buffalo Bills, Philadelphia Eagles
Drafted, 4th round (112 overall) | 112 games (3 starts) | 51 yards passing | 1 passing TD | 2 INTs | 40.0 comp. % | 50.4 QB rating | 970 yards rushing | 4 rushing TDs | 7 fumbles
"Outstanding athlete who is best running the football."—SI.com
Used mostly as a wide receiver and a kick returner, Brad Smith was also employed in the Wildcat offense, and he started three games under center for the Bills in 2011.
"It was not a Wildcat play," head coach Chip Kelly said. "It's just Brad Smith plays quarterback. So let's straighten that out right now.
Omar Jacobs | 2006 | Pittsburgh Steelers, Philadelphia Eagles
Drafted, 5th round (164 overall) | 0 games
"The rookie quarterback from Bowling Green also has had a hard time comprehending the playbook. Sometimes, he wonders if it is printed in a foreign language."—Toledo Blade
In 2012, he was named the starter for the Jacksonville Sharks, an arena football team, beating out Chris Leak—yes, that Chris Leak.
Reggie McNeal | 2006 | Cincinnati Bengals
Drafted, 6th round (193 overall) | 7 games (0 starts) | 8 yards rushing | 0 rushing TDs | 0 fumbles
"One of the finest pure athletes in college football."—CBS Sports
He had all the speed and arm strength you'd ever want, but a late-season injury in a disappointing senior season left him without many prospects. He was last seen taking a flattering mugshot last year after being charged with possession of marijuana.
DJ Shockley | 2006-2010 | Atlanta Falcons
Drafted, 7th round (223 overall) | 0 games
"Athletic passer with the physical skills to play in the NFL."—SI.com
The former Georgia QB was athletic enough to play in the league, but stared down receivers and lost track of defensive backs too often even at the college level.
Marcus Vick | 2006 | Miami Dolphins
Undrafted | 1 games (0 starts)
"Now is the time of year to be acting like a model citizen, and Vick is doing anything but."—Mel Kiper, ESPN
Future Hall of Famer in WorldStar Hip Hop's Greatest Weed Carriers wing. His one season in the league was a blip in an otherwise sterling career as his brother Michael's shit-stirrer.
Shane Boyd | 2006-2009 | Arizona Cardinals, Houston Texans, Indianapolis Colts
Undrafted | 0 games
"A developmental prospect that needs a lot of work."—SI.com
A one-season starter for Kentucky who played at wideout and running back as a junior. Currently with the Bluegrass Warhorses of the CIFL.
JaMarcus Russell | 2007-2009 | Oakland Raiders
Drafted, 1st round (1 overall) | 31 games (25 starts) | 4,083 yards passing | 18 passing TDs | 23 INTs | 52.1 comp. % | 65.2 QB rating | 175 yards rushing | 1 rushing TD | 25 fumbles
"The workout Russell had was Star Wars. It was unbelievable."—Tampa Bay Buccaneers coach Jon Gruden
"Look out," Mel Kiper, ESPN's draft-day line cook, said at the time. "Because the skill-level that he has is certainly John Elway-like." It was the oldest kind of draft pratfall in the newest kind of packaging. Jamarcus Russell was the result of old-school pre-draft workout hype that in his case conjured up the ultimate Al Davis centerfold, in a year that Davis's Raiders had the No. 1 pick. His pro-workout day is spoken of in the same hushed tones with which people talk about the famous Penny Hardaway session. One of the only voices of caution belonged to, of all people, then-Raiders coach Lane Kiffin, who may have been a nepotistic unemployable as a head coach but who was competent as a personnel guy (at a time when baseline competence was high praise around the Raiders organization).
Russell immediately held out and missed all of training camp, but secured himself a $68 million deal, with $38.1 million guaranteed money. Because he'd missed time, Kiffin held him out for most of his first year, but named him the 2008 starter. In his second year, Russell played 15 games, and threw 13 touchdowns and eight interceptions. His third year was a disaster—he played 12 games, and threw three touchdowns and 11 interceptions. He reported to camp the following year weighing 290 pounds, and would be released that offseason.
Russell was a bust, but in the traditional sense, and by the traditional means, and not so different from Ryan Leaf and Todd Marinovich. He was the second black quarterback drafted first overall, and he sucked, but he sucked on his own terms, and his failures—which were many and diverse, culminating in his arrest for possession of Purple Drank—were never taken to be pervasively illustrative of anything but Russell's own incompetence.
Russell would try out for two teams in 2010 before disappearing for three years, resurfacing in 2013 to try out for the Bears. He didn't make the team, but was reportedly "solid."
Troy Smith | 2007-2010 | Baltimore Ravens, San Francisco 49ers, Pittsburgh Steelers
Drafted, 5th round (174 overall) | 20 games (8 starts) | 1,734 yards passing | 8 passing TDs | 5 INTs | 51.7 comp. % | 78.5 QB rating | 230 yards rushing | 3 rushing TDs | 9 fumbles
"Smith acts like a quarterback."—Baltimore Sun
Troy Smith might be the illogical end of the Next Mike Vick search. Smith was drafted out of Ohio State by the Ravens as a quarterback prospect based on moxie more than metrics. He wasn't very big, or very fast, and didn't throw the ball very hard.
Dennis Dixon | 2008-2013 | Baltimore Ravens, Pittsburgh Steelers, Philadelphia Eagles, Buffalo Bills
Drafted, 5th round (156 overall) | 4 games (3 starts) | 402 yards passing | 1 passing TD | 2 INTs | 59.3 comp. % | 71.4 QB rating | 56 yards rushing | 1 rushing TD | 2 fumbles
"He demonstrated the physical gifts consistent with 'special' players and possesses a great arm."—NFL.com
He was once the best conductor of Oregon's blur offense. The kind of guy you wanted to watch in the preseason to see if he could regain that spark.
Josh Johnson | 2008-2013 | Tampa Bay Buccaneers, San Francisco 49ers, Cleveland Browns, Cincinnati Bengals
Drafted, 5th round (160 overall) | 28 games (5 starts) | 1,042 yards passing | 5 passing TDs | 10 INTs | 54.2 comp. % | 57.7 QB rating | 271 yards rushing | 0 rushing TDs | 10 fumbles
"One of the most exciting athletes to watch with the ball in his hands."—NFL.com
The speed of Michael Vick with none of the other traits necessary for a starting quarterback. He saw a little bit of action in the Wildcat—remember when that was a thing?—for the Buccaneers, because, you know, he's fast. Johnson tramped around as a backup for a few other teams, and he's currently on the Bengals' depth chart. He would have classified as a "project" out of college, but as of now, he's just a speedy emergency option.
Andre' Woodson | 2008-2009 | New York Giants, Washington Redskins
Drafted, 6th round (198 overall) | 0 games
"With his lack of leadership skills, he could turn into another Akili Smith."—NFL.com
Couldn't hold a position as Eli Manning's backup. Now coaches wide receivers at Morehead State.
Darrell Hackney | 2006-2008 | Cleveland Browns, Denver Broncos
Undrafted | 0 games
"A solid late-round selection worth send sending to Europe for future development."—SI.com
Proof that a Wonderlic score in the 40s doesn't mean shit.
Josh Freeman | 2009-2013 | Tampa Bay Buccaneers, Minnesota Vikings
Drafted, 1st round (17 overall) | 61 games (60 starts) | 13,724 yards passing | 80 passing TDs | 67 INTs | 57.6 comp. % | 77.8 QB rating | 922 yards rushing | 4 rushing TDs | 38 fumbles
"Strong-armed and mobile."—NFL.com
Josh Freeman is one of those confusing quarterbacks who looks like he can legitimately hang in the league, and then, suddenly, can't. His career's been depressing since he was booted out of Tampa Bay. Instead, just look at this photoshopped picture of him as Michael Jackson.
Pat White | 2009, 2013 | Miami Dolphins, Washington Redskins
Drafted, 2nd round (44 overall) | 13 games (0 starts) | 0 yards passing | 0 passing TDs | 0 INTs | 0.0 comp. % | 39.6 QB rating | 81 yards rushing | 0 rushing TDs | 1 fumble
"[T]hought he should have been a slot receiver. He wanted to be a quarterback, went in the second round as a Wildcat quarterback and now he has no future in the league. I thought he would have been better served playing another position."—Mel Kiper,
White's high school coach Steve Savarese said, "You all just got the next Michael Vick. You just got a white Christmas," when White signed with West Virginia. He certainly did break records for the Mountaineers, when he could have taken a career path in baseball after multiple MLB teams had drafted him. He passed that up to keep with football. And when White went to the NFL, Miami took him rather quickly. The line of thought was that this next Michael Vick could have carried over into the pros. But he didn't.
Nate Davis | 2009-2011 | San Francisco 49ers, Seattle Seahawks, Indianapolis Colts
Drafted, 5th round (171 overall) | 0 games
"Davis' athletic and playmaking abilities make some scouts believe he can be special."—NFL.com
Davis was a late-round pick for the 49ers before Jim Harbaugh made everything better. He was not even close to a sure thing, despite Jason Whitlock's glowing endorsement of his fellow Ball State alumnus. The most notable moment of Davis's NFL career was when he showed off his outstanding arm on a 65-yard pass to Ted Ginn Jr. in a preseason game against the Vikings. His most recent gig was with the Amarillo Venom of the Lone Star Football League.
Joe Webb | 2010-2013 | Minnesota Vikings
Drafted, 6th round (199 overall) | 33 games (2 starts) | 853 yards passing | 3 passing TDs | 5 INTs | 57.9 comp. % | 66.6 QB rating | 273 yards rushing | 4 rushing TDs | 2 fumbles
"I expect him to be drafted late as a wide receiver."—NFL Network
He's now a wide receiver for the Vikes, but as a quarterback, the high point of his career was replacing an injured Brett Favre, who had been driven into the cold, hard TCF Bank Stadium ground. In 2013, despite not having thrown a pass all season, Webb started in place of the injured Christian Ponder in the Vikings' wild-card game against the Packers. Things went badly. We've put together a brief highlight reel from the first half:
Poor Joe Webb. The whole world was smirking at him that day.
Thad Lewis | 2010-2013 | St. Louis Rams, Cleveland Browns, Detroit Lions, Buffalo Bills
Undrafted | 6 games (5 starts) | 1,296 yards passing | 5 passing TDs | 4 INTs | 60.8 comp. % | 81.4 QB rating | 55 yards rushing | 1 rushing TD | 7 fumbles
"Has enough going for him to make you think he could catch on as a backup."—NFL.com
Who is Thad "The Champ" Lewis? His 10 national championships at Duke, per Wikipedia, deserve a chapter in the book of college football's history. As a pro, though, Thad "Backup" Lewis drifts from team to team, swooping in when a quarterback gets hurt. Bless you, Thad "Thad Lewis" Lewis.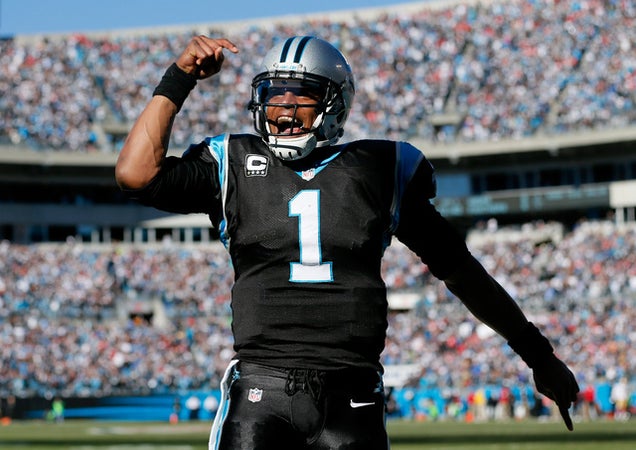 S
Cam Newton | 2011-2013 | Carolina Panthers
Drafted, 1st round (1 overall) | 48 games (48 starts) | 11,299 yards passing | 64 passing TDs | 42 INTs | 59.8 comp. % | 86.4 QB rating | 2,032 yards rushing | 28 rushing TDs | 18 fumbles
"He was a one-year wonder. Akili Smith was a one-year wonder."—Mel Kiper, ESPN
Early last December, SportsCenter ran a feature on Cam Newton's purported attitude adjustment and its deterministic effect on the Panthers' turn from doormat to one of the best teams in the NFC. On the surface, it's typical brainless post facto masturbation about athletic success through maturity. But it also serves as a compelling illustration of just what happens when you aren't as deferential as the propriety police would have you be.
Cam Newton is not demure—he's maybe less reserved than any other prominent quarterback of the past decade. And, as he's found, being the unhammered nail in the NFL opens you up to critics who broadly apply their old-fart, authoritarian sensibilities to you, with unfortunate results.
Let's start with the Black people be like this smash-cut above. This is secondary to the broader, dumber confection of stupid operating in this argument, but it serves as a foundation for it. It seems to say, Look, we know this is basically threadbare and stupid, so how about we smuggle in this cultural judgement that we won't outright say, but just lay at your feet knowing that you'll make the connection. It's like ESPN lip syncing a Louis CK riff.
The damnedest thing is that everyone knows how this works. Before going in on Cam—or J.R. Smith, or Johnny Manziel, or whoever the hell—the handwringers' qualifying statement is invariably, Well, it would be different if his team were winning, but … before wandering off into whatever homily they were trying to get at anyway. And the thing is, it absolutely would—but that's the problem, isn't it?
Young Cam is obviously quite pleased with himself in that first SC clip. It's from the 2012 Pro Bowl, when the first Pete Prisco story came up about other Pro Bowlers freezing out Newton after he'd offended them in some way. But Cam Newton has often been pleased with himself, and that hasn't stopped him or his teams from being successful. It may have helped! There is, in fact, a pretty strong body of evidence that suggests that being kind of an ass is actually positively correlated with being successful. Hell, they wrote entire books in tribute to the power of Michael Jordan's and Steve Jobs's dickishness. Maturity, at least as limned by the sports media, is meaningless, just a nebula of bullshit and old axioms with which to surround whatever kind of story happens to be on hand. It's easy to lose sight of that, though, when Skip Bayless is clubbing you over your head with Russell Wilson day after day.
But we've been having this argument about Newton from even before he entered the NFL. In spring 2011, Pro Football Weekly's Nolan Nawrocki, a white guy who played linebacker at Illinois, crucified Newton in a pre-draft scouting report:
Very disingenuous — has a fake smile, comes off as very scripted and has a selfish, me-first makeup. Always knows where the cameras are and plays to them. Has an enormous ego with a sense of entitlement that continually invites trouble and makes him believe he is above the law — does not command respect from teammates and always will struggle to win a locker room. Only a one-year producer. Lacks accountability, focus and trustworthiness — is not punctual, seeks shortcuts and sets a bad example. Immature and has had issues with authority. Not dependable.
Nawrocki has carved out a niche for himself as the fearless, dyspeptic critic of black guys' comportment (see his scouting report for Geno Smith), but he's really only channeling the ancient, mostly suppressed chauvinism of pro football's management class, which flowers anew in the runup to every draft. That's when we hear about players' "character issues," a broad-unto-meaninglessness category under which everything from pot smoking to sexual assault gets classified. That's when we hear about attitude problems and "fake smiles" and a "selfish, me-first makeup." (It's anyone's guess how much of this is disinformation promulgated in the hopes of sandbagging a desired prospect. Either way, there's the operating assumption that NFL management types care enough about these traits to factor, say, the relative sincerity of a smile into a personnel decision.)
Things get particularly dicey for black quarterbacks, for whom the old assumptions about black athletes' innate anti-social tendencies run up against the football culture's demand that quarterbacks be flinty-eyed leaders of men. If you've read this far, you'll have noticed that the things Nawrocki said about Newton were the same things people said about Joe Lillard and Joe Gilliam and Randall Cunningham and any number of other black quarterbacks. This is a very old game, and the fact that players with supposedly bad attitudes have succeeded and players with supposedly good attitudes have failed doesn't seem to prevent people from playing it still. Newton should've demonstrated the folly of this particular line of analysis once and for all. And yet here we are: Cam Newton, who won a freaking national championship in college, is a winner now because he learned some manners, according to ESPN.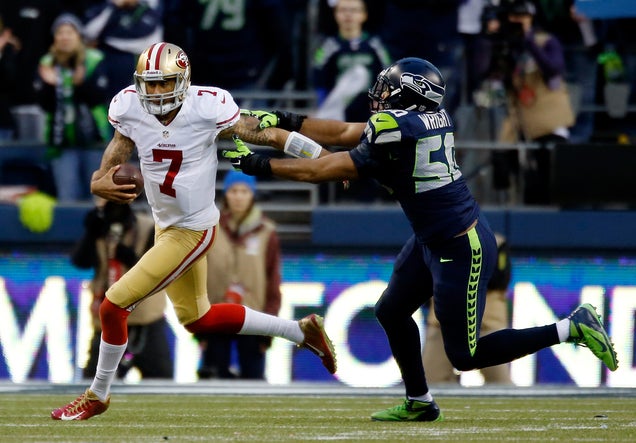 S
Colin Kaepernick | 2011-2013 | San Francisco 49ers
Drafted, 2nd round (36 overall) | 32 games (23 starts) | 5,046 yards passing | 31 passing TDs | 11 INTs | 59.8 comp. % | 93.8 QB rating | 937 yards rushing | 9 rushing TDs | 15 fumbles
"His intelligence and competitiveness could make him a star."—Yahoo
Approximately 98.7 percent of the inmates at California's state prison have tattoos. I don't know that as fact, but I've watched enough "Lockup" to know it's close to accurate. I'm also pretty sure less than 1.3 percent of NFL quarterbacks have tattoos. There's a reason for that.
This is how Sporting News writer David Whitley opened a column on Colin Kaepernick's tattoos in November 2012. In 23 games over a season and a half as starter, Kaepernick is 17-6, has thrown 32 touchdowns to 11 interceptions, and been to the Super Bowl and NFC championship game.
The point actually worth talking about with regard to Kaepernick—along with RGIII, Russell Wilson, Andrew Luck, and even Nick Foles—is that he's running an offense that upends the traditional idea that an offensive system that relies on a running quarterback is fundamentally less complex than the kind of passing offense that, say, Peyton Manning might lead. This might have been true in the past, to some degree, as some offenses would stick a mobile quarterback in a vanilla offense, and just turn him loose if his second, or sometimes first, option wasn't running free. Today, though, offenses predicated on the threat of a running or mobile quarterback are common, and require split-second decisions from quarterbacks on the run. It's a difference of kind, not degree—the difference between doing what Fred Astaire did, and what Ginger Rogers did.
"There are no gimmicks in our offense," pistol innovator Chris Ault says. Ault coached Kaepernick at Nevada, and says that the offense actually was developed as an antidote to the problem, as he saw it, with the shotgun spread offense.
"When the shotgun offenses came out, I enjoyed watching those teams move the football," he says. "The thing I did not like was the idea of a running back getting the ball running east and west. We have always been a north and south running game offense."
In a read-option offense, the quarterback has to make many of the same reads that you'd find on a traditional drop-back play, but at full speed, while avoiding an unblocked lineman or linebacker. "Where is the safety?" is no longer a binary check (Oh, he's in a deep zone, I should have a skinny seam here), but a pressing concern involving the risk of personal bodily harm (OH GOD, HE HAS FILL RESPONSIBILITY AND THE READ DEFENDER SQUEEZED THE LANE. *splat*). And then: Has the "arc" lead blocker given you enough room to make a gain after you've beaten the linebacker—is this the one who will open his hips early on a juke, or is that his backup?—or should you throw downfield, at which point, where's the safety?
Backwards, and in heels.
(It can work the other way. Manning's offense in particular is a good example of how the opposite can be true for pass-heavy offenses as well. Manning obviously puts in an immense amount of preparation to make his pre-snap reads as efficient as they are, which in turn forces defenses to "declare" what they are doing. But this actually means that Manning ends up seeing less complicated defenses than other quarterbacks in the league. And because of the nature of checking into plays on the fly every snap, Manning's playbook has always been stocked with far fewer actual plays than you might think. This is to take nothing away from him—the man is a savant, and there is a very big brain behind that very big forehead—but simply to illustrate that "cerebral" play manifests in a lot of unexpected ways.)
The point isn't to elevate a read-option, or other mobile-friendly offenses, ahead of traditional drop-back systems. Read-option efficiency dropped considerably this year, though it should be noted that Super Bowl champion Seattle and NFC runner-up San Francisco actually used it more frequently. Instead, consider this a belated invitation to call your favorite read-option quarterback a cerebral, thinking man's player—so long as he isn't getting flattened every other down by that safety charging the gap.
Tyrod Taylor | 2011-2013 | Baltimore Ravens
Drafted, 6th round (180 overall) | 12 games (0 starts) | 199 yards passing | 0 passing TDs | 2 INTs | 54.3 comp. % | 47.2 QB rating | 139 yards rushing | 1 rushing TD | 0 fumbles
"An athletic, move-the-pocket quarterback."—Yahoo
Covered more on ESPN's "Three for the Show" special during their "Year of the Quarterback" (which makes this season "Year of the Left Guard," we suppose) than at any time before or since. Seemed like a good dude, though.
Terrelle Pryor | 2011-2013 | Oakland Raiders
Supplemental draft, round 3 | 15 games (10 starts) | 1953 yards passing | 9 passing TDs | 12 INTs | 56.3 comp. % | 69.3 QB rating | 627 yards rushing | 3 rushing TDs | 7 fumbles
"Pryor would be smart to consider a position switch to either wide receiver or tight end."—Mel Kiper, ESPN
He might have lost his chance to be the Raiders' starting QB, but there's something there. Pryor has quickness but doesn't force it. Maybe it's coaching, or maybe it's just the roster. But Pryor's talent is obvious, and he's one of the few players of the past decade who've inspired warm feeling among Raiders fans.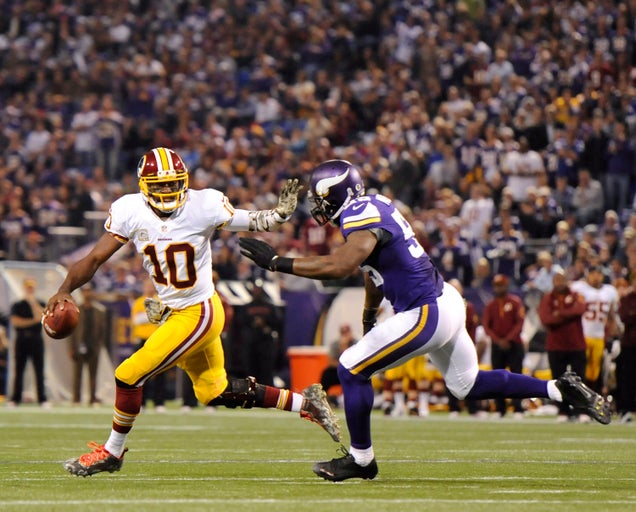 S
Robert Griffin III | 2012-2103 | Washington Redskins
Drafted, 1st round (2 overall) | 28 games (28 starts) | 6,403 yards passing | 36 passing TDs | 17 INTs | 62.7 comp. % | 91.5 QB rating | 1,304 yards rushing | 7 rushing TDs | 23 fumbles
"Everybody is just assuming because of the Heisman and the socks and all that bs... they are ignoring a lot of bad tape that he's had. I don't think he has vision or pocket feel, which to me are the two most important components of quarterbacking. He's just running around winging it. He's [Michael] Vick, but not as good a thrower."—NFL scout
For a long time, it was hard to find anyone with a negative word to say about Robert Griffin III. He was winning, after all. Winners aren't "arrogant"; they're "confident." They aren't "rude"; they're "focused." And Griffin wasn't just a winner, he was a Good Kid, the son of two army sergeants, a military brat who lived on several bases before settling in the football hotbed of Texas, where he was brought up within a strict, religious home. But during RGIII's rookie campaign, two particular journalists—Rob Parker and Jason Whitlock—were vocal in denouncing the rookie, and in doing so, linked their careers to his, and to the way racial discourse plays out in today's sports media.
Parker came first. On Dec. 13, 2012, he was co-hosting First Take, ESPN's cynical, incompetent attempt at recreating "black barbershop" culture by pitting two screaming hacks, one of whom is white and lazy and a troll, against each other. One of the topics was an RGIII quote in which he said he wanted to be seen as more than "just a black quarterback." Everyone knew what he meant, and it probably speaks to the fluency and tolerance we've acquired for this kind of barefaced shorthand that we did.
But Parker dug in, saying about RGIII, "We've heard a couple times now of a black guy kind of distancing himself from black people. My question," he continued, "which is just a straight, honest question, is: Is he a brother, or is he a cornball brother?" When asked what he meant, Parker said: "He's not real. OK, he's black, he kind of does the thing, but he's not really down with the cause. He's not one of us. He's kind of black but he's not really, like, the guy you really want to hang out with because he's off doing something else."
Evidence was adduced: "We all know he has a white fiancée, there's all this talk about he's Republican—I'm just trying to dig deeper into why he has an issue."
It set off a big media fuss, and Parker was suspended from the network within a week. He now works as a sports analyst in Detroit.
A few weeks later, on Jan. 6, 2013, Washington hosted a wild card game against the Seattle Seahawks. The Redskins rushed out to a 14-point first quarter lead. And then RGIII's knee, injured in the regular season, buckled. He stayed in the game, but couldn't really run and was clearly in pain. Midway through the fourth quarter, in the shadow of his own goalposts, RGIII fielded a low snap, and when he turned to bend down and reach for the ball, his knee buckled again. Torn ACL and LCL. Black Jesus was no more.
And the people stood by, looking on. Everyone was furious with head coach Mike Shanahan. The warning signs were there! But Fox Sports columnist Jason Whitlock wrote a column titled, "RG3 should share blame for injury," in which he blasted the quarterback for staying in the game, for thinking that even on one leg, he was the Redskins' best hope for victory. It was the first in a series of pieces deriding RGIII for what Whitlock perceived as a lack of humility. As RGIII pushed himself to recover in the offseason, Whitlock wrote another column titled, "RGIII needs to man up and shut up." Whitlock then moved to ESPN, where he proclaimed near the end of Griffin's second season in the league that "RG III a victim of his own swagger."
For some African-Americans, Whitlock was blaspheming. If RGIII wasn't down for the cause, what would that make Whitlock here?
These were complicated matters, made doubly so by the fact in Whitlock and Parker we had two accomplished black men criticizing a prominent black athlete in front of a large, mostly white audience, in terms that were unmistakable to black folks. Whitlock was calling RGIII a nigga, in the Chris Rock sense of the word. Parker was calling him an Uncle Tom.
It was the whole spectrum, all at once, all about the same player, a guy whose public image to that point had seemed studiously bland, designed as if to avoid queasy-making exegeses precisely like Whitlock's and Parker's. There was nothing particularly elevating about the RGIII discussion. It was wrongheaded, and it rested on the old, stale demands that a black celebrity in a white world be an exemplar of blackness. And yet, in their honest moments, a lot of black folks who know they're being wrongheaded would admit to thinking these very thoughts, or something like them. Parker was demanding a black correctness out of RGIII as the price of black goodwill. Presumptuous though he may have been, wrong as he was, his was the voice of the community calling a young black man back to the circle, and he did so by summoning all sorts of noxious associations, both ancient and modern: Uncle Toms and "house niggers" and "ride or die" and "snitches get stitches." Betrayal, in a word.
That betrayal can take many forms. Marrying or dating or even kissing a white woman, perhaps, or voting against a black president and a political party that doesn't treat poor blacks as government suckfishes. Even one's diction is seen as an early detector of who might be trying to connive their way into the white man's house and leave the rest of us out in the fields. Every single African-American understands this dynamic, even if he or she doesn't subscribe to it. Many, many blacks were enraged by Rob Parker's coded comments about RGIII not being "down for the cause" for any number of reasons, not least because it reduced blackness to mere outward appearances and seemed to suggest that supporting the "cause" was nothing more than a matter of hair braids. But they understood the gravity of what Parker was saying. He was accusing Griffin of treason.
The problem wasn't so much what he was saying as where. In a blacker setting—in, say, the iconic barbershop—Parker wouldn't have been deemed a racist. He would've been just another guy who was talking some dumb shit about RGIII. But he wasn't in a barbershop. He was on ESPN, debating a white race baiter for a mostly white audience. He was the one outside the community, not RGIII.
Same goes for Whitlock, who in a broad sense isn't saying anything that Bill Cosby doesn't say every time a black college makes the mistake of letting him speak there. The difference is that he's saying it for the likes of Fox Sports and ESPN, where the meaning changes, the way my meaning changes when I say "nigga" among black friends. I say or type the word dozens of times a day. It's often used as an alternative to words like "guy" and "dude," but it's also a shorthand descriptor. Most of my friends and I love Cam Newton, because he's what we'd call a "real nigga." He's brash, he's athletic, and maybe most important, he is—or at least was—objectionable in the eyes of many white media outlets. But I'd never call Cam a "real nigga" on Deadspin.
Whitlock's argument—that Griffin's lack of humility, instead of the lack of a fully-functioning knee or the lack of an in-game snap in over eight months or the lack of talent around him in the huddle and front office, is the sole reason for his struggles on the field in his sophomore campaign—is silly, and the silliness is compounded by the fact that he's making the argument in front of white folks, seemingly valorizing any dark suppositions about the priorities of young black men.
Seen from a small remove, there is something weirdly gratifying about all this. I think of Joe Lillard, the electric runner who in the 1930s found himself accused of arrogance and surliness. "He is the lone link in a place we are holding on to by a very weak string," wrote Al Monroe, a columnist for the Chicago Defender, a black newspaper. (He urged Lillard to "learn to play upon the vanity" of whites—to be a cornball brother, as Parker might say.) Monroe felt protective of Lillard, and understandably so—there were too few vessels for too many hopes in those days. Some 80 years later, we have Whitlock and Parker, having risen to media platforms Monroe never could've dreamed of, drawing up two wholly contradictory bills of indictment against another electric black runner. Their knees aren't jerking to Griffin's defense. They're free (well, mostly free) to be as foolish about a black player as white sportswriters are about anyone, and I am free (on a smaller but still significant platform) to disagree vehemently with my black colleagues in the media, and RGIII doesn't need any of us to prop up a still-promising career. There's progress in that.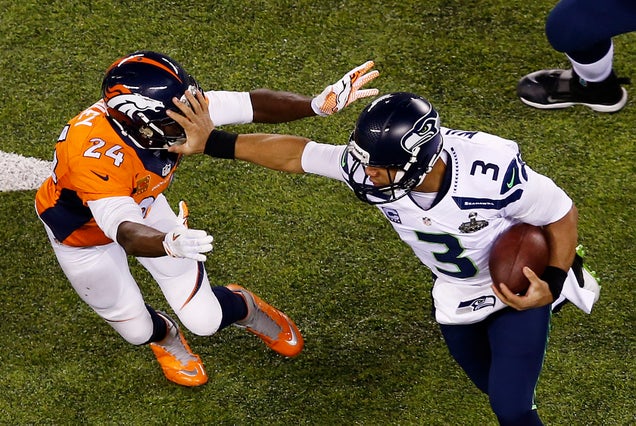 S
Russell Wilson | 2012-2013 | Seattle Seahawks
Drafted, 3rd round (75 overall) | 32 games (32 starts) | 6,475 yards passing | 52 passing TDs | 19 INTs | 63.6 comp. % | 100.6 QB rating | 1,028 yards rushing | 5 rushing TDs | 16 fumbles
"Never will be a prototypical dropback, pocket passer, as his height always will be a limiting factor, but he has the arm, legs and smarts to grow into an effective backup in a system where he can utilize play-action, rollouts, and improv skills to make plays."—Pro Football Weekly
Sportswriters and the fans who take their cues from them have this terrible habit of sorting the world into good Negroes and bad Negroes. Hank Aaron was the good Negro to Barry Bonds's bad Negro. Joe Louis was the good Negro to Muhammad Ali's bad Negro. And in the runup to this year's NFC championship, with black-quarterbacked Seattle Seahawks facing off against the black-quarterbacked San Francisco 49ers, Russell Wilson became the good Negro to Colin Kaepernick's bad Negro.
This manifested itself in all sorts of ways, but the most deliberate and potent was an infographic someone had made in which Wilson's Instagram account was compared with Kaepernick's. Wilson is seen posing with sick children at hospitals; Kaepernick is seen posing with shoes. Wilson is seen with his wife; Kaepernick is seen with a bunch of scary-looking black dudes. You get the idea.
That this was as cheapening and fundamentally dehumanizing to Wilson as it was to Kaepernick seemed not to occur to anyone. It turned Wilson into a rhetorical prop, treated him as the sum of white people's approval. He was One of the Good Ones. In a league of tatted-up drughead thugs, here was a "classy" guy you could bring into the family parlor without having to hide the children. ("Classy" is the adjective used for young good Negroes; "dignified" is used for the older ones.)
It's a shame, because there's a simple story to tell about Wilson that doesn't use him for the shitty purposes of invidious comparison. Drafted in the third round after a preposterously efficient graduate season at Wisconsin (33 touchdowns against four interceptions), the 5-foot-11 Wilson offered an interesting case study. As Slate's Josh Levin pointed out, he was Tebowishly overrated for his charisma and leadership qualities and Breesily underrated because of his height. The latter was the sort of oversight that should be familiar to Moneyball readers. "If Wilson were three inches taller," explained an NFL.com combine profile, "there would be debate at the top of the draft as to where he fits in, but look for teams to take a flier on him in late rounds to see if he can develop and outplay his size."
The numbers crowd knew Wilson was something special, though. The Football Outsiders projection for him was so rosy that the site's writers took to calling him "The Asterisk." What they understood implicitly was that height actually tells you very little about a player, particularly a player as dynamic as Wilson. He may not be tall, but he is mobile, and he uses his legs in a way that makes his stature irrelevant. He runs for yardage, of course, but he also runs to create better passing lanes for himself—sort of like Tony Romo, of all people. That's one reason he throws such a good deep ball. It's not because he's aiming through a forest of opponents; it's because he can move outside the forest entirely.
Seahawks coach Pete Carroll knew what he had in Wilson, too, and he was ballsy enough to turn the offense over to him instead of prize free agent Matt Flynn. The move paid immediate dividends, and on Sunday, two seasons later, Russell Wilson became the second black quarterback to win a Super Bowl. Wilson's story isn't about good Negro vs. bad Negro. It's about management blind spots, about how old biases prevent even credentialed experts from seeing what's actually there. In its own way, it's about discrimination, too.
E.J. Manuel | 2013 | Buffalo Bills
Drafted, 1st round (16 overall) | 10 games (10 starts) | 1,972 yards passing | 11 passing TDs | 9 INTs | 58.8 comp. % | 77.7 QB rating | 186 yards rushing | 2 rushing TDs | 6 fumbles
"As gifted as any quarterback in the class, with a strong arm and good mobility."—NFL.com
In a draft class light on NFL-ready quarterbacks, Manuel was the only one taken in the first round. It's hard to judge him based on a rookie season spattered with injuries, but his game-winning touchdown with two seconds left against the Panthers stands out already as a highlight, and it was even cooler that his father, Erik Sr., was in the stands, ready to celebrate after the improbable victory. Manuel brings promise and hope to the Bills, mainly because his ceiling has yet to be determined. But the unknown fuels optimism.
Geno Smith | 2013 | New York Jets
Drafted, 2nd round (39 overall) | 16 games (16 starts) | 3,046 yards passing | 12 passing TDs | 21 INTs | 55.8 comp. % | 66.5 QB rating | 366 yards rushing | 6 rushing TDs | 8 fumbles
"Smith is a gimmick, overhyped product of the system lacking the football savvy, work habits and focus to cement a starting job."—Nolan Nawrocki, Pro Football Weekly
Geno Smith is what happens when you try to cram a quarterback who didn't play read-option in college, and who didn't really show signs that he'd be good at it, into a read-option system, just because he ran a decent 40. Smith has shown a few signs of life—his deep ball has actually been efficient—but he's thrown nightmare interception after nightmare interception, combining with Eli Manning to set a single-season record for the New York teams. He did, however, get his obligatory Jets quarterback dong shot scandal out of the way.
B.J. Daniels | 2013 | San Francisco 49ers, Seattle Seahawks
Drafted, 7th round (327 overall) | 0 games
"If he wishes to have any future at the next level, Daniels needs to improve his accuracy"—CBS Sports
The understudy to Tarvaris Jackson as Russell Wilson's backup. So technically, BJ has a ring too.