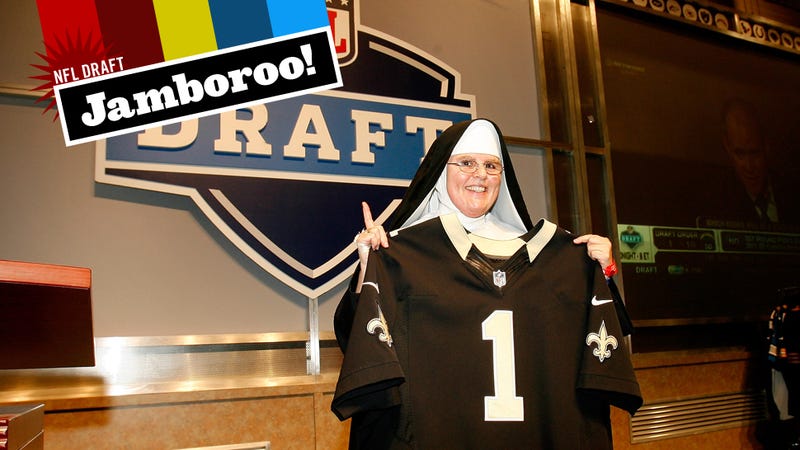 Drew Magary's Thursday Afternoon NFL Dick Joke Jamboroo runs every Thursday during the NFL season. Buy Drew's book, Someone Could Get Hurt, here. Find more of his stuff at his Twitter feed.
One of the fun things about the NFL draft is that no team will ever master it. Even teams that have a history of drafting well—like Pittsburgh and Baltimore—make terrible selections from time to time (like Huey Richardson!). And that's because there's no hard set of metrics that will ever predict a college player's pro potential with 100 percent accuracy. Sure, you can measure basic athletic skills through 40-yard dash times and seeing how many times a lineman can bench press a barbell with two cows hanging from each side. But those are simple tests of athleticism. Those are tests that tell a team "Well, he's a good enough athlete," which doesn't amount to much of anything in a league that has nothing but good athletes at every position.
And a scout can conduct personal interviews, but those probably establish more baseless prejudices about a player than if you never met him at all. If you meet Matt Barkley and he had diarrhea the night before and he's too concerned about his terrible case of swampass to answer your questions effusively, then you're probably marking him down on your report. DURRRR HE DOESN'T SEEM TO WANT IT DURRRRRR. I say all that knowing that Matt Barkley will be fucking terrible, but still. A six-hour interview with a player may seem extensive, but it's still a laughable sample size compared to the rest of his existence.
Plus, the scout's own report itself can end up altering the player's potential. Look at PFW writer Nolan Nawrocki's now-infamous write-up of West Virginia QB Geno Smith:
"Not a student of the game. Nonchalant field presence — does not command respect from teammates and cannot inspire. Mild practice demeanor — no urgency. Not committed or focused — marginal work ethic."
There's no way Geno Smith didn't read that report and say FUCK THAT GUY and then go do 500 wind sprints up and down a mountainside. Cam Newton got a similar writeup from Nawrocki and proceeded to have one of the finest rookie seasons ever, followed by a relatively disappointing year in which he scored "only" 27 TDs, threw for nearly 4,000 yards, and wore a sweater that everyone hated.
The process of the draft itself can change a player. Even your position can affect your future. There have been countless instances of players like Randy Moss and Aaron Rodgers, who drop down to the bottom of the first round, seethe in anger, and then destroy everything in sight after being properly motivated. If those men were to be re-drafted in their respective drafts again, they'd go right near the top (or to the very top, in Rodgers's case). And if that happened, who knows if they would have the same careers?
Conversely, you have players like Ryan Leaf who are drafted too high, given too much money and notoriety, and then shit the bed. The process of the draft essentially ruins them, not that Ryan Leaf didn't already have plenty of turd inside him prior to that. You can't account for how the draft will impact a player before the draft has happened, nor can you account for how that player will adjust to a new organization, new teammates, and a new city to live in.
Even game tape, which would seem to be useful since you get to watch a player PLAY, is unreliable. The competition level in college football ranges from Alabama to Chattahoochee Valley Community College, and that's just at the team level. Your prospect could be locked in coverage with a NFL-level talent on a shitty team, or a scrub on a Top 10 team. Game tape can also reinforce prejudices, both good and bad. "Wow! Look at that block he made! If I can just get him to make THAT block on every single play, he'll be a Hall of Famer!" Scouts can try to be as objective as possible, but they're human. People see what they want to see. And if you're in a tape room at 10 p.m., looking at your 57th prospect of the day, you're probably not gonna be as sharp judging him as you were with the guy you first looked at in the morning. It's like casting a film. Your enthusiasm naturally wanes. Things begin to blend together. Scouts like to think their reports are ironclad—and GMs love having those reports as "evidence" to justify a pick—but they aren't. And the difference between college football and pro football is so vast that even consistently reliable game tape still isn't perfect.