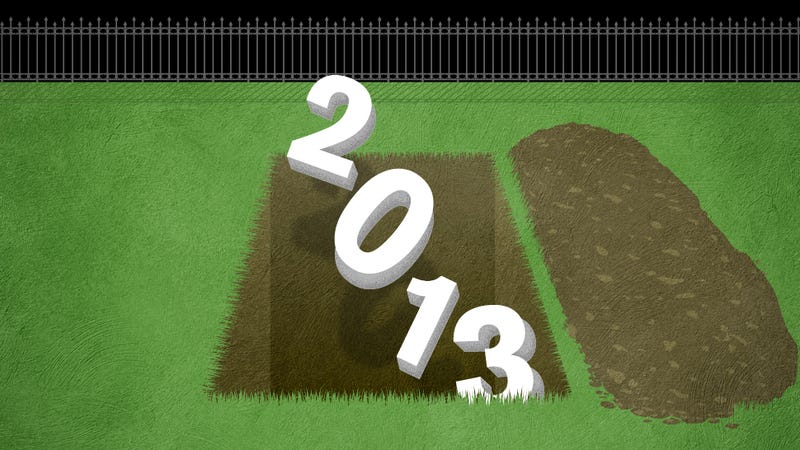 It's customary at the dawn of a new year to pay homage to the people we lost in the previous one. But we're optimists at Deadspin. Here's everything we hope will die in 2014.
The National Football League
The NFL is awful. In its size, its cultural omnipresence; in the comfortable planes of orbit its gravity provides for the dipshittiest commercial expressions—don't let your disapproving nag-harpy of a wife keep you from watching football with your bros, bro!—of self-entitled dudebro avarice; in the soft-focus gauze of mythological virtue and leadership with which it shrouds its asswipe heroes—Vince "Winning Is Everything" Lombardi, Bill "A Complete And Total Fucking Psycho" Belichick; in the relentless enforced stupidity with which it talks about itself; in its callous disregard for the well-being of the people whose toil is its lifeblood; in its glorification of brutality, its reckless conflation of itself with actual combat; in its cynical defenses of its status quo, its monumentally disingenuous half-gestures toward improved conditions for the workers who make it go, and in its enabling of the continued enrichment of a churlish little shitbag vulgarian in a feathered headdress, the NFL embodies everything that is worst—dumbest and most destructive and reactionary—about American capitalism. Like American capitalism, it is a malignant cancer, and deserves to die.