Louisville City FC introduced its logo last week, to the outrage and disappointment of fans and designers who called it ugly, amateurish, and quickly demonstrated that they could do better. It took less than a day for the team to admit it screwed up, and announce it would hold a fan contest to pick a new one.
LCFC, which will begin play in the third-tier USL Pro next season, released this logo the day before the team's official launch: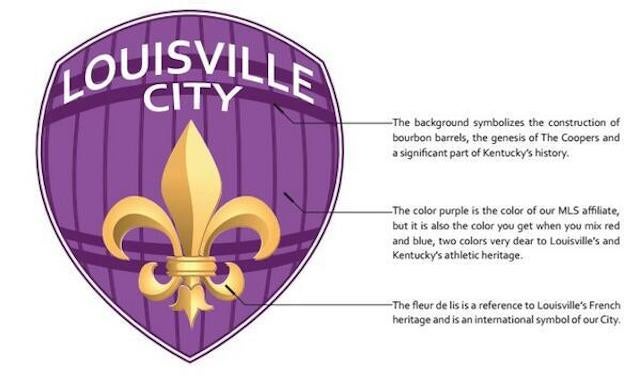 Members of the Coopers, a supporters' group that predates the team's existence, immediately weighed in with complaints. The purple's ugly. The font is amateurish. The fleur-de-lis is overused. It's literally clipart. So on.
Owner Wayne Estopinal played down those concerns at the launch the next morning, but supporters were already hard at work demonstrating that even while maintaining some of the same elements, the logo didn't have to be clownshoes.
So, @loucityfc, these are my designs. I'll be submitting them when we can! #LCFClogo #LouCityFC pic.twitter.com/xYCspVT3bY

— Arsenal Kentucky (@Arsenal_KY) June 4, 2014
@JonathanLintner trying to encourage this city toward better design. pic.twitter.com/eI5ofYqJax

— Jeremy Booth (@jeremybooth) June 4, 2014
@LouCoopers @loucityfc @WayneEstopinal Just a couple logo ideas for the new club. #LCFClogo pic.twitter.com/IUVBgFjuah

— Michael Manning (@michaelpmanning) June 8, 2014
@LouCoopers @loucityfc #LCFClogo #loucityfclogo Another idea. Please comment for thoughts! :) pic.twitter.com/X798yCnfBf

— Wesley Cooper (@wesleycooper17) June 7, 2014
And here's another logo for the pile! @LouCoopers #LCFClogo pic.twitter.com/fII4AYd30y

— Halftone Show (@HalftoneShow) June 5, 2014
I am not much of a logo designer, but the #LCFClogo needed some work. I went for a completely different feel. pic.twitter.com/bQ2WKbU5T0

— Ryan Jones (@creativetakeoff) June 5, 2014
I'm sold on the #LCFClogo design by @M_Willis, see his thought process here: Identity Sketches http://t.co/QU1v07P0Ou pic.twitter.com/bpJ1qWIjpc

— George H. Kipp (@GeorgeKipp) June 6, 2014
My first draft for a @loucityfc logo @LouCoopers #LCFClogo pic.twitter.com/sOOShUAELt

— Kyle Piercy (@rkpiercy) June 9, 2014
Estopinal quickly backed off his defense of the logo, and before the day was out, announced that Louisville City would hold a design contest open to all.
"When you start looking at everything and realize it's got to be the size of a postage stamp of an envelope and you realize it's also got to be the size of a banner at Slugger Field, you see how varied it is," Estopinal said. "We really need some people to advise us."
You can enter your design here, but there are rules—the logo must incorporate the color purple, the fleur-de-lis, and a barrel. Entries are due by this Sunday, with a fan vote to follow. The winner gets $500 and the thanks of a grateful city.