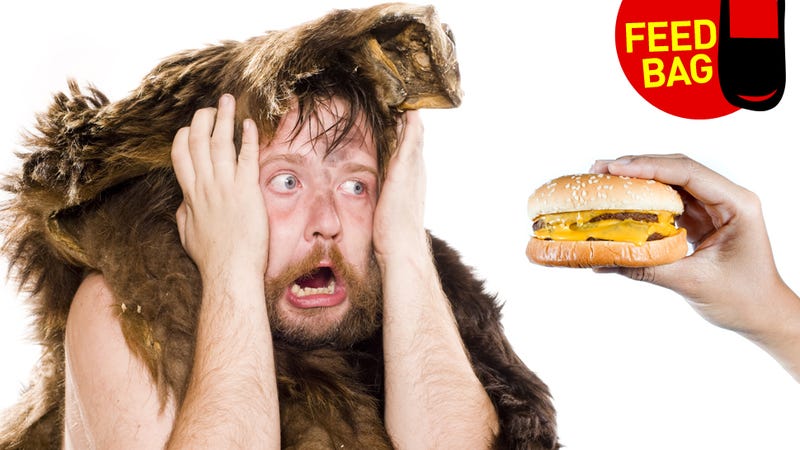 Welcome to the Feedbag, where all the dumb questions about food, drink, cooking, eating, and accidental finger removal you've been embarrassed to ask can finally receive the berating they goddamn deserve. Also: answers. Send all your even-vaguely-food-related questions to albertburneko@gmail.com with the subject "Feedbag." All of them.
Jake:
I am a college student and subscriber to the paleolithic diet in a way, basically I just don't eat grains or dairy, and I am running out of exciting recipes beyond chicken breast and steamed vegetables tossed with olive oil dressing. I'm wondering if you can give me any decent foundations that I haven't yet thought of, but I also don't want to be a boner who buys spaghetti squash and seaweed.
I don't know much about the paleolithic diet, other than the general rumblings out there that it is either:
A) At best, a cosmetically modified re-branding of the same broad dietary guidelines—lean meat, nuts, leafy vegetables, no simple carbohydrates, and so forth—that form the general basis of the Mediterranean Diet, the Atkins Diet, the 4-Hour Body diet, and a bunch of other brand-name diets, only with the silly and needless added prohibition of dairy, or
B) At worst, a plot by aliens to trick us into turning our blood into caustic acid which they will eventually use to clean the bathroom tile on their spaceships.
But, based on my general, vague, possibly completely imaginary understanding of the paleolithic diet, you're allowed to eat things other than chicken, right? I mean, our caveman forebears may not have eaten refined wheat flour, but they ate all types of other shit, didn't they? Birds, berries, rodents, nuts, ungulates, lichen, marsupials, each other, actual shit, you name it. (Also they probably didn't steam things.) So, why the hell are you eating chicken breasts all the time?