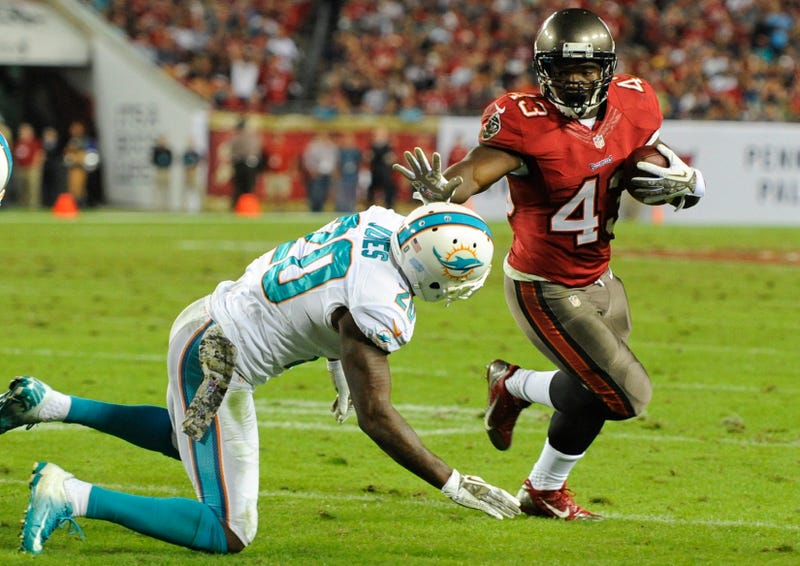 Burn Florida. Sterilize the entire state of its NFL teams as you would an MRSA contamination. Float it into the Gulf, Bugs Bunny-style. Send the NFL to Los Angeles or London or Lucknow, anywhere but the Sunshine State—professional football cannot thrive on its saline soils. After an ugly, addled Monday Night Football matchup that had fans begging for the quality of a Thursday game, this much is clear: On a combined index of internal happiness, talent, and ability to make headlines for actual football matters, the Jaguars are Florida's top team. That's not a world I'm prepared to live in.
Last night was doomed to farce. The Dolphins, with the Jonathan Martin scandal still an oozing sore, appeared every bit as toxic as the Buccaneers' staph-riddled locker room. The Bucs, who seem to hate their coach with the fury of a thousand suns, came in winless, though about as underachieving and unlucky as any winless team can be. If ever a game was destined to end in a tie or in the events of Revelation 9, this was it.
What's worse than watching the Buccaneers score 15 straight points? Watching the Dolphins score 19 straight points. (Worst riddle ever. Sorry.)
It's the game that had everything you never wanted. A safety. Punts fair-caught at the 5 and at the 10. A scoring drive of negative five yards. A failed two-point conversion. Two touchdowns from Rishard Matthews, who has never scored in the NFL. A touchdown from Tampa's fourth-string running back. A fat guy touchdown.