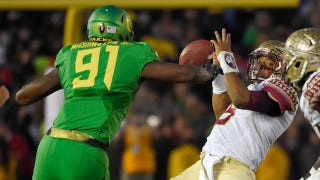 Wow. This could not have gone much better for pretty much most of the country.
Florida State finally lost, but they didn't just lose, they imploded in the second half. The game started innocently enough, a close affair that played out like every other Seminoles game this year. At halftime, Oregon was clinging to an 18-13 lead, and Florida State was set to receive.
But then the Ducks absolutely outclassed the Seminoles in the second half. Florida State began making mistakes all over the field. They bit on fakes on defense, and struggled to lineup against Oregon's hurry up offense. On offense, Jameis Winston fell apart — his fumble one of the most memorable plays of recent Rose Bowl history. After a Winston touchdown pass made the game 25-20 in the third quarter, Florida State's next four offensive drives went fumble, fumble, interception, fumble.