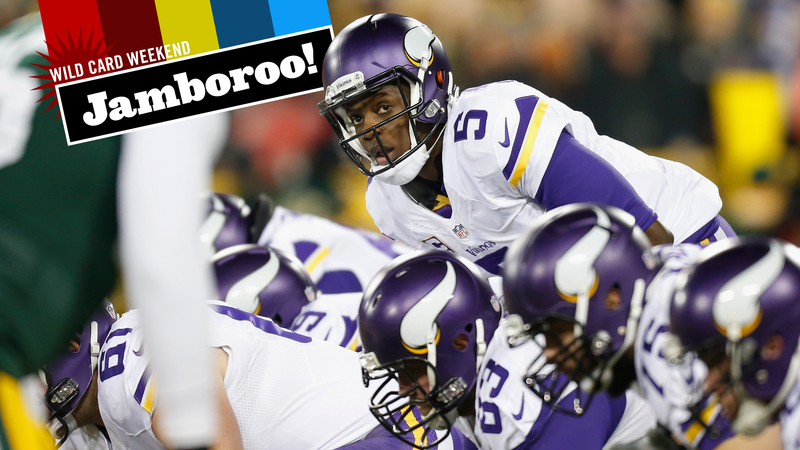 Drew Magary's Thursday Afternoon NFL Dick Joke Jamboroo runs every Thursday during the NFL season. Email Drew here.
Holy shit, it's the playoffs! FUCK YEAH! Unworthy division winners! Backup quarterbacks! Ed Hochuli explaining why he did that stupid thing he did! IT'S ALL HERE! I've got a couple of sad beers in the fridge and half a bag of chips. I AM READY.
For the past few years, I've spent an inordinate amount of time complaining about the NFL, mostly because the NFL is run by crooks and shitbags. You already know all the grievances. The sport kills its players. Some of the players beat their wives. The coaches are lunatics. The sponsors are relentless. The culture of the sport is one degree away from that of the Oregon G.I. Joe militia bros. The officials are morons. The replay system is horrific. The games can be dull. The rules change hourly. The owners routinely rip off customers and municipalities and starve school districts of badly needed funding. In a just world, the NFL would fucking die.
Frankly, I work with people who would like to see this happen… MAKE this happen. There are a number of people on this staff who believe football is utterly irredeemable and shouldn't exist. I routinely have to defend my enjoyment of football to these people… people who watch goddamn SOCCER (a sport that is somehow even more corrupt!) on a regular basis. And you can get this sentiment from the greater media as well. Just this week, some pud at the Guardian called for the abolition of football:
In its current state, professional football is immoral and we as a society should end its existence.

I imagine some fans of American football felt their hackles rise upon reading that.
Oh, yes. CONSIDER MY HACKLES RAISED, BROTHER. Listen, I may bitch and piss and moan about football because that's all I do because I am a miserable person. But I'm entitled to bitch about the NFL because it's MY sport. Just like soccer fans will watch the World Cup despite the LITERAL HUMAN SLAVERY involved in staging it, I will watch football from now until the day I die. Even if the NFL manages to bomb every elementary school in existence. Even if football is shown to cause butt cancer merely if you WATCH it. The only thing more imperious or annoying than the NFL is the people futilely trying to get me to not like it. I saw more than a few people on Twitter say they "gave up" football this season. Do they miss it? No, they do not miss it. Oh, how they beam with PRIDE when they tell you how much they do not miss it.
Fuck these people. Okay? I grew up with sportswriters who were more than happy to express their disdain for football. Michael Wilbon hated football. The entire New York Times staff hated football. Fartsniffers like Thomas Boswell and Mike Lupica didn't exactly hide their preference for other sports, like baseball. And if YOU hate football (would you like a cookie for it?), you now have the ammo you'll ever need to call for its demise.
But I don't give a shit. As always, I am here to lay down obvious takes, and here is one: FOOTBALL IS GOOD. I hate to align myself with GREGGGGGGGGGGG on this, but it's true. I don't want the NFL to die. I don't want it to go bankrupt. I don't want it replaced by an eco-league that forces me to root for the Minnesota Frost Bears as a healthy alternative. I want the NFL to live forever, damaging brains and corrupting everyone along the way. There's too much about it I like: deep passes, toe-tap sideline catches, safeties busting out the motherfucking hit stick, Sunday drinking, fat men catching tipped balls, flea flickers, broken tackles, sad fan crowd shots, preparing to boo the ref when he announces his replay findings, SNOW, coaches stomping around like angry children, and giving my TV the finger. OH! Oh, how I love giving my TV the finger. I gave John Kuhn the finger 10 times last week alone. WHAT'S HE GONNA DO ABOUT IT?!
Last season was, from a quality standpoint, the worst season in NFL history. Almost every prime time game during the 2014 regular season was terrible. It was enough to make any sane viewer question if football was truly worth it. But then the playoffs came, and along came the picked up PI flag, and Dez catching/not catching the ball, and Brandon Bostick, and Malcolm Butler. Somehow, the playoffs wiped all that bitterness away and left me in my preferred state of football-induced engorgement.
And as much as the NFL overstates it, there ARE nice things about football. I really DO watch football with my family. I really DO feel, at times, that playing the sport as a kid was a worthwhile experience. I really DO think there are players and coaches out there who mean well. I really DO think the sport is currently going through a painful reinvention that will hopefully result in a faster paced, potentially less lethal sport. Underneath all my craven bitching and moaning is a man who BELIEVES in football. It's not the sainted congregation that Roger Goodell makes it out to be, but it's all right. Virtually every large, worthwhile American enterprise has something quietly damnable going for it. But just because something is built upon a foundation of corruption (America, for instance!) doesn't mean the thing itself isn't worth having around. Wishing football away isn't some kind of magical salve for what ails society. Young boys would probably just turn to backyard pro wrestling or invent some new traumatic sport called HEADKICKBALL instead.
If you love a sport, there will ALWAYS be something there to redeem it. And maybe you don't think that's enough to justify the existence of the sport. But I can't go with you on that. I'll never be a Lupica, or a Wilbon, or even a Marchman (who likes MMA, mind you). I refuse to become what I hate. Football is a mess, but I'll always think it's worth it. Throw me down a well if I ever say differently.
Also, I've been rooting for the stupid Vikings for a quarter-century and I'll be goddamned if I give it up without them winning something. These are the playoffs, and this is your playoff Jamboroo. LET'S FUCKING GO.
The Games
All games in the Jamboroo are evaluated for sheer watchability on a scale of 1 to 5 Throwgasms. And during the playoffs, I pick the games, because that is the bold and courageous thing to do.
Five Throwgasms
Bengals (+2.5) 27, Steelers 24. Take it from Beaux Jackson…
I don't trust Marvin Lewis to win a playoff game any more than you do, but the proper Bengals move is to win this game, knock out the best offensive team in the AFC, and then get absolutely DESTROYED when Andy Dalton comes back the following week.
By the way, as of this writing, not a single home team is favored this week. I'm not sure that's ever happened before. Some of these home teams are gonna win. VEGAS DOESN'T KNOW WHAT IT'S DOING!
Redskins (+1) 35, Packers 30. There's no way I'm picking against Washington until they lose. This team has already defied expectations and it has turned this fanbase into even more fervently delusional imbeciles. You would think playing against Aaron Rodgers in the playoff game—regardless of his struggles—would be a terrifying proposition, right? RIGHT? Ohhhhhh, but Skins fans aren't like you and me, amigo:
Keep in mind this team went 9-7 and didn't beat a single team with a winning record, and yet it takes NOTHING for these people to act as if they've already won the goddamn Super Bowl. Imagine Yankees fans, only they've hallucinated half of their championships. That's Washington. Look what you've done, Kirk Cousins. ARE YOU HAPPY, YOU ASSHOLE?
Four Throwgasms
Seahawks (-5) 24, Vikings 7. Our own Diana Moskovitz already took a shit all over this horrific Adrian Peterson cover story at Sports Illustrated, but it's worth shitting on twice, because SI thoughtlessly handed Peterson a redemption story even though there's nothing redeemable here.