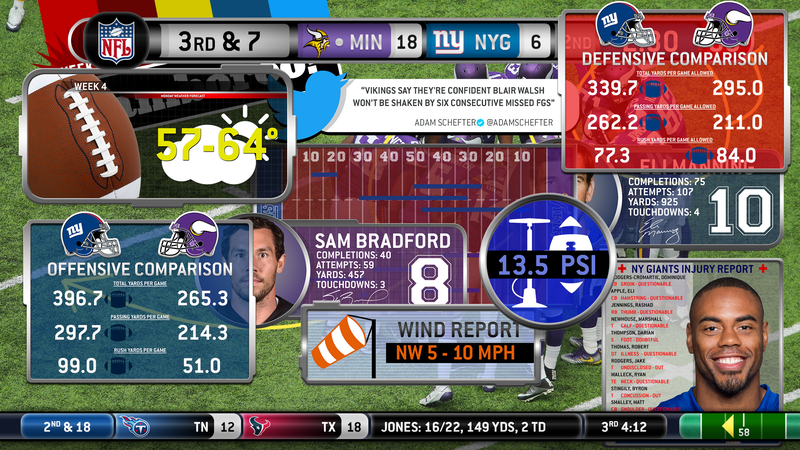 Drew Magary's Thursday Afternoon NFL Dick Joke Jamboroo runs every Thursday during the NFL season. Email Drew here. Buy his book here.

I was fifteen years old the first time a broadcast network decided to use a permanent graphics during football games. This was back in 1994, when Fox acquired NFL rights for the first time and put a score bug in the corner of the screen, as seen here…
Look how tiny that graphic is. The first FoxBox was designed to be as unobtrusive as possible, while still providing a valuable service that networks should have thought of YEARS before. I remember that, for a while, NBC Sports refused to emulate the FoxBox, because then-President Dick Ebersol said that viewers would stay with a game longer if they didn't know the score, which is somehow both ignorant AND evil.
But eventually, NBC caved. And ever since then, networks have engaged in what has become a graphics arms race, with every peripheral bit of the screen re-purposed to provide instant information. They don't even bother to make the graphics transparent anymore. Just this year, Fox decided to add team records to their scoring bug, even though I don't need a graphic to know that the Browns are probably winless.
I have supported this arms race pretty much every step of the way. When CBS started rotating scores from other games in the top right corner of the screen, I was ecstatic. Then they started adding stats, and then real-time scoring alerts, and now both Fox and CBS do their best to keep me updated on other games, so that I have something else on the screen to stare at while the punting unit trots out.
But do I really need all this shit cluttering up the screen? Reader Gregory argues that the scoring crawl is now hopelessly outdated:
Can we do away with the news and sports scroll at the bottom of the screen during games? With everyone owning a smartphone, what is the point? This isn't 2005. I look at old film of tennis, hockey, etc., and I think watching a game in HD without all that shit and a minimized score would be awesome.
Jesus, he's right. With apologies to all the smartphone holdouts in America (I was one myself for a while), a lot of these graphics have outlived their usefulness. With a phone, I control the flow of information. I can find the exact score I'm looking for, and I can find out whether or not my fantasy players have done anything useful (they have not). I don't have to sit there scanning the crawl for three minutes, wondering who got the TD in that Broncos game or whatever. In fact, by the time they get to that, someone ELSE in that game has already gotten a touchdown. And I will know this because I'll have seen it on my phone AND on the Red Zone Channel before the crawl gets updated.
A lot of the graphics on the screen now only serve to divert my eyes from the action on the field. This is because I have the brain of a child, but still: I can't tell you the number of times I've have drifted away from the game itself in order to digest a piece of information I already knew.