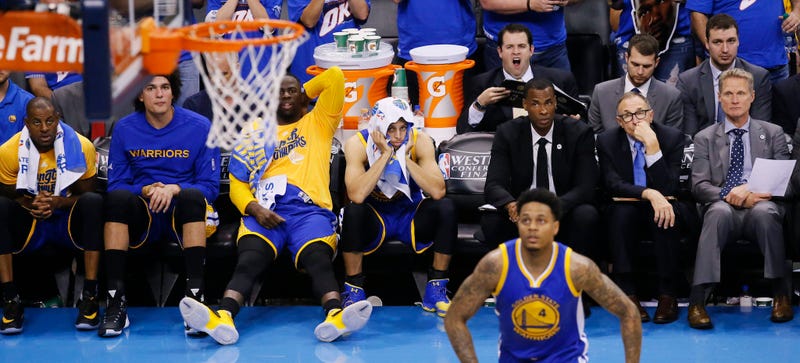 Before last night, the Warriors' 12 losses this season could mostly be put into one of three buckets: somebody was injured, somebody on the opposing team went supernova, or the Warriors played like dogshit. It isn't a slight, nor inaccurate, to say that the Warriors—who finished the regular season with the best record in the history of the NBA—lost their losses moreso than their opponent beat them.
But last night a healthy, well-rested Warriors team got comprehensively beaten down by the Thunder. Some of the stats are Barry Bonds Alien God stuff:
The Thunder went on a 97-65 run to close the game
After the Draymond Green nut kick was adjudicated, the Thunder closed the second quarter on a 22-5 run
Green finished -43, Klay Thompson finished -41, Steph Curry finished -39, and Andre Iguodala finished -39
Green's -43 was the worst in NBA playoff history
Serge Ibaka finished +42, Russell Westbrook finished +41, and Kevin Durant finished +36
Andre Roberson made three three-pointers, tied for his career high, which he originally set last week against the Spurs
The Thunder shot 89 percent on 37 free throw attempts, which only happens about once per season
The Thunder's 117 points (!) at the end of three quarters was the third most in NBA playoff history
As singularly dominant as the Thunder were last night, it was almost possible to write the loss off as an anomalous occurrence of everything going right for the Thunder, and nothing going right for the Warriors. A disquieting occurrence, mind you, but the Warriors are notoriously bad in Game 3's, and the Thunder have been rolling for the past two weeks.
But the loss can't be written off, because for the first time in memory, the Warriors' Death Lineup was a disaster.