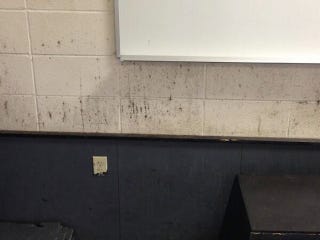 The Grambling football team's boycott in protest of shitty work conditions is now over. But that's not to say all is well. Photos of the football facility that surfaced over the weekend show just how awful things had gotten, and the university has punished two members of the student newspaper for covering and promoting the players' effort.
The Tigers refused to practice late last week and then decided not to travel to Saturday's game at Jackson State, which resulted in a forfeit. The Southwestern Athletic Conference had said it would fine Grambling $20,000 for boycott, citing its bylaws, but the league has since backed down and said it would not issue any such fine.
The end of the boycott was announced this morning when Naquan Smith, a senior safety who has served as a team spokesman in recent days, sent the following statement to reporters:
As part of the athletic program at Grambling State University, the football team, took a stance on what we thought was right. We did not quit on our university. There are many problems that exist and if no one says anything, nothing will come of our institution. We hope Coach Eddie Robinson and his legendary players can appreciate that we stood up for what we thought was right. After coming into contact with different sources, we decided to reach out to the one person we trusted, Coach Doug Williams, with our concerns. His main statement to us was, "Go out there and play football." He also put us in contact with Jim Bernhard out of Baton Rouge. A meeting was held with Mr. Bernhard as well as, Douglas Porter, Ezil Bibbs, Roy Jackson, Henry Dyer and Howard Davis. The meeting confirmed him [Jim Bernhard] as being committed with our best intentions at heart and that he would ensure we had updated facilities, but we had to agree to being back practicing Monday, October 21 and finish the remainder of our season. Although we are going to continue our season, we have not forgotten the situation and how we've gotten here. We would like to say thank you to Coach Williams, the Legends and Mr. Jim Bernhard. Grambling has given us the opportunity to be a part of its legacy and we are only looking to improve conditions for the university and future student-athletes.
Grambling (0-8) has four games remaining. Former NFL linebacker Dennis "Dirt" Winston is the Tigers' third head coach since the start of the season. The players' decision to resume playing came after school administrators were forced to respond to a letter outlining their complaints, which included dilapidated facilities, having to pay for their own Gatorade, mold and mildew on equipment, and poorly cleaned uniforms, which puts players at risk of staph infections. The final straw, apparently, was a bus trip covering some 1,500 round-trip miles to a game in Indianapolis on Oct. 12.
Grambling has been hit hard by budget cuts and a reduction in state funding in recent years, but its finances have also been audited frequently by the state of Louisiana. The Monroe (La.) News-Star says Grambling's athletic director committed to a $32,000 upgrade to the weight room on Friday night. On Saturday, the university also released a state health inspection report dated Oct. 7. That report noted that some flooring in the football facility needed repair and that ceiling tiles were in poor condition from water damage, but it also said there were no health violations. Also on Saturday, Smith tweeted 10 photos to show just how awful the conditions had become: