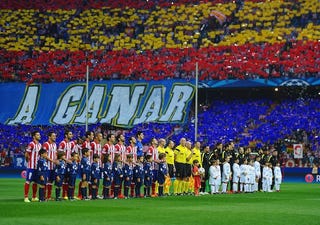 The stage is set. As our search for the rightful champion of La Liga enters its final act, the protagonists make their way to center stage, swaying, stumbling, and trying to keep their feet about them to avoid face-planting into the orchestra pit like the third title aspirant, Real Madrid. The curtains will soon raise on the final act of what should go down as the greatest season in Spanish club soccer's history, pitting Atlético Madrid against Barcelona in a season-ending fixture to decide the title. That's how it'd better end, anyway.
You really couldn't write this stuff. The Barça-Atlético match has long loomed large in the minds of Spanish soccer fans who realized the potential of a season-ending clash between two teams that have basically played musical chairs atop the table this season. But even as recently as last weekend, all three teams chasing the championship justifiably believed they had lost everything.
It started when Barcelona welcomed Getafe to the Camp Nou on Saturday. There, Barça's chronic inability to concentrate for a full 90 minutes saw them concede a late equalizer to drop an unforgivable yet completely unsurprising two points. With that draw, what remained of their twig-thin title shot was whittled down to a toothpick's size. Not only would Barcelona need to slay an Atlético Madrid team they have been unable to beat in six tries this season, they would still need even more help from both Madrid teams.
Sunday was Atlético's turn to smack their head in frustration at what should've been. Coming into the match a mere two wins from clinching the league and obviating the final week's game with Barça, the fumes and passion Atlético had been running on the past few weeks in their La Liga and Champions League runs were finally unable to keep their constantly revving engine from stalling out. Levante 2, Atlético 0. To make matters worse, it appeared they had gifted their archrivals Real Madrid the title, given that they would only need to win out against fairly mediocre competition to back their way into a championship.
But unlike in god-forsaken England, the Spanish deities would not let their championship be so cleanly decided. Against a Valencia side with nothing to play for except maybe a pay hike when the players are inevitably sold, and in a match Real knew would solidify themselves as title favorites, los blancos picked a most inopportune moment to shit the bed. Valencia struck first, on the cusp of halftime. After the break, Real got their equalizer, and for a few minutes it looked like they would storm back to firmly grasp the league cup with at least one hand.