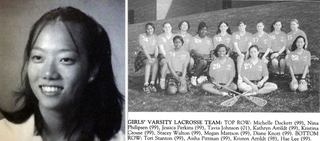 Originally published at Lacrosse Magazine.
It's been 16 years since Kristina Mahone scored her first goal for Woodlawn High, but the memory remains vivid.
For one, it was the only goal she scored in her two-year career as a Warrior.
"I wasn't the most awesome player," said Mahone, who was then Kristina Crouse.
Second, it mattered. It probably wasn't a game-winner—her memory fails her here—but it came late in a road game the Warriors won by one goal. It was one of just two victories all year.
But mostly Mahone remembers it—the pass, the catch, the way the net jumped when the ball hit the back of the goal—because her friend Hae Min Lee made it happen.
Before the play, Mahone said, "She told me, 'Be ready, this is gonna be your goal.' She was determined I was going to make a goal before my year was over."
To her many friends at Woodlawn, Lee was just "Hae," which is also how, in late 2014, a global internet audience has come to know her. Less than a year after Lee and Mahone played for Woodlawn, Lee was murdered. Her strangled body was found in a Baltimore city park. Though neither her death nor the subsequent conviction of her classmate and former boyfriend, Adnan Syed, was covered outside of Baltimore in 1999, Lee's case has made international headlines in the last three months as the focus of the NPR podcast, Serial.
The show, led by journalist Sarah Koenig, spent a year reinvestigating Lee's death, unearthing doubts that Syed was her killer. Serial has been a monster hit for NPR: Each episode has been downloaded more than a million times. Blogs and message boards have sprung up where fans rehash evidence and share theories. The podcast's 12th and final episode was released Thursday.
As noted several times on Serial, both Lee and the prosecution's key witness, Jay Wilds (known on the show only as "Jay") played lacrosse at Woodlawn. And as Serial has unwound, Lee's teammates have reconnected over social media, many for the first time since high school, remembering her vibrant personality, on-field competitive streak, and fierce loyalty to friends.
Mahone credited Lee entirely for the one goal she scored in her high school career. With the game tied, Lee carried the ball behind the goal, then drove toward the crease for a shooting angle, a play several teammates recalled as Lee's signature move. When a defender slid over to stop her, Lee flipped the ball to Mahone.
"It was the quickest shot I ever made," Mahone said. "It wasn't like I had to run. She did the bulk of the work."
Both girls erupted in celebration.
"It was just seconds, but the best seconds of my life that I won't forget," Mahone said. "She was as excited as I was. We both jumped up and down for like three minutes."
While Lee was a top scorer for the girls, the best player on Woodlawn's better-established boys' team was Terence Dorsey.
"Hae was so cool," Dorsey said. "Everybody in that school liked her. The thugs, the knuckleheads, the football players, the nerds—everybody liked her. She reached out to everybody."
Dorsey led the state in scoring in 1998, and went on to play at Maryland after an All-American junior-college career.
"This may sound kinda funny, but she was, like, real annoying, but very much liked," Dorsey said. "One of the guys on our team had brand new Timberlands. She would purposely walk up to him first thing in the morning and just stomp on his feet. He wouldn't like it, but everybody else thought it was so hilarious, myself included."
Lee also liked to play matchmaker.
"If a girl on their team had a crush on one of the guys on our team, she was like the spokesman," Dorsey said. "She tried to hook everybody up with everybody."
"You could be at your lowest point, having the worst day, and this girl could make you laugh," said Stacey Walker, then Stacey Walton, one of Lee's teammates. "A few days before she went missing, we had a lacrosse meeting in the library. She and I decided it would be funny for us to sit on top of the tables."
Susie Twigg played at Woodlawn in the 1970s and was the team's assistant coach in 1998. She characterized Lee's drive and fierce competitiveness with a term of endearment from her own playing days.
"My high school coach used to call that a tick. She was a real tick. She wouldn't let go no matter what," Twigg said. "She was tenacious."
Though located just a few miles outside of lacrosse-crazy Baltimore, Woodlawn struggled to fill its roster in 1998 and occasionally played with as few as 12 players, according to The Baltimore Sun's coverage. Players and coaches actively recruited friends and classmates at Woodlawn, most of whom had never played the game.
Twigg's daughter, Kate Arrildt, was a freshman in 1998. Like Lee and several other players, Arrildt was at Woodlawn for a small academic magnet program, a status that made it even trickier to navigate the ninth-grade social minefield.
But once the lacrosse season started, Arrildt said, Lee found her.
"I would say that she loved lacrosse, but it would be just as true to say she loved everything," Arrildt said in a long email response to an inquiry about Lee. "She was hell-bent on bringing you along for the ride."