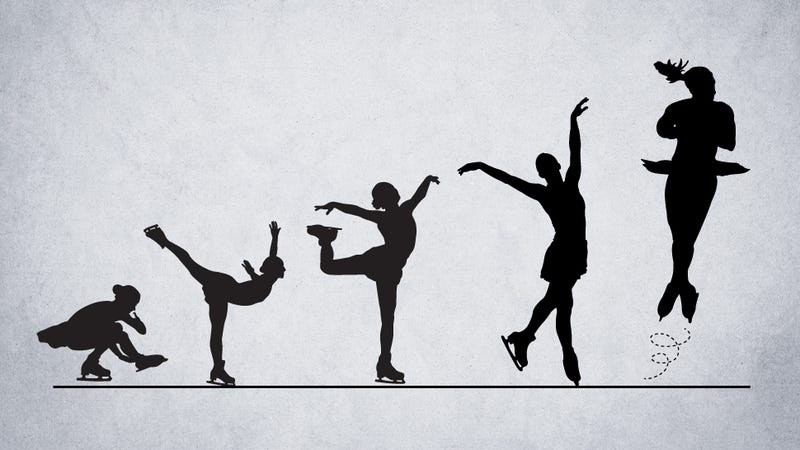 At the 2010 Olympic Games in Vancouver, American Evan Lysacek won the men's singles figure skating gold medal without a single quadruple jump, while Russia's Evgeni Plushenko, who did have a quad in his program, took home silver. Four years later, this sort of scenario never materialized: Every top male competitor in Sochi had a quad in his program. Some had more than one. Some did their quads in combination with other jumps. Nearly two decades after Canadian world champion Kurt Browning first performed it, the quad jump has become something of a requirement for any men's figure skater to make it onto a major international podium. So what's next frontier?
"I can't imagine anyone landing a quad axel," Timothy Goebel told me. Goebel was the 2002 Olympic bronze medalist who was nicknamed the "Quad King" during his career. He performed a long program with three quads and was the first American to land one in competition. A quad axel would entail an extra half turn over its other quad peers and a forward edge takeoff, which greatly ups the difficulty. "I just can't see it happening," he added. "I think five-revolution jumps are off the table. I just don't see it happening."
His implication was that we're approaching the edge of skaters' technical capabilities. If the quad really is the end of the line in terms of jumping difficulty, what would that mean for the sport?
---
In 1984, American Scott Hamilton, now an excitable figure commentator for NBC, won Olympic gold without a triple axel (though others on the Olympic podium that year performed the three-and-half-revolution jump). Hamilton defeated Canada's Brian Orser, who'd won both the short and free skates, on the strength of his figures. The discipline is now a faint and faintly ridiculous relic of a distant era, but the basic concept was simple enough: Skaters would make etchings in the ice with their blades.
Figures demanded strong edges and knees, steady nerves, and two days of rink time at major international competitions for performance and evaluation. But it was boring. TV hated figures. Spectators didn't want to buy tickets to this event. Also, figures opened the door for cheating. Judges promoted their favorites and held others back, precisely because the discipline was so abstruse and never subjected to the scrutiny of a TV audience. Janet Lynn was the best skater of her time but relatively weak at figures and could never win the gold. People thought that she lost gold at the 1972 Winter Olympics when she fell during the long program, but in reality she'd lost it during figures. On the other hand, Peggy Fleming, the sweetheart of 1968, had weak skates in the short and long, but was so far ahead in points from figures that it basically didn't matter what she did in the televised competition.
Figures were last held at the 1990 world championships. Almost immediately, the impact of their elimination was felt. Kristi Yamaguchi, who had never been good at figures, won golds at the 1991 world championships and the 1992 Olympics. Midori Ito, the first woman to execute a triple axel, placed second behind Yamaguchi in Albertville. (Ito was also the 1989 world champion on the strength of her triple axel.)
Time spent on figures—up to four hours a day—was now used to develop jumps and other parts of the skating performance. Nowadays, skaters spend three or four hours on the ice and do the rest of their preparation off the ice. They begin mastering the difficult jumps from a young age.
Ito was also the first woman to compete a triple-triple jump combination back in 1982, when she was just a junior skater. Both of her feats—the triple-triple combo and the triple axel—remain the outer limit of jumping difficulty when it comes to women's figure skating.
It seems that the women's jumps have plateaued since the days of Ito. In the '90s, France's Surya Bonaly did attempt a quadruple toe loop but never landed it in competition. She also performed a back flip on the ice, a move that is now illegal in figure skating. (But it sure was badass.) Famously, Tonya Harding became the first American woman to do a triple axel, a feat repeated by a handful of other women since, including current contender Mao Asada. But it's really that triple-triple combo, introduced more than 30 years ago, that is the make-or-break move for today's ladies singles skaters. Those who can't do it have virtually no shot at the podium.