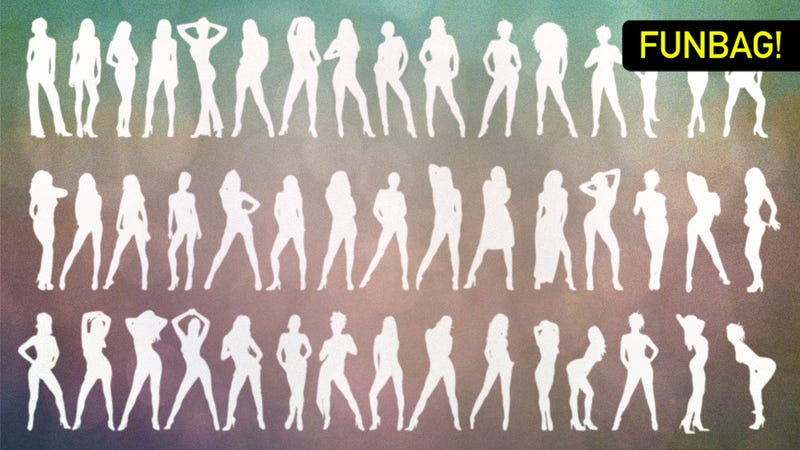 Time for your weekly edition of the Deadspin Funbag. Got something on your mind? Email the Funbag. Today, we're covering cheerleading, smelly roommates, milk, cocaine, and more.
Your letters:
Bridget:
My boyfriend follows 50 or so porn stars and "models" on Instagram (the kind of "model" that is not known for selling clothes). He is worried I'm too insecure and trying to control him. While we can't rule that out, I find this public activity a bit unsettling. Would it hurt to leave these desires to an anonymous Google Chrome browser?
I love his reaction. "Baby, I'm just publicly salivating over 50 girls that I'd like to fuck more than you. WHY YOU GOTTA BE SO INSECURE?!"
We live in a digital age where, as a guy, your eye can wander quite a bit. You're not just looking at some hot girl walking by while you and your wife sit at a cafe ("Baby, I was just looking at that car! That's one crazy car!"). Your eye can go online and wander right into bedrooms and titty bars and underground fuck dens, and so I think we're still trying to figure out what you, if you happen to be in a committed relationship, can and cannot see. Can you look at porn? Can you look at really fucking weird porn? Can you be a PornHub commenter? Why would you comment on PornHub? (Link SFW.) What the fuck is wrong with you? "gawd id love to cum on those titz,,,"
Anyway, it's perfectly fair to bring it up with him if you find his Instagramming to be emotionally hurtful. This is why I have a SECRET Twitter account so that I can collect all the latest Coco butt shots. No one will ever know that I am @CheekLuvr69.
Cam:
Do you think any US presidents have a sex tape floating around? I mean, Clinton is the obvious answer, with JFK probably second in line with a slew of celebrities and college tail.
I say no. Most US Presidents served in office well before it became easy to videotape yourself getting blown. Back in Kennedy's day, you would have had to set up lighting and hold a 5,000-lb. Panovision camera over your shoulder and it would have been a whole THING. And then you would have had to carefully preserve the film reels in a humidified wine cellar. I'm sure Kennedy was dying to try it, but was too busy rigging elections to bother with it.
The most viable candidates, obviously, are the past three Presidents: Obama, W., and Clinton. I think Bush had a team behind him that would have burned any sex tape he made as a coke-snorting youth and killed all relevant participants. And I think Obama has been too politically ambitious for too long to do something that reckless. That leaves Clinton, and the only reason I don't think there's a sex tape floating around of Clinton is that we would have seen it by now. Nobody liked having sex with loose-lipped women more than that guy. I'm surprised he managed to get a blowjob in edgewise.
Brian:
If Jesus was to return to earth, would he conform to the current day's fashion trends? I'm thinking the old robe and sandals getup wouldn't last long in 2013. If I'm correct, what do you suppose Jesus wears during his Second Coming?
Well, he was a carpenter. What does the average carpenter wear these days? White t-shirt, Wrangler jeans, Timberland boots... OMG JESUS WILL DRESS LIKE BRETT FAVRE NOOOOOO. And he'll drive a Ford pickup, too. I think that's the subtext of every American pickup truck ad: "Jesus would drive this."
Patrick:
If you're graphing players from Hernandez to Tebow on the X and Leaf to Manning on the Y, who sits at the origin?
Michael Crabtree. TMQ SAYS YOUR GRAPH IS NOW CURSED (pronounce the word "curs-ed" and not "curst" for this exercise).
Scurf:
How do fathers handle explaining cheerleaders to their kids? They're essentially useless and clearly there for solely for T&A purposes at this point. Obviously, you don't discuss them until the kid brings them up, but when he finally ask "Who are they?", what's the best answer?
You can just say they're there to help the crowd cheer for the home team. I mean, that IS the stated job function of a cheerleader. They are the human equivalent of a scoreboard that flashes the words GET LOUD!!!! in blinking letters. And some cheerleaders are really into the job. If you go to a high school football game, you'll always see one cheerleader—male or female—who is wayyyy too bossy to the crowd, yelling COME ON, YOU GUYS! LET'S GET BEHIND OUR GUYS WOOOOOO!!! Easy there, kid. Why don't you go do a flip behind the end zone or something while I enjoy this fifth of whiskey that I smuggled into the bleachers?
Rob:
My wife and I just found out she is pregnant for the first time. I find myself constantly freaking out that the kid is going to be born with some malady or disability. It terrifies me.

Is this normal? Did you have these feelings? What's the best way to deal with the constant worrying/freaking the fuck out?
It's perfectly normal to worry about whether or not the baby will be born with a tail or half a brain, particularly if it's your first kid. If you're waiting on the first kid, there's nothing to do except sit around and freak out that it will come out of the womb carrying a trident and speaking Mephistopholish. That doesn't happen if you already have a couple of kids because A) Those kids probably turned out okay, and B) You're too busy dealing with all their horseshit to worry about the next one.
When my first kid was born, I was terrified that she would die of Sudden Infant Death Syndrome (SIDS), which can kill any child under the age of one for no reason at all. Just SURPRISE! DEAD BABY! When the kid turned one, I did a little fist pump. I also did a fist pump when the kid turned three, because I had heard that autism symptoms show up before the kid turns three but not afterward. So once we crossed the Autism Line I was like FUCK YEAH.
Anyway, you should take comfort in the fact that most kids are born perfectly healthy. Your worries will eventually subside, especially if you do a shot of Jameson. Even when scary shit does pop up, and there's a real fear that your child may be in danger, most people eventually adjust. You withstand the initial shock and waves of grief, and you get into a routine that eventually becomes normal to you. It's like people who live in New York. They live on top of one other and have to fight for room on crowded subways and are under constant financial duress, and yet they manage to adjust to the lifestyle. What I'm saying is that living in New York is like having your baby die.