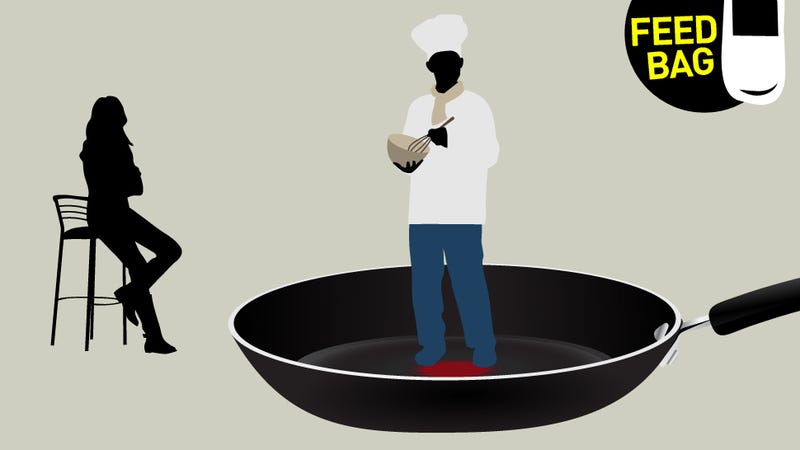 Welcome to the Feedbag, where all the dumb questions about food, drink, cooking, eating, and accidental finger removal you've been embarrassed to ask can finally receive the berating they goddamn deserve. Also: answers. Send all your even-vaguely-food-related questions to albertburneko@gmail.com with the subject "Feedbag." All of them.
Wes:
I've been seeing a girl for a couple weeks now and, in an effort to talk myself up, may have overstated my cooking abilities.
Oh boy. Wes. Never do that.
Long story short, I'm making her dinner next week
You have stepped in some shit, Wes.
and while I'm generally solid at following recipes,
From Wes's Match.com dating profile:
Hobbies: Cooking Michelin-star-grade dinners for people, following written directions
Dislikes: THE TRUTH
I haven't been struck with the particular inspiration I'll need to cook something that she'll take one bite of and then inevitably fall hopelessly in love with me. Got a go-to dish for this spot?
Wes, my man, have I got exciting dinner plans for you and your gullible lady-friend! We'll start with some bacon-wrapped scallo—
(p.s.: I'm Kosher-style [i.e., no pork or shellfish],
[kicks dog]
and as far as I know, she has no dietary restrictions. Thanks!)
[rubs temples]
[apologizes to dog]
Well shit, Wes. This is quite a pickle. Let's see what we can make of it. Maybe I'm wrong, but I think two weeks into a relationship is a bit early to be serving your lady some exotic fancy haute cuisine-type shit. As this stage, you want the dinner you serve to fit with an overall motif of casually getting to know each other with minimal pressure; you want it to say This is the kind of person I am all the time, as opposed to, say, I have been planning this dinner ever since I began stalking you in 5th grade, and if you do not love it and me, I will light myself on fire with this candelabra and stagger around waving my arms and moaning your name, and then plunge through the window and into the river below, so get your cellphone camera ready because Twitter goes nuts for this sort of thing. That doesn't mean you ought to be serving your date warmed-over Spaghetti-Os on an Eggo waffle, but it does mean you can scale your ambitions back a bit. Save the homemade foie gras with white truffle marmalade and friggin' gold leaf for your (still totally hypothetical, there, Hinckley) first wedding anniversary.
Here's what you need: Something easy to cook, so that you're not slaving over a hot stove all evening while your date twiddles her thumbs and imagines the better time she could be having with the dude two floors down with the dreamy eyes and muscular forearms; something neither messy nor undignified to eat (so, like, not a bunch of barbecued chicken, for example); something tasty and exciting but not wildly exotic, so that your date does not feel like you might secretly be filming an episode of Fear Factor. Something like...