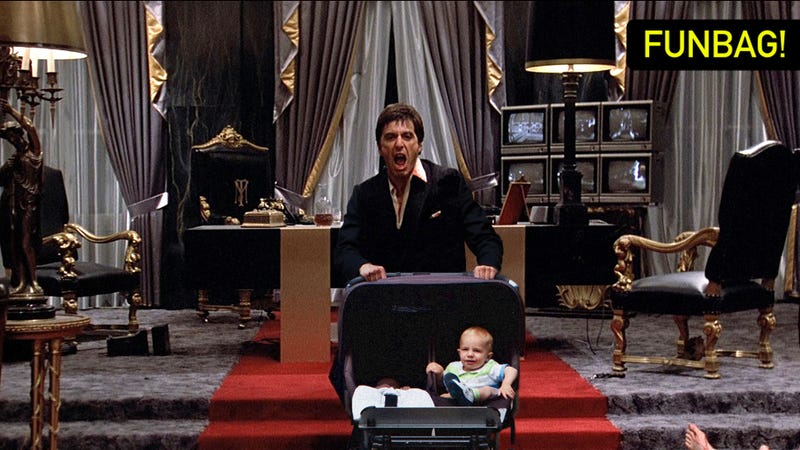 Time for your weekly edition of the Deadspin Funbag. Got something on your mind? Email the Funbag. Today, we're covering gay royalty, Russian roulette, football-induced cancer, and more. Image by Sam Woolley.
Time for your letters.
Bruce:
I have a friend that had his first child earlier this year. My wife and I don't have any kids (we don't plan on having kids anytime soon even though we're not set against it). I've noticed that my friend has been starting to complain about violence and sex in movies by saying things like, "maybe it's because I'm a Dad now but that scene went over the line" or "you would understand if you had a baby girl too". My question is, do all guys turn into whiny pussies once they become fathers or am I being an insensitive jerk?
Nope, you're correct. Having a kid makes you a thousand times more sensitive to all the sex and violence on television. It's HORRIBLE. I just want to enjoy this episode of The Bridge where a grown man gets his head chopped clean off, but I can't because having kids has attuned me to the preciousness of existence. STUPID FUCKING KIDS.
Once you become a parent, you can't NOT see how much violence is on television. The average CSI episode has as much violent content as a Saw installment. And they treat the violence like it's nothing. Someone on the show will just be like, Yep, looks like we got a couple of severed fingers at the crime scene. No one on the show is ever like OH GOD THIS IS SO FUCKED UP I'M SCARRED FOR LIFE. It's really strange, and it's only getting more explicit (God forbid you show a tit though).
I used to be able to watch all this shit without batting an eyelash: the violence, the sex, the language, all of it. But now, even if the kids aren't around, I'll be watching some show and thinking, Why, that was rather risque! And then I want to kill myself because I sound like Mitch Albom. Whatever happened to good old fashioned modesty?! Never have kids if you want to fully enjoy your pop culture.
Nick:
If you HAD to go to prison - for let's say more than year - would you choose the top or bottom bunk? (Assuming you had a choice).
The top bunk leaves you awfully vulnerable. I mean, who knows what the hell is going on down there? Your cellmate could be jerking off, or whittling a shiv to stab you through your mattress, or making pruno without your help! All of that is bad. It's not like when you're a kid and you want the top bunk because WHEEEEE I'M UP IN THE AIR KIDS RULE! I would stare at the prison ceiling all night terrified of what was going on beneath me.
Not that the bottom bunk is much better. After all, your top bunkmate could be whittling a shiv of his own. Plus, what if his bunk collapses and falls down on you? Every time I've slept on the bottom bunk, I've had a clear vision of the top bunk giving way, splintering the wooden support beams and sending them directly through my abdomen. Plus, if someone breaks into the cell looking to brutalize someone, he's gonna hit the bottom bunk first. There's no sense in climbing up to the top to brutalize someone when you've got a fresh body laying directly below it.
But I still take the bottom bunk. That way, I have the entire underside of the bed to work with. I can store my tunneling spoon AND my heroin under there. That's useful!
Rob:
If I told you I have a safe that I keep my valuables in, and gave you $100 to spend on any tools you wanted (no rentals), could you break into it? What would be your strategy?
My strategy would be to call a locksmith and pay him $100 to "fix my safe." But if I have to go it alone, just give me a stethoscope and a drill. That's how they do it in the movies. The NERDY NERD safecracking expert always uses a stethoscope to listen to the safe's locking mechanism, and then he uses a drill to, I dunno, break that mechanism real good. How could it possibly fail?
In all seriousness, I probably wouldn't be able to crack that safe with $10,000 to spend on equipment. I'm the sort of person who puts his shit in the hotel room safe, enters the four-digit code, locks the safe, and then spends the rest of his vacation day freaking out that he'll forget the safe code. I can't even imagine how embarrassing it would be to ask a concierge to break into your own damn hotel room safe.
Greg:
I was eating a hamburger for lunch today and on my second to last bite I forgot to get a finger out of the way. GAH!

It doesn't look horrible, but it definitely didn't feel good. I don't think you realize how strong your bite is until you bite yourself. I'm 25. How is it that I still accidently do this or bite my tongue, cheek, etc. when eating? Do you ever get past this stage?
I've bitten my cheek and my tongue with violent force, which never fails to make want to murder everyone in sight. But I've never drawn blood from my own hand (accidentally, at least—when I was a kid, I used to bite down on my hand real hard until I either left purple marks or drew blood. I was bored a lot). So I salute you for your zealous appetite. That is one brutal hamburger-related injury. You're like a velociraptor.
By the way, extremities aside, one of the worst things to bite down hard on is a fork. Ever take a huge bite but fail to get the fork out in time? It's devastating.
James:
Would you rather have sex with your mom once or wear a roller blade on one foot for the rest of your life. (No balancing it out and putting a roller blade on the other foot).
I think I'd try the roller blade option for a few days, then get frustrated, give up, and go for the incest. Sometimes, you have to do what's practical.
Jay:
If you have a repairman come to your home what is the proper etiquette to follow while they are there? In the last two months I have had two different guys in my house to fix my television and stretch my carpet. Both of these tasks were completed in the finished basement of my house and both times I just sort of hung out downstairs with each guy, observed and carried out mindless chit-chat. In hindsight, what would have been the right move? I am a little torn. I don't want to come off as an unlikable prick if I don't say shit, leave them alone, and let them do their jobs; nor do I want engage them socially and be a distraction when they would rather be left the fuck alone.
If you stand there and watch them, there's the implicit suggestion that you have to watch them at all times so that they don't steal any of your shit, which makes you a racist if you're white and they are not white. Also, standing there and talking to them is boring. But if you DON'T watch them, they might steal all your shit. So it's a real dilemma.
The best thing to do is to take a combination approach. Take him to the point of repair, explain the problem and make it sound like you know what you're talking about ("Definitely some sort of problem with the carbo-rotor, I think. But obviously, we can workshop solutions together."), tell him you're gonna leave him alone, and then come back at random intervals to make sure he isn't masturbating on the furnace or stealing all your gold. I like to offer him a glass of water. It makes me feel like I'm one of the good clients. "That Magary dude offered me water! WHAT A GOOD GUY."
By the way, I always want to ask the repair guy to take off his shoes, but I only have the balls to do it about 10 percent of the time. Your shoes look REAL muddy. Is there any chance, possibly, that you could take them off so that my wife doesn't yell at me? YES I KNOW I AM LESS THAN A MAN.
Jer:
Would you rather have the power to make anyone fart at any time or control the volume of your farts (anywhere from silent to the sound of a jet taking off)?
Does the person have to be nearby for you to make them fart? Or can you do it through your television set? Because if you can make Chris Berman audibly fart during a national broadcast—loud enough for his mic to pick up—you're taking that superpower. You'd use it on the president, Oscar winners, local newscasters, Christiane Amanpour, EVERYONE. I would use the power so many times that, eventually, someone would catch onto the fact that some kind of deranged FARTMASTER is on the loose, forcing flatulence upon an unsuspecting public. This would result in a farting witch hunt, with reporters eager to figure out who's pulling the strings on this massive FARTSPIRACY. Is it China? Is it Russia? We could end up going to war all because of the farts you caused. Tell me that wouldn't be thrilling.
Pete:
What would happen if we had a massive poultry die off and could no longer get eggs? Would we use turtle or lizard eggs in our cakes? Or would we switch to some nameless chemical formulation? Would we skip omelets altogether? Why are chicken eggs seen as so much more appetizing?
I assume that chicken eggs are popular because chickens can lay a LOT of them, at predictable times, and the eggs are sturdy and relatively uniform in size. I don't know that the same can be said of pigeon eggs. It's a matter of practicality.
If all the chickens died (CHICKENCAUST!), we would probably move onto quail eggs or duck eggs or some other kind of egg to satisfy our egg sluttiness. I don't know about you, but whenever I see some other kind of bird egg listed on a fancy restaurant menu, I get all excited. OH MY GOD A POACHED QUAIL EGG. IT'S LIKE A REGULAR EGG BUT FROM A QUAIL. Then I bite into it and it tastes like, you know, an egg.
Richard:
Do you think Riley Cooper actually makes an NFL roster this season? If so, what's the over/under on how many times he gets blown up/blindsided by hits after the whistle before he suffers a career threatening injury?