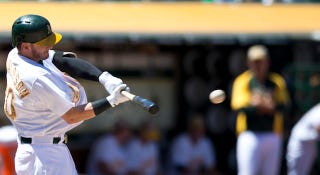 If I asked you to name the player who has accumulated the second-most WAR over the last calendar year, you'd probably flip a coin in your head to decide between Mike Trout and Miguel Cabrera. Or maybe you'd get a little creative, and name Yasiel Puig or Andrew McCutchen. One guy who probably wouldn't immediately pop into your head is Josh Donaldson, the 28-year-old A's third baseman who has accumulated 8.2 WAR over his last 158 games. Two years ago, he was struggling to keep his spot on a major-league roster.
Playing like the second-best player in the world is no small feat for a former catcher who was drafted by the Cubs 48th overall in the 2007 amateur draft, got shipped to Oakland as a throw-in in the Rich Harden trade, and didn't make it to Triple-A until 2010, where he hit just .238/.336/.476 in 86 games. Over his last 689 major-league plate appearances, Donaldson is hitting .286/.376/.505 with 31 home runs, 31 doubles, a wOBA of .348, and a wRC+ of 148.
So how is Donaldson doing all this, and why wasn't he able to hit like this before he turned 27? Donaldson credits a slight adjustment in his swing. This spring, Donaldson talked to Sports On Earth's Howard Megdal about the particular changes he made.
"In hitting, they have what is called a load process," Donaldson said. "And as I said earlier, I'm gaining a better understanding of my load process, which in turn is allowing me to see the ball better. Instead of the ball feeling like maybe it's jumping on me, I'm actually able to see it for a long amount of time. And the better you can see the ball, the more you're going to know to layoff this pitch, or hit that one."
The change in Donaldson's "load process" is something that you can see rather distinctly when comparing is old swing with his new swing. Here he his hitting a weak pop up in 2010:
Notice how quick and almost panicked is the toe-tap—that's the "load process" he was referring to—that comes before his swing. Now compare that with his stroke from this year:
You immediately notice the pronounced leg kick that leaves him balanced over the ball and in a great position to get his bat through the zone with the proper timing. The high leg kick has been something a magic bullet of sorts for late-blooming hitters throughout the years. Sadahru Oh used it to turn himself into the greatest power hitter in Japanese baseball history, and Jose Bautista used it to transform himself from a journeyman third baseman into a guy who can hit 50 home runs without breaking a sweat. Donaldson has used it to create a truly punishing swing.
His Isolated Power (.266) is the 10th-highest mark in the league, and according to ESPN Stats and Info's Mark Simon, 23.8 percent of the pitches Donaldson has hit so far this year can be classified as "hard hit" balls. That's good for the seventh-best mark in the league and puts him ahead of mashers like Mike Trout, Edwin Encarnacion, and Yasiel Puig. ESPN's Home Run Tracker classifies five of the 15 homers he's hit this year as "no doubters," meaning they cleared the fence by at least 20 vertical feat and landed at least 50 feet beyond it. Only Giancarlo Stanton (6) and Edwin Encarnacion (10) have more.