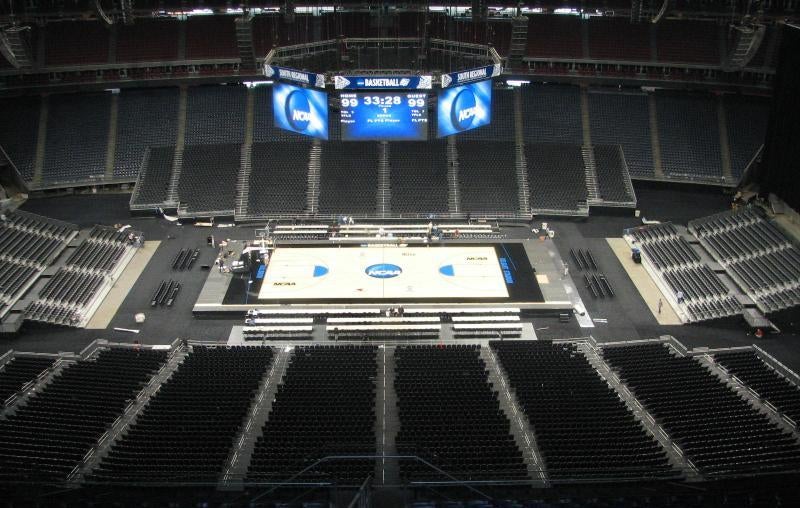 On Thursday, Burger King announced @letsgolakers086 as the winner of an all-expenses paid trip to this year's Final Four. It would be the highlight of a lifetime for many people, but it's just another March for this Los Angeles woman. After all, Wheat Thins sent her to the Final Four just last year.
The Burger King Twitter contest implored people to share a photo or text explaining why they deserve to "watch like a king." @letsgolakers086's entry was nothing special, but she's read the rules. It doesn't matter what you say, because the contest is a random draw. Sure enough, a few days later, she was named a winner.
Hi @letsgolakers086 you've been selected to go to the #FinalFour. Anyone wanna join? Follow us & tweet how you #WatchLikeaKing for a chance.

— BurgerKing (@BurgerKing) March 21, 2014
The prize is pretty good. First-class airline tickets, four nights in a hotel, transportation, tickets to the semifinals and championship, and $1,600 in spending money. But @letsgolakers086 knows the drill.
@WheatThins best experience of my life!! It's going to be tough adjusting to watching the tourney from home again this year! :)

— letsgolakers086 (@letsgolakers086) March 19, 2014
There is no foul play here. @letsgolakers086 is a "sweeper," one of a small but devoted group of Americans who spend much of their free time to entering any and every corporate sweepstakes. There are two separate TV shows devoted to them, and they are remarkably successful—not because they have any particularly skill, but because of their perseverance.
There are so many sweepstakes out there at any given time, many of them with relatively small numbers of entrants. @letsgolakers086's Twitter timeline is filled with literally thousands of replies, retweets, and hashtags entering her into various contests, so she's bound to win at least some of them. There are websites, newsletters, even seminars that offer to teach you how to become a sweeper, but the fundamental lesson is the same—Enter enough contests, and the odds of winning something are in your favor.
Here are just a few of @letsgolakers086 wins over the past year—and these are just the ones where winners were publicly announced.
Congrats @kelly_amore13, @letsgolakers086, @mlennon813! Pls. DM us ur email addy's for ur prize. Grand Prize winner next!

— Dunkin' Donuts (@DunkinDonuts) January 24, 2014
Congrats @letsgolakers086 @sdmulkey @LynnKB24 @nuzjunky @sweettoothmattc @luvbabyb! You correctly answered our #McRibMonday trivia.

— McDonald's SoCal (@McDonalds_SoCal) January 7, 2014
@letsgolakers086 Congrats! Click here for your gift card: http://t.co/uKOr3aUsMi

— Applebee's (@Applebees) January 2, 2014
Congrats @wannnafanta @barnabybargains @jeffreyckim @letsgolakers086 @audreylilyl DM us an email and we'll send over that Free Grub!

— GrubHub (@GrubHub) December 19, 2013
@letsgolakers086 Congrats, you've won a burrito! DM us your email address! Thanks for participating in #LocoForLeftys

— El Pollo Loco (@ElPolloLoco) August 15, 2013
@letsgolakers086 Great job! Please DM us for more info.!

— Green Mtn Coffee (@GreenMtnCoffee) May 22, 2013
Refresh, refuel and get ready to arrive with #NoLagtoLondon. Congrats @letsgolakers086! You're today's winner of No Lag swag!

— Air New Zealand USA (@AIRNZUSA) April 13, 2013
@letsgolakers086 Congrats on winning our Twitter Party trivia contest! Please DM us w/ your name, shipping address and jeans size! <3

— 7 FOR ALL MANKIND (@7FAM) March 25, 2013
I'm feeling generous so we're naming THREE winners this week: @joannaonthelake @BostonMo @letsgolakers086. You all win a #NESTFF Rollerball!

— NEST Fragrances (@NESTFragrances) March 18, 2013
Congratulations! @kbrooke2007 @paul_trillsap @mellanhead @letsgolakers086 @anniemos! YOU are our SWAG PACK winners! DM us for details. #EVOL

— EVOL FOODS (@EVOLfoods) March 15, 2013
The prizes are usually small, and for every win there are scores of entries that don't pay off. So maybe you don't think it's worth your time and effort to enter these contests, or maybe you'd be ashamed if your timeline were a carpet-bombing of brands. I'd tell you to ask @letsgolakers086 how she feels about it, but she's going to the Final Four and you're not.