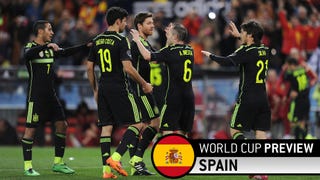 Off top, we need to acknowledge Spain's unprecedented dominance of international and club soccer over the past decade. Historically, however, Spain has been sort of a laughingstock. To understand the impact of Spain's international failure, you must first understand Spain's great domestic rivalry: Real Madrid vs. Barcelona.
Spain pretty much threw away any shot at international glory for the vast majority of the dictator Francisco Franco's era. During his 1938-73 reign, the nation only competed in three of eight possible World Cups, and one of four European Championships. (Fun fact: Franco refused to send the team to the inaugural 1960 Euros because it was held in the Soviet Union. Those commie bastards had backed his opponents in Spain's Civil War, and in spite of their totalitarian similarities, fascists and communists don't mix. In 1964—the one European Championship Spain did play in under Franco—they won the thing by beating the USSR in the final.)
From his Madrid base, Franco, like fellow dictators Hitler and Mussolini, knew that he could drum up some easy support by backing sports. His plan for make benefit glorious Spain involved slapping a Spanish kit on any talented guy playing in Spain regardless of actual nationality (like Alfredo Di Stéfano, Ferenc Puskas, and László Kubala, all of which previously represented other nations internationally). All that talent never meshed, though, in large part because the squad was chock full of rival players at the absolute height of the Barcelona-Real Madrid rivalry. On the club side, he picked Real Madrid, and subsequently was on a mission to ensure Real's preeminence both nationally and in Europe.
A great way to cripple your new propaganda arm's biggest rival and, not so coincidently, the embodiment of the Catalan Republican faction that hates your guts and wants independence? Killing your enemies, natch! During the Spanish Civil War (1936-39), Barcelona's club president Josep Sunyol accidentally wandered onto a fascist road. For his directional stupidity, he was arrested and executed on the spot. The team was away in North America during exhibition season, and instead of returning to a country that murdered club leaders, many players defected. A couple years later, after Franco's regime had consolidated power, Barcelona's social club was bombed.
There were other methods of covert control besides outwardly killing Barcelona's intelligentsia. From 1940-43, Franco-loyalist Enrique Piñeyro was appointed Barça president, despite reportedly never watching a game of soccer in his life up to that point. When the two rivals faced off in the 1943 Copa del Generalísimo semi-final, Barcelona won the first leg 3-0.
There are two versions of what happened before the second leg in Madrid. One says that the referee—who'd himself been threatened to reverse the fixture in favor of Real—let Barcelona know that they had no shot at winning the match. The other, more sensational account says a government security officer entered the Barcelona training room with a gun in hand and gently advised the team that they would be wise to lose.
Either way, the worried Barcelona players reluctantly took the pitch, a hail of coins and other projectiles raining down on them from the stands. By halftime, Barcelona was down to 10 men and losing 8-0. Real would wrap up the routing at 11-1. Juan Antonio Samaranch, a young fascist journalist who would eventually become President of the International Olympic Committee, had his press credentials permanently confiscated when he decried the obviously noncompetitive spectacle: "We have already said Barcelona played neither well nor badly. They didn't exist. They were not seen all afternoon." Even Piñeyro resigned in disgust.