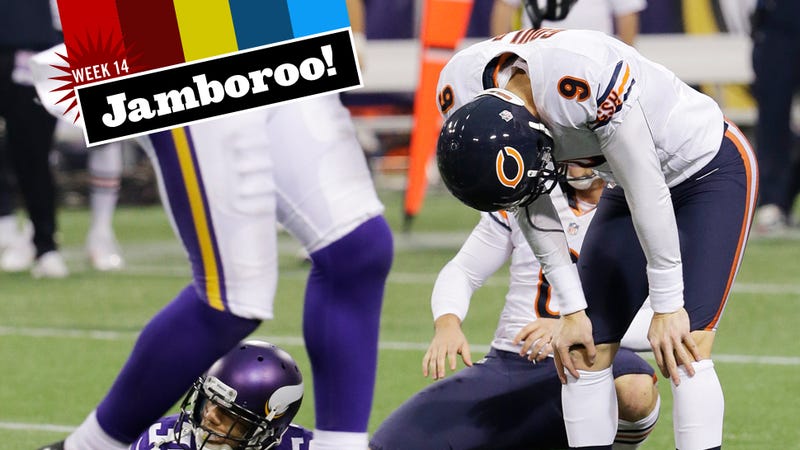 Drew Magary's Thursday Afternoon NFL Dick Joke Jamboroo runs every Thursday during the NFL season. Email Drew here.
Bears coach and creepy seventh-grade science teacher Marc Trestman got a barrel of shit thrown at him this week when he settled for a 47-yard field-goal attempt on second down in overtime against the Vikings. Usually, coaches kick on third down to prevent a bobbled snap and ensure the has-happened-roughly-two-times-in-recorded-history insurance fourth-down attempt. But Trestman said FUCK IT and ran the kicking team out there on second down, and the Football Gods GUFFAWED and verily pushed the attempt wide.
Anyway, that got me thinking about these overtime kicking situations. There has to be a metric for what yard line you have to reach before it's OK to STOP trying to accumulate more yardage and try for the win. Obviously, weather and playing surfaces factor into it, as well as the ability of your kicker (Hi, Nick Saban!), but there has to be a general guideline for the moment that it becomes more beneficial to kick it than to risk a fumble/sack/pick.
There's a big report from the Sloan Sports Analytics Conference on field-goal kicking, and the graphs all show that your chances of hitting a field goal start going down dramatically once you get to about 45 yards or so. Within 35 yards, you're gold. You're right at 90 percent odds or more for making. You can probably stop.
But once you get past 45 yards, you're in the 70 percent odds range. The average NFL team turns the ball over twice per game (50 times if your quarterback is Geno Smith), with a median of 65 offensive plays per game. It's penalized six times a game or so. Do the (admittedly rough) math and you're talking about a 3 percent chance of turning the ball over—lower than that, really, since an offense just trying to nudge the ball forward isn't going to take any huge risks—and a 9 percent chance of a penalty, versus a 30 percent chance of missing the kick from far away on an early down and having everyone hate you.
To me, it's not worth it. It's not worth settling for a 70 percent shot to win the game when there's not that much risk in trying to make those odds much higher. (The Vikings were even dumber, getting flagged on a potential game winner the drive before and then calling a stupid run play before settling for a FG from over 55 yards out.) We inflate the fear of disaster striking—a fumble, a pick—because it's so, so awful when it does. And that fear is what prevents coaches—even forward-thinking coaches like Trestman—from pushing deeper into enemy territory to make the win more assured. Even inside 35 yards, you can keep pushing if you like. All I know is that, given the odds, settling for a 47-yarder on second down to try to win a game is really fucking stupid.
The Games
All games in the Jamboroo are evaluated for sheer watchability on a scale of 1 to 5 Throwgasms.
Five Throwgasms
Panthers at Saints: I was finishing up that new Robert Evans book and he mentioned something I don't remember at all: Back in the late '90s, after suffering three strokes, Evans was hired by ESPN to be the voice of their Sunday Night Football promos. I can't find the promos anywhere online, but I'd pay at least three dollars to hear them. "Seahawks versus Raiders. Feisty? YOU BET! Will I watch? PROBABLY NOT."
Seahawks at Niners: I posted my kid's Christmas wish list yesterday and showed it to my wife, and she reminded me that there was a third page to the list that we now can't find. Not only did that third page of the list include a "blue Toyota" (not a kiddie race car, but a full-sized adult Toyota), but my wife said it also included "super gymnastics powers." So basically my kid wants to roll up on people and then Gymkata the fuck out of them.