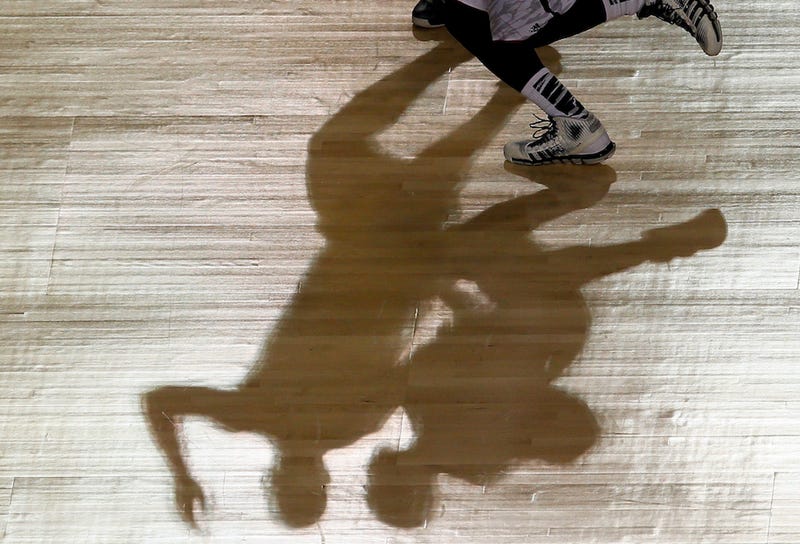 Excerpted from Taylor Branch's The Cartel: Inside the Rise and Imminent Fall of the NCAA, published by Byliner and newly relevant today as Northwestern football players seeking to unionize argue before the National Labor Relations Board that they are employees of the school. Byliner has unlocked The Cartel for the day for Deadspin readers. Read the full ebook here.
Today, much of the NCAA's moral authority—indeed, much of the justification for its existence—is vested in its claim to protect what it calls the student-athlete. The term is meant to conjure the nobility of amateurism and the precedence of scholarship over athletic endeavor. But the origins of "student-athlete" lie not in a disinterested ideal but in a sophistic formulation designed, as the sports economist Andrew Zimbalist has written, to help the NCAA in its "fight against workers' compensation insurance claims for injured football players."
"We crafted the term student-athlete," Walter Byers himself wrote, "and soon it was embedded in all NCAA rules and interpretations." The term came into play in the 1950s, when the widow of Ray Dennison, who had died from a head injury received while playing football in Colorado for the Fort Lewis A&M Aggies, filed for workers'-compensation death benefits. Did his football scholarship make the fatal collision a "work-related" accident? Was he a school employee, like his peers who worked part-time as teaching assistants and bookstore cashiers? Or was he a fluke victim of extracurricular pursuits? Given the hundreds of incapacitating injuries to college athletes each year, the answers to these questions had enormous consequences. Critically, the NCAA position was determined only by its member institutions—the colleges and universities, plus their athletic conferences—as students themselves have never possessed NCAA representation or a vote. Practical interest turned the NCAA vigorously against Dennison, and the Supreme Court of Colorado ultimately agreed with the school's contention that he was not eligible for benefits, since the college was "not in the football business."
The term student-athlete was deliberately ambiguous. College players were not students at play (which might understate their athletic obligations), nor were they just athletes in college (which might imply they were professionals). That they were high-performance athletes meant they could be forgiven for not meeting the academic standards of their peers; that they were students meant they did not have to be compensated, ever, for anything more than the cost of their studies. Student-athlete became the NCAA's signature term, repeated constantly in and out of courtrooms.
Using the "student-athlete" defense, colleges have compiled a string of victories in liability cases. On the afternoon of October 26, 1974, the Texas Christian University Horned Frogs were playing the Alabama Crimson Tide in Birmingham, Alabama. Kent Waldrep, a TCU running back, carried the ball on a "Red Right 28" sweep toward the Crimson Tide's sideline, where he was met by a swarm of tacklers. When Waldrep regained consciousness, Bear Bryant, the storied Crimson Tide coach, was standing over his hospital bed. "It was like talking to God, if you're a young football player," Waldrep recalled.
Bryant, stifling emotion, exhorted him to rehab for the next season, but with his crumpled spine, Waldrep remained stashed away among paraplegics never expected to write their names again or urinate without a catheter. After nine months of paying his medical bills, TCU refused further coverage, and the Waldrep family coped for four years on dwindling charity before they tried torturous therapy outside medical protocol. Waldrep recovered slight feeling in his arms through the 1980s and learned to drive a specially rigged van. Sixteen seasons after his catastrophic injury, the White House honored Waldrep's team of legislative catalysts at the signing ceremony for the Americans with Disabilities Act of 1990.
Throughout the 1990s, from his wheelchair, Waldrep pressed a lawsuit for workers' compensation. Alienated from TCU, he felt paradoxically closer to the team that had crippled him. Alabama players bestowed upon Waldrep an honorary varsity letter, and until his death in 1983, Bear Bryant kept up his solicitous calls and words of encouragement. Waldrep sat with the Bryant family at the coach's funeral, and became a typically crazed Crimson Tide fan, immersed in the rhythmic shift of NCAA scandals between Alabama and its in-state rival, Auburn.
As usual, an odd circumstance sparked the next big local controversy. Eric Ramsey, a defensive back who would later be drafted by the Kansas City Chiefs, felt battered between Auburn football and his bride, Twilitta. He and his black teammates, she argued, were not being treated with the same respect shown to Auburn's white players. The coaches called her a Jezebel distraction, while she upbraided him for timidity in the face of exploitation. "Here," she said, handing him a pocket recorder, and he compliantly taped months of conversations about everything from cash stipends to a warehouse for free clothes. ("Just keep it down home, cuz," instructed one coach. An Auburn booster, delivering food, bluntly advised that the fans who praised Ramsey to his face "turn right around when you walk away and you're nothing but a nigger ... I mean that's, Eric, that's the real world.")
In 1991, 60 Minutes aired a show on Ramsey's complaints and included an excerpt from the tapes in which head coach Pat Dye promises to "see what I can do" about getting Ramsey his next friendly loan at a bank owned by Auburn trustee Bobby Lowder. Dye quit before the NCAA punished Auburn with a blackout for its 1993 season, and Twilitta defiantly procured his-and-hers bulletproof vests for an Auburn graduation day marked by chanted epithets and graffiti such as "Ramsey Must Die." She hid the tapes from him after their subsequent divorce, Ramsey told me with a sigh, while he sought modeling and film work in Los Angeles.
Kent Waldrep's attorneys, meanwhile, continued to haggle with TCU and the state workers'-compensation fund over what constituted employment. Clearly, TCU had provided football players with equipment for the job, as a typical employer would—but did the university pay wages, withhold income taxes on his financial aid, or control work conditions and performance? The appeals court finally rejected Waldrep's claim in June 2000, ruling that he was not an employee because he had not paid taxes on financial aid that he could have kept even if he quit football. (Waldrep told me that school officials "said they recruited me as a student, not an athlete," which he says was absurd.)
The long saga vindicated the power of the NCAA's "student-athlete" formulation as a shield, and the organization continues to invoke it as both a legalistic defense and a noble ideal. Indeed, such is the term's rhetorical power that it has become a sort of reflexive mantra against charges of rabid hypocrisy.
In 2001, a freakish revelation opened up another Alabama scandal. The Albert Means case exploded from the broken promise of a particular SUV for Milton Kirk, an assistant high school coach in Memphis. Kirk, aggrieved that his boss had reneged on this pittance, let slip how they had auctioned Trezevant High School's rarest treasure, Albert Means—a behemoth tackle called "Mr. Football"—in heated bidding from colleges across the country. Because federal prosecutors construed the allegations to involve interstate bribery of a public employee—Trezevant's head coach, Lynn Lang—FBI agents documented a $150,000 cash delivery to Lang that ultimately landed Means for Alabama. Its source, booster Logan Young, was convicted and sentenced to prison in 2005, dispirited that the Crimson Tide, adding insult to injury, had revoked his twenty-four-seat skybox. The bartered Means testified that Coach Lang had handled everything, right down to the impostor sent to take his SAT test.
After Alabama released him in the midst of the scandal, Means was never the same player and failed to catch on with an NFL team. Denial consumed the region for years, notwithstanding a unanimous verdict built on cross-examinations under oath. Alabama's recruiting coach won a $30 million defamation judgment against the NCAA and seven codefendants by labeling the whole Means scandal a concoction by SEC rivals. Conspiracy-minded Alabamians blamed a rich Tennessean whose phone number ended in V-O-L-S.
Back in Texas, Kent Waldrep renamed his National Paralysis Foundation for the actor and quadriplegic activist Christopher Reeve. Until Reeve's death, they campaigned together to make nerve trauma a scientific quest like cancer, and their former board member George W. Bush knew, from long drives to Washington in Waldrep's wheelchair van, that frontier experiments did not require the harvesting of new embryos. President Bush's 2001 ban on stem-cell research was therefore "a huge disappointment" to Waldrep, who consoled himself by taking a long view of national progress—despite a 70 percent unemployment rate among disabled Americans—and continued to press on with his own rehabilitation. "I can brush my teeth," he told me last year, "but I still need help to bathe and dress." With his wife, a producer who had filmed an early news story about his ordeal, Waldrep sent two sons to Alabama on scholarships named for Bear Bryant.
In 2010, when Waldrep's son Charley was a redshirt catcher on the Alabama baseball team, an appellate judge devoted most of his memoir to his justification for overturning the $30 million defamation verdict in the Albert Means scandal. Few cared any longer, because hysteria had shifted across the state to Auburn's star quarterback Cam Newton. Newton's blustery father did not deny dickering with universities for a fee of $180,000 when his son transferred from junior college. Last fall, with national publicity tracking daily leaks from intermediaries, tension spiked to unbearable heights before the annual Iron Bowl classic on Thanksgiving weekend, between 11–0 Auburn and the national-champion Crimson Tide.