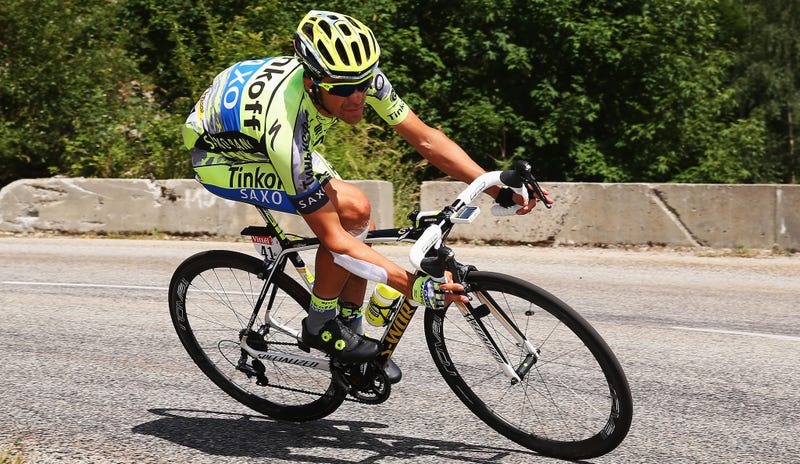 Alberto Contador is the greatest stage racer of his generation. Even after getting stripped of the 2010 Tour de France and the 2011 Giro d'Italia, he has the fourth-most Grand Tour wins in cycling history, and he's the third cyclist ever to win the Giro and the Vuelta a España in the same year. The Spaniard just turned 33, and as his remarkably casual domination of the 2015 Giro showed, he's still got it. But his career might get cut a little shorter than he'd like because the economy of his home country is so deeply fucked.

Contador has said all offseason that he plans to retire after this year, and that he plans to target the Tour and the Olympics. However, he's backed off that stance a bit, and recently said he'd try to race in 2016 if he fails to win either a gold medal or a yellow jersey. He laid out two scenarios in which he'd keep racing:
I have two options in my head: One is to carry on if I suffer a mishap in the Tour, like I did in 2014...and the other is to launch a professional team.
Contador could very well win the Tour. It's a very mountainous route, and he's targeting it, unlike last year when he finished a relatively anonymous fifth. That said, Chris Froome has never been better and Team Sky somehow keep adding every potential mountain lieutenant worth a damn offseason after offseason. He also has Nairo Quintana to deal with.
With Tinkoff folding after the year, it's up in the air whether Contador could find another WorldTour team that would turn the keys over to him and let him lead their Tour lineup. He commands a big salary, and he'd want to bring a few riders with him.
However, the other option is nearly as untenable. When he announced his two-pronged plan, Contador himself even admitted that the economic winds are not blowing in his direction. Spain used to sponsor four top-flight teams, but the economic crisis currently gripping the country has killed all but one (Movistar). They are already stocked with Grand Tour riders, so he ain't going there.
Contador's brother told El Mundo that they'd need to assemble 20 million Euros in 45 days to have a legit chance at funding a top-level team. That's a big ask in Spain's floundering economy, and considering the troubles cycling megafan and F1 superstar Fernando Alonso has had in assembling his vanity team, it doesn't seem likely.