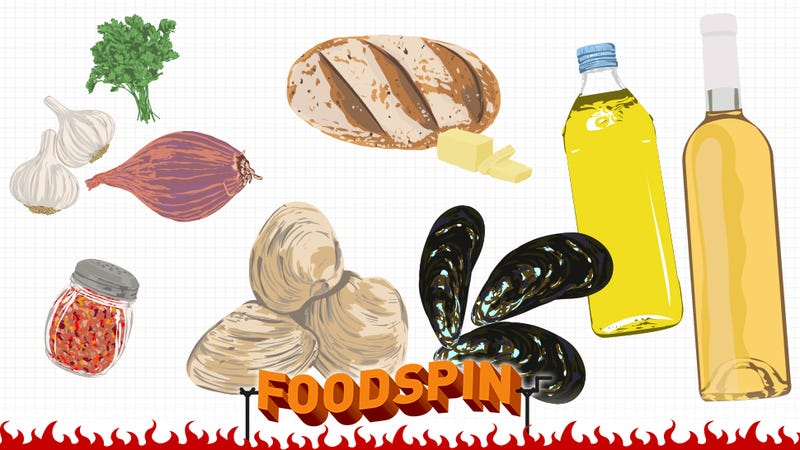 Listen. Life is hard. You're tired all the time, you're overworked and underpaid, you never have enough time for anything and no one loves you and your hair, seriously, what are you even going for with that look, because it is not working. Most evenings, it's all you can do to doze off into a bowl of cereal and hope to absorb some caloric energy through osmosis in the nine minutes between the time you get home and the time the alarm clock sends you back out again. And then some internet asshole is all, Hey yeah! Buy some stupid clams and mussels and put effort into sustaining their lives and clean them and debeard them and cook them to death and eat them, because that's not at all a big, metaphorically horrifying waste of time just like everything else! and you literally cannot imagine how or why that would be better than just closing your eyes and leaping right the hell into the Grand Canyon.
Because, truthfully, cooking bivalves is annoying. Or, well, the cooking part is a snap (you crowd them together and make them hot, they die, and then you eat them, just like the system does to us) but everything before that—finding them, selecting them, keeping them alive until you're ready to cook them, cleaning them, debearding them holy shit debearding them, this is the most tedious and infuriating thing anyone has ever done—is a fucking ordeal. It's a commitment. Now I have purchased these stupid insensate filter-feeding snotballs encased in fucking stone envelopes, and I must care for them like that is not ridiculous or like they even give a shit, and ugh I have to cook and eat them within the next several hours or they will have been as big a waste of money as I am of the spark of life.
Well, look, goddammit. Claim some time to slow down and do the work of preparing a fresh, vibrant, tasty, laborious, rewarding meal for yourself. Cling to this time, with your jagged fingernails, as a symbol of your ownership of your own friggin' life. Defend it! Snarl at your goddamn smartphone when it rings! By God, live, damn you, if only for these few hours! Take on the chore of finding, buying, preserving, preparing, and cooking a bunch of dumb bivalves, and exalt in its annoyances and tedium, for they are proof that you are alive and have made a choice for yourself!
---
The first thing to do is acquire fresh bivalves. Clams and mussels, specifically. Now, the trick here, as with soft-shell crabs and many other seafoods, is that your clams and mussels must be purchased alive, and kept alive until you cook them, if you intend to eat them and weren't, say, searching for something bad-smelling to toss into the garbage, which, I mean, why would you even do that, Christ. There are two reasons your bivalves must be alive when you cook them: first, bivalves decay very quickly after death, rendering them too stinky and nasty for eating; second, if your bivalves are dead when you buy them, you will have no way of knowing what exactly killed them—and therefore whether what killed them will eventually invade your brain and cause you to build a flying saucer on the roof of your home, so that it can return to its home planet. (You're meant to understand that this is a bad thing, even though, on the whole, flying saucers are pretty cool. Let's agree that there's no oxygen on the brain-parasite's home planet, OK?)