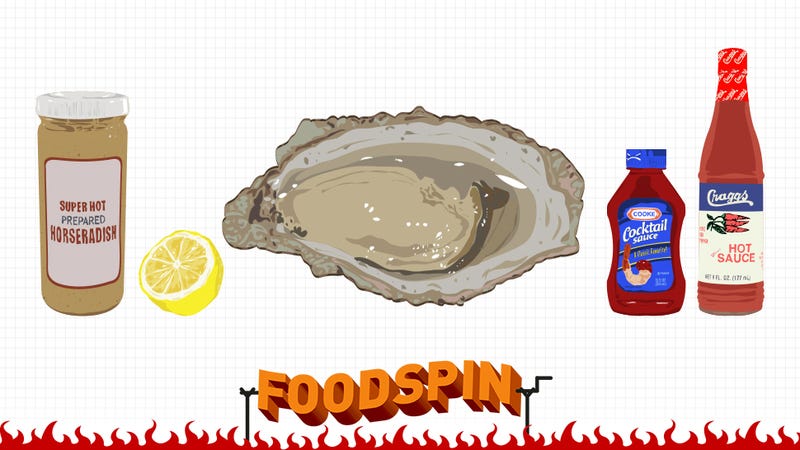 No one has moderate feelings toward the raw oyster (except perhaps for the terminally indifferent, may they ride the Meh Bus straight to hell): Either you ohmigod love love loooooove them, or you think they are gross little brine-loogies and have bad taste in things.
Which, hey. Yes. Raw oysters—grayish and wet and cold and somewhat jellylike, briny-tasting and raw to a flagrant degree that even sashimi cannot match—are not exactly the most user-friendly of the foodstuffs. The very suggestion of consuming a raw oyster on purpose must seem, to the sorts of depressingly numerous weenies who must pinch their noses and chew at light speed just to choke down a Brussels sprout without dry-heaving, patently ludicrous, not unlike how you might feel if a significant other proposed taking a road trip to 1934. What? No. Get outta here with that crazy shit. Fuck's wrong with you?
So, yes, the initial unattractiveness of a raw oyster, both superficially and as a filter-feeding, dirty-shell-encased, amorphous blob of a concept, is a hurdle to get over. OK. But, dammit, what kind of an asshole runs away from hurdles?
Here's the thing. Raw, fresh oysters are amazing. An oyster, in its fresh and raw form, reflects with gem-grade clarity the place where it grew, some far-flung place that—because the oyster was just harvested and just now cranked open, with water from that place still in its shell and body—you are able to experience more or less exactly as it is right now, even though you are very far away from it. The difference between a Maine oyster, intense and face-crumplingly briny, and the gentle, sweet oysters from off British Columbia, is not a difference of culinary technique, or style, or fanciness of equipment, or accompanying flavors, or the friggin' gluten content of its breading, or any of the other embellishments we heap onto most basic foodstuffs as we prepare them for eating. It's precisely the difference between the Atlantic Ocean off the coast of Maine, and the Pacific Ocean off the coast of British Columbia, and nothing else.
This is a pleasingly simple and elegant notion that would mean nothing at all if not for the additional, and certainly more important, fact that fresh, raw oysters, from places where the water is cold and the conditions are favorable for oyster growth and feeding, taste goddamn wonderful and are a genuine gas to eat. This part, though, you will have to find out for yourself. This is a great time to do so, close to the peak of their seasonal excellence. Are you excited? A little bit afraid, but also excited? Yes? Let's do this!
---
The first thing to do, of course, is to select and acquire oysters. A half-dozen for each person who'll be slurpin' 'em down. (You may not eat that many—but you may very well mangle a few of them in the shucking.) Decide for yourself whether you prefer saltier or milder, larger or smaller, firmer or softer oysters, and inform your fishmonger-type person accordingly.
Generally speaking, Pacific Northwest oysters are sweeter and milder and less challenging than New England oysters. New Brunswick and Newfoundland produce mild oysters, too, but these will not rival Pacific oysters for sweetness. A mostly safe rule holds that cold-water oysters—think of the coasts of Canada, the Pacific Northwest, the various waters off northern Europe, Japan, New Zealand, and so on—are milder and sweeter (more beginner-friendly) than warm-water oysters, and Pacific oysters are milder and sweeter than Atlantic ones; accordingly, the mid-Atlantic is home to some very tasty oysters that will nonetheless turn your entire head inside-out, which is quite a thing to record on video.
(Also, some otherwise intelligent-seeming people insist that Apalachicola Bay, Fla., produces the best oysters to be found anywhere on Earth. Maybe they're right; maybe they're wrong; maybe they're Disney-engineered cyborgs planted to spread pro-Florida propaganda. In any case, if you should happen to have access to fresh Apalachicola Bay oysters, bully for you. Otherwise, err toward cold water if you're unsure of your tolerance for briny intensity, OK?)
(Also also, an important thing to know is that you're not necessarily limited to what you can find in whatever local place happens to sell some seafood. Nowadays, you can order oysters from all over the globe online or by phone and have them shipped to you with a reasonably high degree of confidence that they'll arrive fresh. Give it a shot.)
As with other bivalves, these must be alive at the time of purchase, and they must remain alive until you are ready to shuck and eat them, and that's easy enough to verify: If their shells are firmly closed—or, if they close themselves promptly when you squeeze them or tap on them, and especially if they tell you to stay out of my room, dad, gosh, as they do—then they are alive. Otherwise, chuck 'em.