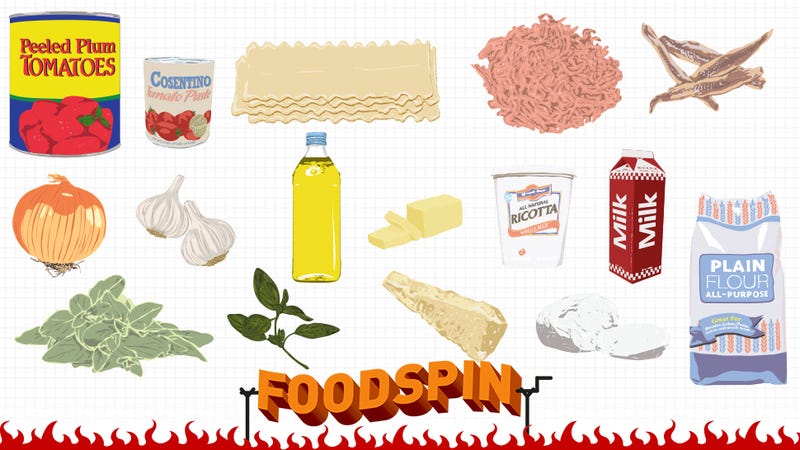 Time was, as summer rounded into autumn, you kept an eye out for that first cool, dry weekend after the leaves started to turn, when the air remained genuinely chilly in the shade all day long, and then you tilted back your floppy coppola hat, hooked your thumbs into your suspenders, gazed thoughtfully into the middle distance of your rustic Emilia-Romagna village, and knew it was time to make lasagna, you and all the other ridiculous olde-thymey caricatures in the hopelessly inaccurate lunatic fantasy being described here.
The point is, it's starting to get cool out there, occasionally at least, or anyway in some places you can sometimes walk across the street without your shoes melting into the asphalt, and this is what will have to pass for "cool" now, and this means that it's time to make lasagna. Lasagna is the best foodstuff of all for autumn, a cooling transitional season during which many mammals in our planet's temperate regions begin to pack on as much body fat as they can, in anticipation of winter weather giving them an excuse to wear bulky sweaters and heavy coats so that no one will notice that, whoa, hey, are you like depressed or something, because I mean you still look great and all but you have put on at least 45 pounds since the last reunion and also appear not to have shaved or showered in quite some time.
Lasagna's perfect for this. In addition to being outrageously tasty, it is a nutritional atom bomb (the Food and Drug Administration estimates that a single serving of lasagna contains seven hundred trillion calories, ∞ percent of an adult's recommended daily allowance of simple carbohydrates, and all the grams of fat that exist or have ever existed), and it is overwhelmingly likely to place its eater into a state of inactivity not unlike hibernation, but which the medical community stubbornly insists upon calling "a diabetic coma."
Doesn't that sound great? Yes, it does. Let's make lasagna! Everybody's got his or her own favorite lasagna—Mom's or Uncle Joe's or whoever's, with meat or without, with béchamel or without, with carrots and squash and other weirdo health shit vainly attempting to add some nutritional virtue to this cheese-filled meteor of death, and so on—so the following preparation is bound to differ in some way from how your mom or uncle or artisanal lasagna club or whoever-the-fuck makes it. That's fine. The following preparation tastes just as good as those, or better, or anyway if you eat it you're gonna be way too clutching-your-heart-and-calling-an-ambulance to make too much of a big deal about it one way or another.
Ready? OK.
---
To begin, preheat your oven to 375 degrees. You can also bring a huge pot of salted water to a boil for the pasta if you want, but before you do, let's talk about that.
There are four types of lasagne (this is the plural of lasagna, by the way; we'll use the singular lasagna to refer to the overall dish, and the plural to refer to the pasta itself), or anyway four that are worth discussing: the fresh homemade kind; the wide, flat, floppy stuff that is packaged and sold as fresh pasta in the refrigerated section of your local supermarket; the familiar long strips of dried stuff you have to boil before using; and the no-boil stuff that looks basically identical to the dried kind.
The important thing to know about the fresh, homemade stuff is that its assembly—even if you are the sort of wealthy, insufferable, Williams-Sonoma-catalog-humping assbag who owns an automated pasta machine—is a miserable, messy, time-consuming affair, which will counter 10 times over in needless mess and effort and annoyance whatever meager, transient verisimilitude it grants to your ludicrous delusion of self-reliance. And that's before you put it to use as nothing more than a humble starchy scaffolding for other, more vivid stuff. That is to say, don't make fresh lasagne. It is a waste of time.