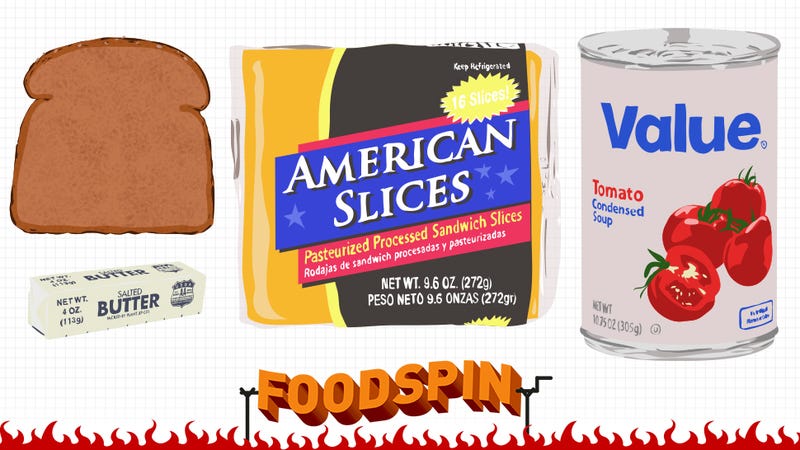 Everywhere we are gussying up our grilled-cheese sandwiches. In fancy restaurants and home kitchens and delicatessens and those insufferable quasi-fast-food joints with the accented, ambiguously Euro names and the friggin' Ray LaMontagne music on the PA and the cutesy, bottled alterna-soda in the cooler—everywhere, the grilled cheese sandwich is the subject of gussying. Rosetta bread and taleggio cheese and rosemary-truffle aioli and goddamn organic heirloom heritage tomatoes and so on, until you're not quite certain whether you're eating a grilled-cheese sandwich or the script of a fucking Nancy Meyers movie.
The impulse to dress the humble grilled-cheese sandwich in the fanciest of pants is an understandable one—both as a show of appreciation, not unlike treating your haggard, threadbare old mom to a deluxe day at the spa for Mother's Day (You deserve to be treated like royalty!), and as an attempt to drag a foodstuff heretofore almost exclusively associated with childhood into some semblance of adult respectability. And, truthfully, this up-gussying yields some very tasty sandwiches, which, hey, that's great.
But hang on right there. Who the hell says the reliable old cheese-slices-between-sandwich-bread-slices grilled-cheese sandwich needs adult respectability? It's a sandwich for eating, not a friggin' hairdo. The grilled-cheese sandwich will not be going on your curriculum vitae, unless you are an insane person, in which case you probably weren't going to get the job anyway. And, more to the point, if respectability as a foodstuff for grownups is an important thing for a foodstuff to have, and if the humble, familiar old junk-cheese-between-slices-of-cheap-bread grilled-cheese sandwich—creamy and melty and crispy and rich, pleasingly simple and endlessly satisfying—does not have it, might this not indicate a problem with our definition of adult respectability, rather than with the grilled-cheese sandwich?
The answer to these questions, as to so many others, is: Make a grilled-cheese sandwich. A simple, un-fancy, cheap-shit grilled-cheese sandwich like the kind you used to hoover down when you were a shitty kid. See for yourself. Maybe you will find your concept of adult respectability broadened enough to accommodate the grilled-cheese sandwich. Maybe you will feel like a silly child and find that this is a pretty OK thing to feel like. In any case, you will have a tasty and satisfying sandwich to eat.
Let's get started.
---
The first thing to do is heat up some cheap-shit canned tomato soup in a small saucepot over medium heat. That's right, goddammit: Don't slow-simmer some puréed heirloom tomatoes with herbs and aromatics and heavy cream to make some kind of homemade tomato bisque shit. Crank open a can of tomato soup and warm it up in a small pot. Later, you will incorporate this into the rest of the dish as the "soup."
Now, assemble your sandwich. For this you will need cheese and bread. Go with whatever you liked when you were too young to care about whether your sandwich would draw sneers from Williams-Sonoma-catalog-humping, ingredient-fetishizing epicurean asswipes; for the ideal combination of total disrepute and face-rearranging wonderfulness, stick a couple of flaps of sleazy, sketchy, probably carcinogenic individually wrapped American "cheese"-food between two pieces of cheap-ass store-brand sliced bread. White bread is OK; wheat is sweeter and better-tasting, but you should defer to your own nostalgia, here.