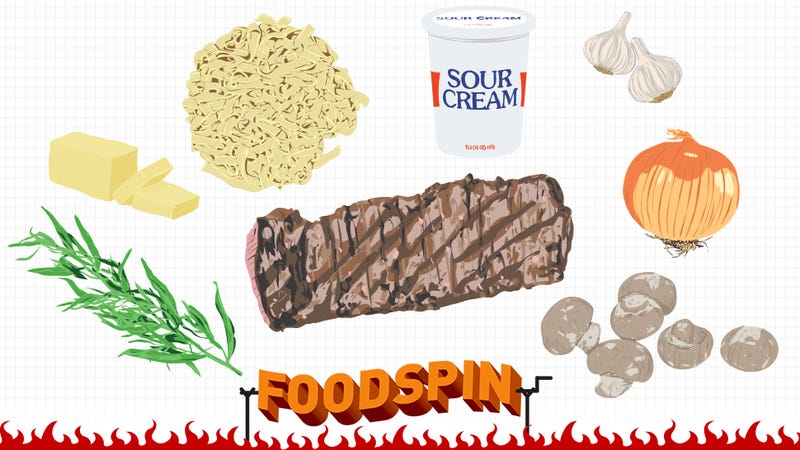 Remember Beef Stroganoff? That gray mushroomy stuff your adult caregiver made a few times back when you were a kid, and then it vanished off the face of the earth, and then you completely forgot it existed, and now you're going, "Oh, yeah—Stroganoff! Whatever happened to that stuff?"
The world came to a crossroads with Beef Stroganoff, at some point in the mid to late 1980s: Half the population flounced away with Hamburger Helper, that cheap powdered imitation; the rest went off with an even more insidious mistress known as Avoiding Heart Disease; and poor Beef Stroganoff was left behind, alone, to wander the darkness and wail for its lost love, only, like, metaphorically or whatever, I mean obviously a heap of hacked-up beef in cream sauce can't really wander the darkness or wail or love, or anyway the techniques for making a heap of hacked-up beef in cream sauce that can do that stuff are known only to sorcerers.

The point, here, is that nobody really makes Beef Stroganoff anymore. Which is a shame, really, because this means that your impression of the stuff calcified back in 1987 (if you were alive then) when you were a kid and didn't like mushrooms, so you kinda remember it as this gross crud that you prodded with a fork for a while until your parents gave up and let you get back to playing Gyromite or arranging your leg-warmers or whatever. Now you're a grownup and you love mushrooms (or you do not love mushrooms and deserve to be pushed into a gorge), and Beef Stroganoff isn't a part of your life, even though it is a glorious showcase for mushrooms. And also beef. Kinda right there in the name.
So hey, let's reintroduce ourselves to Beef Stroganoff. In a nutshell, it's sautéed beef with mushrooms and aromatics in a sour cream sauce. It is also that outside of a nutshell. I'm not totally sure I even understand the whole "nutshell" thing. Maybe we should just make some Beef Stroganoff.
---
The first thing to do is acquire a large piece of cow. No, not half a cow, but maybe a couple of pounds of beef. If you have a favorite cut, feel free to use it; if you don't (or even if you do but aren't weirdly hell-bent upon shoehorning it into every goddamn beef preparation you encounter, you psycho), consider the skirt steak: it can very easily be transformed into strips and doesn't require a ton of cooking to become pleasingly tender between your teeth. Flank steak is also OK for turning into strips, but it'll tend toward chewiness in this preparation. Also, yes, beef jerky does come in strip form right out of the bag, but, man, I feel like I shouldn't even have to tell you that beef jerky is not going to work for this, and the fact that you even asked is really very disappointing.