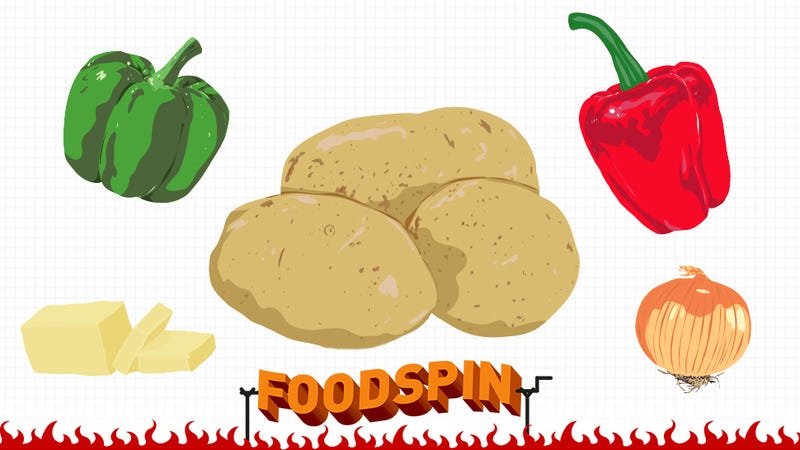 The basic idea is that breakfast is supposed to supply your wretched, dead-eyed carcass with enough chemical energy to work itself up into a state vaguely similar to the authentic vitality of the functional, well-adjusted people edging away from you in half-concealed disgust on the bus. This is why we are instructed to fill our breakfasts with healthful, protein-dense, nutrient-packed foods like eggs, and fresh fruit, and yogurt, and whole-grain fiber, and so on: The thinking goes that a nutritious start to the day will lead to better, sharper, chipperer performance throughout the rest of it, or anyway will prevent you from turning anyone to stone with your miserable fixed grimace of all-consuming hate.
In this sense, home fries make for kind of an odd breakfast food—being, as they are, mostly just potatoes cooked in butter, which is to say that they are the nutritional equivalent of being run over by several dump trucks in close succession. There may have been a time in the fading past when eating approximately 14 trillion calories before sunrise made sense—when people typically spent the previous day, like, baling hay or bustin' up yon bureau or discovering fire or whatever, and had a serious caloric deficit to address as soon as their eyes cranked open—but those days are long gone, and they did not take home fries with them. In the present age, we mostly spend our days drinking mouthwash in the bathtub, or anyway I do, and the last thing any of us need is 13 pounds of potato anchoring us to our berths.
Then again, I mean, there are, what, like, 16 breakfasts per week or something, I mean I am not a Gregorian so don't quote me on that, but anyway they don't all have to be good for you, right? Home fries are delicious! And, that's not nothing: They make your senses and stomach happy, even as they make your aorta very bummed. So, this one time, you may have some home fries. Also you can have them, because here's how to make them for yourself. (And hopefully for some others, too, because if you eat all the home fries that will be produced by the steps described below all by yourself, you're gonna die very horribly and right away.)
(Also, yes, food stickler dweebs: Strictly speaking, you are correct that the addition of bell peppers means this preparation could be called Potatoes O'Brien. Shaddap. There's potatoes, there's frying, there's home: They're home fries. We're moving on.)
---
To begin, chop some stuff. One huge yellow onion, first of all. Don't mince the fucker or the teeny tiny little onion-particles will burn in the pan; go with slices or something that strikes you as fitting the descriptor "medium chop." Next, one bell pepper. You can decide for yourself whether to use red or green (or yellow or orange or whatever cutesy cultivar best expresses your precious artistic soul); generally speaking, the sweeter red is the tastier bell pepper, as well as irrefutable proof of the essential boundless goodness of life—but you may find you prefer the zippy, er, greenness of the green, here, where it can cut splendidly against the heaviness of the other stuff we'll be getting to in just a second, for chrissakes can you be patient for one goddamn second.
Also, while you're chopping stuff, rinse and peel and hack into cubes maybe six or eight or so Yukon Gold potatoes. Don't get out the goddamn tape-measure, here, but you want the cubes to be, what, maybe three-quarters of an inch or so, per side? Less than an inch, anyway. Cutting potatoes into cubes is annoying; certainly there are clever, infuriatingly specialized Williams-Sonomian contraptions which make this a snap, but just as certainly you will never know of them, so grab a knife and get choppin'.