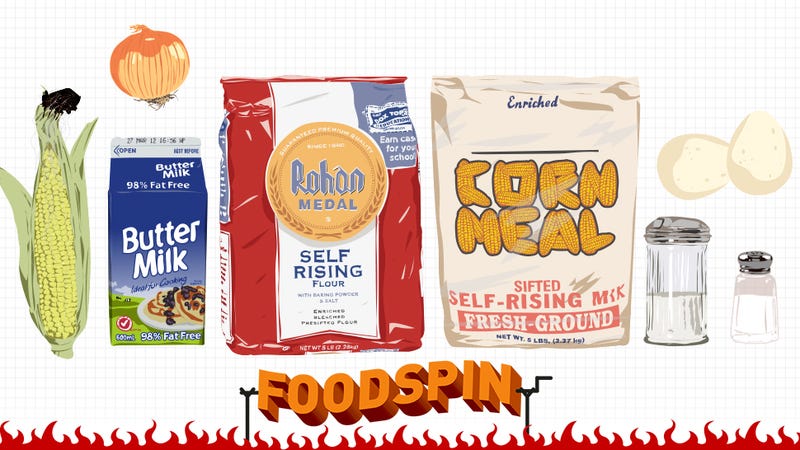 You may already know one of the many (likely apocryphal) hushpuppy origin stories, in some form or another. A familiar one has an old-timey Deep South cook (possibly a slave, depending on the storyteller's willingness to acknowledge the foundational crime of American history) preparing food for some form of large, outdoor gathering: a hunting party or a Civil War encampment. According to this myth, the party's dogs were barking and howling; annoyed, our intrepid cook quickly prepared some cornmeal nuggets, flung them to the noisy hounds, and yelled, "Hush, puppies!" and the dogs, enjoying their snack, piped down.
And then, uh, later on, I guess the dogs told their dog friends about it or whatever, and eventually a wised-up talkin'-ass dog convinced a person to try some of these puppy-hushing meal-wads—"With these, our forebears were silenced, and so shall you silence your grumbling tummies, now and forevermore, bark"—and now they're in every basket of fried seafood in North America. Yeah, I don't really buy that story, either.
Still, wherever they got their dumb name, and whether they originated as dog food or not, hushpuppies are a preposterously satisfying foodstuff: sweet and savory, crispy and cakey, and (when well-made) just larger than bite-size, so that you don't simply fire them down unconsidered and unappreciated like popcorn kernels, but bite through each, and chew, and taste, and look at the bit-through hushpuppy in your hand and go, Damn, this is so good, and then finish that one and have another. This is more important than where hushpuppies came from.
Also more important than where hushpuppies come from is where hushpuppies are going: into your face. Yes. Let's make some hushpuppies.
---
The first thing to do is to mix some dry stuff in a large bowl. A cup and a half each of self-rising cornmeal and self-rising flour, for starters. (If you can't find the self-rising stuff, or if a misbegotten sense of culinary propriety forbids you from using dry baking ingredients that already include leavening agents, you can use regular cornmeal and all-purpose flour, here, and add, oh, a couple tablespoons of baking powder and a tablespoon of baking soda. Does that seem needlessly complicated to you? Mmm-hmm. Get the self-rising stuff.)
A note on the cornmeal. There are many kinds of cornmeal: yellow and white and coarse and fine and so on. Probably they do not all yield the exact same result; certainly they will all turn out a pretty tasty hushpuppy, which people have been happy to eat while thinking of it as appropriated dog food for over a century, so maybe let's not sweat it too much.
Add a big tablespoon of regular granulated sugar to the cornmeal and flour, and a generous pinch of salt. That's the dry stuff. Now, add some other stuff to the bowl. Two eggs that you beat beforehand in a separate bowl; a big sweet (or Vidalia) onion that you chopped as finely as you could manage; the kernels from a single cob of corn that you cooked in whatever particular way you like to cook corn-on-the-cob (boiling it for, oh, 10 minutes is fine); and a cup-and-a-half of buttermilk. We discussed the whole buttermilk/leavening agents thing back when you made pancakes; in short, the acid of the buttermilk both activates baking soda and neutralizes its base-y flavor, so that you get a fluffy, leavened final product that tastes like neither acidic ass nor basic ass.