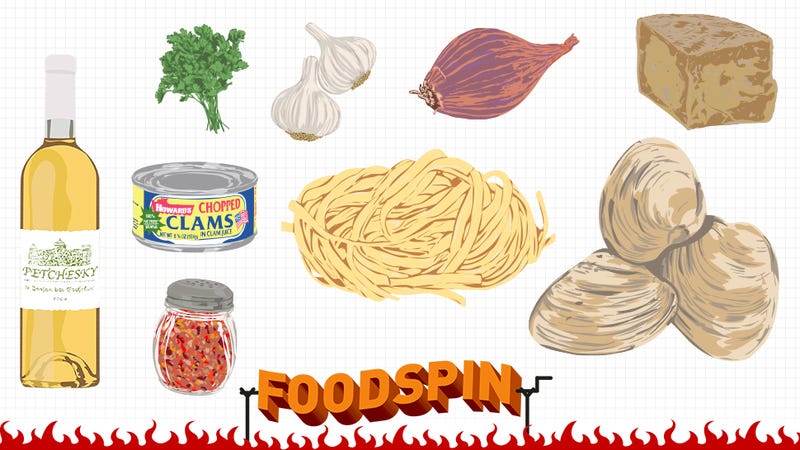 Groundhog meteorologists notwithstanding, seasons are shapeless, poorly defined things. To wit: Traditionally, in North America, the "winter" season is regarded as beginning at some point in the back half of December (the solstice) and extending into the back half of the following March (the equinox)—and yet, somehow, through some loophole or technicality or warping of space-time, the current winter has been going on for no less than the entire duration of human existence, or anyway for long enough that you cannot even remember what warmth feels like, I mean it cannot possibly have been less than 82 years since the last time you could walk from here to there outdoors without both snowshoes and praying for swift death.
Likewise with clam season (minus the praying for death), the boundaries of which vary wildly from place to place: Along the coast of New England, for example, clam season generally coincides with the warmer months; in a different spot along the coast of New England that is literally nine inches from that other spot, the people have never even heard of clams at all and will chase you with sticks and rocks if you so much as ask about them. The good news is, "clam season" is mostly a human construct (like hygiene, dammit!): Generally clams are OK to eat year-round, but may taste better or less-better at different times of year depending on water temperature and other seasonal fluctuations or whatever, I mean I don't even know what "fluctuation" means and can't pronounce it, but it looks nice. The reason to set boundaries around the clamming time of year is to give the clams a chance to grow and reproduce, which they're happy to do any old time of year, because clams are free-lovin' horndogs.
This has been a way of hedging against the inevitable onslaught of provincial Comic Book Store Guys telling us that, nuh-uh, in [random small coastal town along insignificant body of water] clam season lasts from May 9 to six minutes later on May 9, don't you know anything about [random small coastal town along insignificant body of water], douche. Whether clam season is beginning now or ending now, clams are good, unlike winter, which is similarly ill-defined but always bad. Send the latter off (God will it ever fucking end) by consuming many of the former, is what I am saying. So let's make a white clam sauce.
---
The first step, of course, is to acquire clams. Two kinds, to be precise: actual, living hard clams in their shells (more on this in a second), and [assumes action preparedness stance] chopped clams [dodges harpoon] in cans [dodges several hundred more harpoons].
Here's the thing. Those live clams in their shells are, well, alive. You preserve them in this state until the moment you are ready to cook them (again: more on this in a second), and then near the very end of the whole undertaking you add them to the hot cooking vessel and they open and cook (die) and release lots of delicious briny clam liquor into your food and that's lovely, and your serving platter or whatever has a bunch of attractive opened clam shells atop it with their now-cooked residents all steaming and glistening and appetizing and that, too, is lovely. Wonderful, even. The problem here, though, is that these clams take up many cubic miles of space in your wok or skillet or the repurposed drip-pan you have pressed into service as a cooking vessel by the side of your festively glowing oil-drum inferno; there will not be room for very many of them in your finished product, which after all is clam sauce and not, say, shallot sauce or garlic sauce or a loose confederation of pasta products and a depressingly small contingent of deceased bivalves, God, this is no less disappointing than anything else in my life, why do I even bother, I am not going to bother anymore, I am going to drive into a gorge.
This is to say, the idea here is to celebrate clams and feel good about and nourished by them, and you ought to invite as many of them as you can to the party, and canned clams are charming, and anyway this is not your internet food column so quit with the side-eye and make with the cans. Chopped clams and not minced ones, which are tiny and annoying, and not baby ones, which tend toward flavorlessness. You'll need more cans than you think, because 763% of the volume of a can of chopped clams is clam liquor, with like one or two clam chips floating in it. If you are making enough white clam sauce for an entire pound of pasta, get six or even eight cans of chopped clams. Open these, drain their liquid into a big bowl and set it, and the chopped clams themselves either in their cans or in some other vessel, aside, as you'll be needing both a bit later.
Now. As for the live clams. A typical net-bag that you can get at the seafood counter of a typical supermarket contains a few dozen of them, and that ought to be enough. Littlenecks are great; so are cherrystones; razor clams are altogether wrong, and geoduck is actually kind of horrifying and please do not attempt this with geoduck. Keep your live clams alive. We covered this at great and terrible length back when we did steamed bivalves, but here's a refresher: Buy them fresh, give them air and cold and moisture (do not seal them inside a plastic bag or cover them with ice), and use them within, say, 12 hours of purchase if that's at all possible. Stick them in an open paper bag on the bottom shelf of your refrigerator and gently lay a damp paper towel over top of them. When you're ready to get started making white clam sauce, check them for signs of life: Any that are closed and whose shells are intact are fine. If they're open, pinch 'em shut for a five-count and/or flick the shit out of their shells; if they stay closed when you release them or close (even very slowly) when you flick them, they're OK. If their shells are broken or they cannot be induced to close or they sign their unborn daughters up for Twitter accounts to "protect her intellectual capital," they are dead or probably should be, and must be discarded.