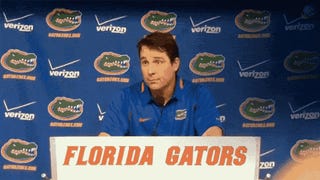 I wasn't yet in Gainesville for the first press conference, held immediately after the season opener. Will Muschamp's Florida Gators had just demolished Toledo in a tune-up, an easy victory foreseen by just about everybody. The Gators had gone 11-1 the previous regular season, and only BCS politics kept them out of the national title game—where, admittedly, they would have been creamed by Alabama. Florida opened 2013 with a national ranking in the top 10. All summer and right through that Toledo win, the aspirations of Gator Nation hovered way, way up there: an SEC title at the least, and a national championship with a little luck, if everything were to break the right way.
I've since watched that first press conference online. Muschamp bounded into the briefing room, visibly pumped. He smiled at first as he dispatched the basics. How pleased he was with his running game. How pleased he also was with the offense's time of possession. Wonkish specifics about red-zone defense and special teams were peppered with words like "outstanding" and "fantastic." At one point he even said, of scoring on his team's first possession, "That's a heck of a deal." And then, right before he opened the floor for questions, he got a little cocky. He stopped talking for a moment. His left hand tightened its grip on the podium. He leveled his gaze at the reporters scribbling notes in their seats.
"I'm really pissed off!" he bellowed in a scratchy voice, pitched boyishly high. Several newspapers and at least one website had reported that six players had been suspended prior to the game for violations of team rules. Turns out one of those Gators, a freshman, wasn't suspended, and he would have played in the game if needed. Including that freshman on the list, Muschamp wailed, was "very irresponsible journalism, OK?" It was fine to attack the coaches or the athletic director or whatever. But it was definitely not OK to ding a young player. "When you take a shot at a kid and it's inaccurate and it's written inaccurately, I got a problem!"
As rants go, it was a bit of a rehash. His criticism so closely resembled an old screed by Oklahoma State coach Mike Gundy that I half-expected Muschamp to shout, "I'm a man! I'm 40!" It was also a curiously volcanic response to what looked like small potatoes. The journalists who reported the suspension came from such different outlets, and held such a wide range of professional experience, that it was clear the kid had been suspended at one point, at least initially. That didn't matter to Muschamp, though. He wanted to look tough. He wanted to make a statement. And he felt secure enough in his position to make it.
"Our trust is done, I can assure you that!" he declared. He was going to try to bar the offending reporters from covering future Gator games. Groveling would be nice. He told the journalists they needed to apologize to the player and his parents. And he made a big, showy demand for transparency.
"Why don't you come up and tell me who your source was?" he asked, knowing full well there was more than one source, and that those sources came from inside his program. "That's what I'd like to know. Who was your source?"
No one volunteered a name.
"Quiet as church mice," Muschamp concluded. Anger. Bravado. Righteous indignation. If his microphone hadn't been bolted to the podium, he might have picked that moment to drop it on the carpet.
That, it turns out, was peak Muschamp. When I look at the video now, I see a man at the height of his confidence. He's the reigning coach of the year in the SEC, freshly embarked on his third season at Florida, with his system fully in place and the players he personally recruited out on the field. He's a proven winner earning some $3 million a year. Aglow after his team embarrassed a patsy in front of 83,000 fans, he felt more than assured enough to strike a match and hold it to a few straw men. It was a performance, a coach's version of an end-zone dance. He surely thought that things were only going to get better from there.
---
I spent most of autumn in Gainesville, a college town carved from pine trees close to Georgia and far from both the gulf and the ocean. Plaques commemorating a Confederate victory bronze a plaza outside City Hall. A Confederate memorial stands at the corner of University and 2nd, the crux of a small downtown. The great attraction was that for the first time in my life I'd get to spend quality time in a capital of college football, and do so in season.
"It's the local religion," the publisher of the Gainesville Iguana newspaper assured me.
I was in Gainesville to investigate Gators football, which for a brief period over the summer had become the rogue program of the moment. Aaron Hernandez had been arrested on murder charges up in Massachusetts, and his arrest inspired police to take a look back at his time at Florida—at least 100 times I drove past the spot where bullets were fired into a car occupied by locals who'd argued with Hernandez and his friends at a downtown nightclub—and prompted a re-examination of the Urban Meyer era.
There was a time when Meyer was seen as an avatar of first-class football, a coach capable of winning while doing things the right way. Meyer "has zero tolerance for misbehavior," Florida's athletic director, Jeremy Foley, boasted back in 2005, shortly before the program began the run that saw it win two national championships in three years. This was one of those things you're supposed to say, though in retrospect it was a little excessive, given that 31 players were arrested during Meyer's tenure, from 2005-2010. For the most part, the charges—ranging from underage drinking to aggravated assault—were either pleaded down or dropped altogether, but the raw numbers were pinned on Meyer anyway. The criticism was post hoc and borderline incoherent: Meyer had created a culture of permissiveness at Florida, the pundits said, conflating arrests with convictions, misdemeanors with felonies. Meyer was bringing in bad eggs, they said, as if a coach, perhaps through some combination of phrenology and predictive policing, could suss out the criminal nature of his teenage recruits.
All that hung over my conversations in Gainesville. Everyone had enjoyed the championships, as expected, but I found near-universal agreement with something Meyer himself had admitted, that he'd left Florida a "broken" program. I heard the world "entitlement" a lot, referencing player attitudes and a general way of doing things that did not fully comport with the exalted image of Florida football.
Which is why, when Will Muschamp arrived in Gainesville in 2010, he made a great show of insisting that he was going to run one of the cleanest programs in college football.
"There's a certain thing that I'm going to refer to as The Florida Way," he proclaimed at his introductory press conference, "and that's the way they need to act and that's the way they need to represent our university. If our kids don't want to get their degree, they don't need to be here. If they're not going to go to class and act the right way, they don't need to be here."
Not long after he accepted the job at Florida, Muschamp summoned his best player into his office. Janoris Jenkins had just been arrested for marijuana possession. It was Jenkins's second such arrest in three months, and it came on the heels of a third arrest for fleeing police after a bar fight. According to several reports, Muschamp told Jenkins he would be suspended for five games.
"Do you know who you're talking to?" Jenkins reportedly replied. Jenkins was an all-conference cornerback, the anchor of Florida's defense. His jersey, upon which was sewn the coveted number one, indicated his place atop the football hierarchy. He was a certain NFL player.
Muschamp immediately kicked Jenkins off the team. Florida's most talented tight end followed him out the door, after an altercation with his girlfriend. The back-up tight end left the team, too, after being caught resisting arrest and driving with a suspended license. Linebacker Chris Martin transferred to a junior college in California after an arrest for marijuana possession. He ended up at the University of Kansas, until he was kicked out of that school, too, following an arrest for breaking into a man's home and stealing cash and marijuana at gunpoint.
All of these players had been recruited by Urban Meyer. Losing them put Florida at something of a competitive disadvantage. It also left the program in a position where any difficulties could be written down as intimately related to noble intentions. A sort of performative high-mindedness now obtains in Gainesville, with Muschamp as the sports equivalent of the Washington insider running against Washington.
"I think Florida has this elevated image of itself," Bernie Machen, the university's president, told me. "Meaning we're better than everybody else. Meaning we can win by doing it the right way. It would be a devastating blow to me if we have NCAA violations, for example. There's a cohort of lunatics that want me fired. But most people are very understanding that what [Muschamp is] trying to do is different."
---
Just before a home game against Arkansas, my first on campus, Will Muschamp and his team looked formidable. Yes, they'd followed their trouncing of Toledo with a loss to Miami, which instantly killed the national championship dream, but they came right back with conference victories over Tennessee and Kentucky. Heading into the Arkansas game, they could still win an SEC title. If nothing else, they were, at this point, still nationally ranked.
It was a night game, broadcast on ESPN. Tailgate barbecues spilled out beyond Archer Road, forcing me to park in a distant subdivision draped in Spanish moss. A tenement of recreational vehicles hoisted orange and blue flags. Televisions hummed, run off of portable generators. Sorority sisters tossed orange-and-blue bean bags while sipping from brown bottles of beer. When I finally reached Ben Hill Griffin Stadium, I looked in on the shrine where they keep the crystal footballs awarded for the Gators' three national championships. I saw three Heisman trophies, too, and then, in a garden outside the stadium, bronze statues of the quarterbacks who had won them—Steve Spurrier, Danny Wuerffel, and the sainted Tim Tebow. (A security guard stood next to the Tebow statue, preventing fans from climbing on for photos.) I read a historical marker announcing the spot where Gatorade was invented. And then I stepped inside the Swamp, as Spurrier nicknamed the stadium, where I drank in so much of what I love about college football.
The play, above all. College athletes are so fast and strong, and also so young; they haven't yet been beaten down by the game, or by life. Also the bedlam in the student section when Florida defender Loucheiz Purifoy returned an interception for a touchdown. And the acrobatic cheerleaders, and even the baton twirlers, of which Florida fields more than a dozen. Chris DiMarco, a professional golfer and alumnus, led 90,000 fans in the traditional cheer: Two bits! Four bits! Six bits! A dollar! All for the Gators stand up and holler! The Fighting Gators marching band incited cries of C'mon Gators! and then played the theme from Jaws, the signal to clasp arms together in the Gator chomp. At the end of the third quarter, the stadium swayed to a rendition of "We Are the Boys From Old Florida."
"A night game in The Swamp," quarterback Tyler Murphy would say afterward. "It doesn't get much better than that."
I knew only the basics about Muschamp before the game: that he grew up in Gainesville, that he played safety for the Georgia Bulldogs, and that he'd coached at Auburn and LSU, as well as with the Miami Dolphins. He'd last worked as the defensive coordinator at Texas, where the school had locked him down as their head coach-in-waiting. He nevertheless abandoned Texas for Florida, because there was a vacancy—this was back when Urban Meyer was claiming health problems, and then a desire to spend time with his family, and then, ultimately, a preference to coach Ohio State—and because Florida is one of a dozen or so schools with the resources and the commitment to compete for a national championship year in and year out.