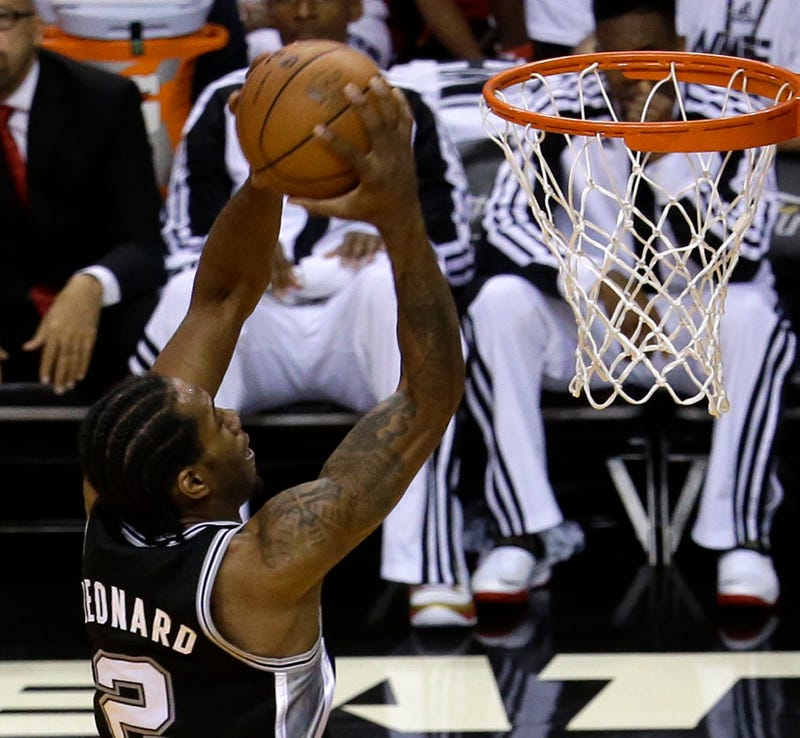 Well, holy shit.
The Spurs dropped 71 points on the Heat in the first half of Game 3 tonight. That's not a typo. San Antonio statistically pulled off the greatest shooting half in the history of the NBA Finals. Look at all of this green.
The @Spurs just had the best shooting half in #NBAFinals history (75.8%). Previous record was 75% (ORL v. LAL, 2009) pic.twitter.com/68i1aSQJEQ

— NBA.com/Stats (@nbastats) June 11, 2014
Kawhi Leonard started the game off with a perfect 6 of 6 from the field before missing a three. He finished the half with 18 points. Danny Green went into halftime with 13 points and a 100% field goal percentage. At one point in the second quarter, the Spurs were shooting 90.5% from the field for the game. Seriously.
Obligatory shot chart update. @Spurs are 19 of 21 (90.5%) from the field, 6/6 from 3, to start the game #NBAFinals pic.twitter.com/kCDYDVRPST

— NBA.com/Stats (@nbastats) June 11, 2014
The weirdest part—or funniest part, if you hate the Heat—is that LeBron James is having a solid game despite this. He shot 6 for 9 from the field with 16 points, five assists, and just two turnovers. Miami finished the first half with a respectable 50 points, but San Antonio was just unreal.
Of course, there's still another half to play, but with Gregg Popovich, the Spurs have never lost a playoff game when holding a halftime lead of at least 20 points. We'll see.