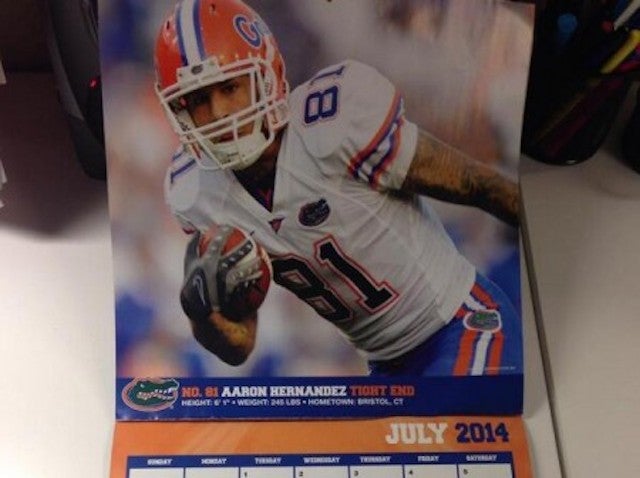 Say hello to Mr. July 2014, Aaron Hernandez. Oof.
This is one of those things that seems absurd right now, but you have to remember, when it was actually getting made and approved, Aaron Hernandez had not been charged with murdering three people. In fact, he might not have even allegedly murdered three people yet. He may have only allegedly murdered two people, unbeknownst to all of us.
@CutlerRidgeLAZ Check out this huge whoops from the UF marketing department: pic.twitter.com/iveDlTT3ud

— Jimi Kunkel (@JimiKunkel) June 30, 2014
Florida's football twitter account seems to acknowledge the calendar is legitimate, but rightfully points out how it's just a terrible situation.
@NAWTADIGM @ourtwobits @uflorida approval process for those things is over a year out, so that would have been approved in spring of 2013

— GatorZone Football (@GatorZoneFB) June 30, 2014
Hernandez was charged with the murder of Odin Lloyd on June 26, 2013. The next day we learned he was also being investigated for a July 2012 double-homicide in Boston. Maybe someone, somewhere should have remembered that they approved a calendar with an alleged murdered a few weeks earlier—if the spring 2013 timeframe is accurate—but that's a pretty small nit to pick.
@NAWTADIGM @ourtwobits @uflorida and it's not from our marketing department, would be a licensed product not something we distributed

— GatorZone Football (@GatorZoneFB) June 30, 2014
Every single thing about this is totally understandable. Still, you can buy a Florida Gators calendar with an alleged murderer in it in Target. Yikes.
h/t Rodney
Aaron Hernandez Is Mr. July In This Florida Gators Calendar [Gamedayr]