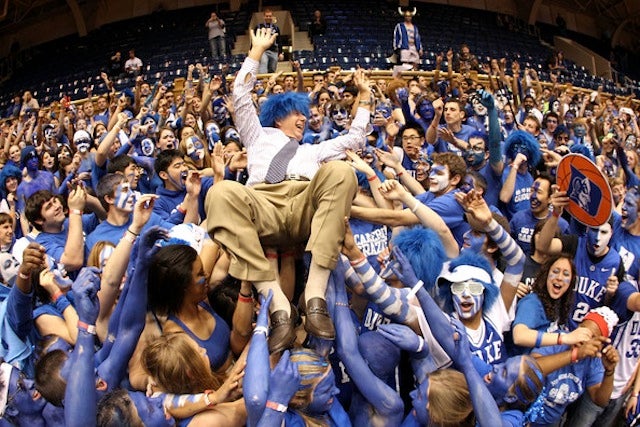 Dick Vitale compared Arian Foster to a prostitute last night and apologized for it this morning.
@GreggDoyelCBS When they put their hand out like a prostitute & take it they don't say a word - moaning yrs later = SAD!

— Dick Vitale (@DickieV) September 20, 2013
@MrJDV21 How else can u define it ? Players know the rules & if u take cash u r selling ur body - end of story.

— Dick Vitale (@DickieV) September 20, 2013
It's obviously a stupid thing to say. If Foster is a prostitute, Vitale and his colleagues are the pimps. Dickie V. owes his entire lifestyle to selling amateur athletes, kids—up top is picture of college students literally supporting Dick Vitale—for huge profits enjoyed by many. And while seemingly everyone else pockets gobs of money, the ones being sold can barely take care of themselves. So they look for help from the unseemly elements in their lives and, yeah, maybe they take money for doing something they shouldn't. Maybe Vitale shouldn't have apologized.
But is Dick Vitale a pimp? No. Dick Vitale is an old dude who still thinks college kids should play for the team, school and love for the game. He's entitled to his quaint worldview and opinions, but it'd be nice if he remembered who made those opinions relevant.