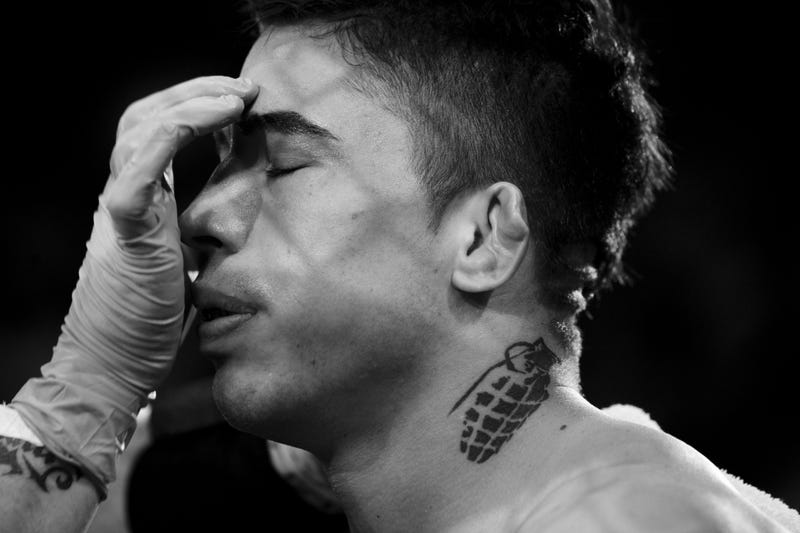 No one needed to see Marlon Moraes continue beating on Josh Rettinghouse. Moraes had outclassed his opponent in every facet of the game for 15 minutes, piling on abuse and bludgeoning his lead leg. Rettinghouse could barely support his own weight, let alone continue to defend himself, and as he hobbled back to his corner at the end of the third round, you could only hope that someone would stop this. As anyone watching Marlon Moraes fight Josh Rettinghouse on a World Series of Fighting card would know, though, that just wasn't going to happen.
Rettinghouse got off his stool and answered the bell for the fourth round. No one stopped him; he's a professional fighter, and like most others is probably far too tough for his own good. He fought for 10 more minutes, hopping and scooting and doing whatever he could to survive to the bell. The ringside doctor and the referee, supposedly there to protect the fighters, and the people in Rettinghouse's corner, who presumably know him and care about his well-being, all decided that this was OK. This was not OK.
Moraes, who seemingly could have turned up the pressure and put the fight away, seemed truly uncomfortable. He coasted through the final rounds, playing it safe and looking almost disconcerted. The announcers lauded Rettinghouse's Do You Want to Be a Fucking Fighter Warrior Spirit. One of them may have even nominated a 50-44 mauling as a possible fight of the year contender.
What's more disturbing than the fact that this happened is that it happens all the time. This wasn't even all that bad, comparatively speaking. Fighters in similar situations are often even less able to defend themselves, and frequently take far more blows to the head.
Mixed martial arts has a problem, a fundamental defect for which doctors and referees, coaches and corners, promoters and announcers, and journalists and bloggers and fans are all responsible. It needs to change.
Fighting is inherently dangerous. We're obligated to mitigate that danger as much as possible. We're doing a piss poor job.
---
Last week, the American Journal of Sports Medicine published a study on head trauma in MMA. There were a lot of problems with it—knockouts don't work as proxies for brain injury nearly as well as the authors would like them to, they came to a totally unfounded conclusion about the relative safety of boxing and MMA, etc.—but as a descriptive document, it was unnerving.
On the basis of a review of fights on numbered UFC cards from 2007 through early 2012, they concluded that the average time between a knockout and a fight actually ending was 3.5 seconds. Fighters, on average, took an additional 2.6 strikes to the head after a knockout. Even worse, in its way, a corner or doctor stopped only seven fights—just a touch over one per year. This is a problem.
Due to the nature and rules of mixed martial arts—fights can end at any moment due to a submission, a knockout, an incapacitating shot to the body, a cut, an injury—everyone always has a chance in theory. (This does a lot to explain why referees, doctors, and corners allow cashed-out fighters to keep going.) In reality, that chance is often statistically insignificant. And even when a marginal chance does exist, someone is supposed to weigh it against the damage a fighter is taking. There are reasons why commissions have the power to veto lopsided mismatches, and why referees, medical professionals, and corner men all have the power to say, at any moment, "That's enough."
The problem is that no one likes to see "premature" stoppages, like those in Renan Barão's and Ronda Rousey's recent title defenses. No one wants to be responsible for depriving a fighter a of chance at victory, which can impact their money short-term and their entire career long-term. No one wants to disappoint a raucous crowd demanding carnage and screaming, "Let them fight!" It needs to be done regardless. This may be a difficult thing, a responsibility few would want, but it's what you sign up for when you become a ring doctor, referee, or corner. Most of these people seem to have forgotten that this responsibility even exists.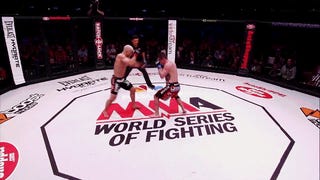 Josh Rettinghouse was a massive underdog. He never legitimately threatened his opponent through three rounds, and was beaten soundly in each one. Crushing legkicks rendered him unable to walk. He may have had a puncher's chance, but it was vanishingly small. He was done. His sport needs to embrace the fact that there was no reason for this fight, or any fight like it, to continue.
---
While other combat sports face similar issues, and deal with them poorly, they tend to display some vague awareness that violence has consequences. (Boxing people, especially, know that their sport has been and continues to be a goddamned tragedy.) From top to bottom, though, many people involved in MMA don't.