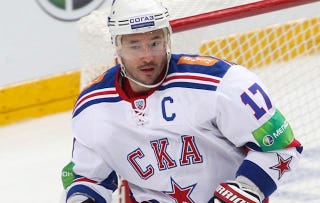 Here's the former NHLer to TSN, as relayed by SI:
"I agree, of course," said Ilya Kovalchuk. "I'm Russian and we all have to respect that. It's personal and, like I said, it's a free world, but that's our line. That's our country, so everybody has to respect that."
Kovalchuk follows in the footsteps of Pavel Datsyuk in toeing the party line on the controversial laws ahead of the Sochi Olympics. Perhaps we should stop expecting Russian stars to take some big stand against the establishment, and not just because of national pride; large majorities of Russians oppose gay marriage and pride parades, and just 16 percent of Russians say society ought to accept homosexuality. Not that Russian players should stop being asked, but a no-comment is about the least inflammatory that can be hoped for.